We asked our followers on Facebook which Archery Apps they used. Here is a quick rundown of some of the apps for Android and iOS.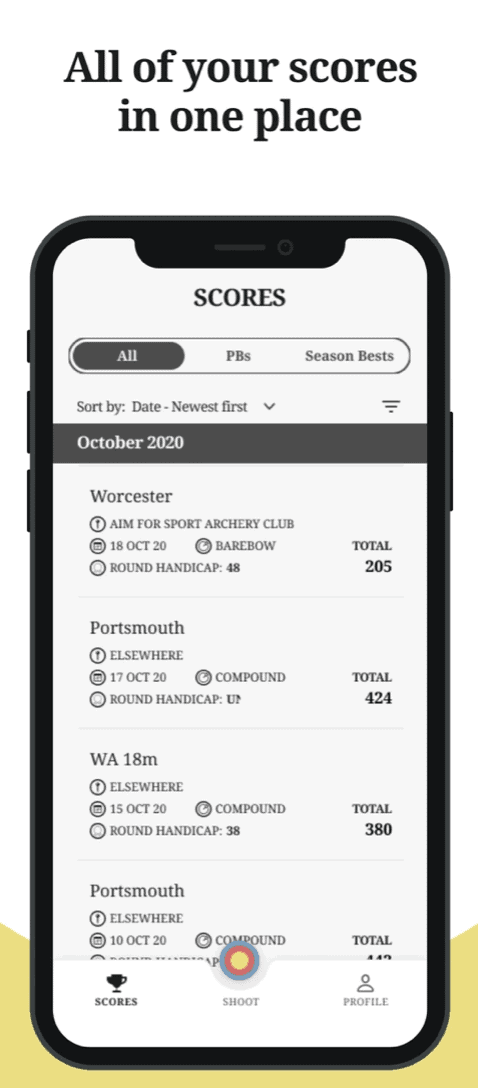 We asked our followers what archery apps they use whilst training and in competition. So, here is a round-up of some of what was suggested, with prices, functions and what platform they are available on.
MyTargets Archery
MyTargets by Mantis Tech is a Google Play app available to Android phones and tablets. The app itself is free, and with a review score of 4.5 from 2770 individuals, what more could you ask for.
Within the app, you can store and manage your equipment. Noting down your bows, arrows and the relevant information that goes with all of that.
Scoresheets are available for 25 different rounds (including field and 3D), whether it's training or competition. The scoresheets can also be printed, provided you have Android 4.4 and above. The layout of the scorecard within the app shows clearly what you scored, with colour coding to the target.
The archery app includes statistics, to the point where individual arrows can be tracked and weather conditions such as wind speed and direction.
Another very beneficial attribute the app has is it can save your sight marks. Rather than having them written down on a piece of paper that could get lost or damaged, they are just in the app.
To download the app for Google Play and Android - click here.
Archery Companion
Archery Companion is an archery app from Trent Rosenbaum that is for Android and Google Play devices. This app is free to download. On Google Play, the app has a rating of 4.0 from 735 individuals.
The app allows you to keep track of scores, sight marks and choose the round you are shooting. The scoresheet is more 'traditional' by just showing the numbers (arrow value and end score).
The Score History function shows the personal bests, indoor and outdoor scores that have been done through the app. When scoring, it is possible to put where the round is being shot, how many arrows you are shooting each end, indoor or outdoor, metres or yards.
Sight marks can also be stored within the app, which, like MyTargets, is a very beneficial attribute.
To download the archery app, click here.
iArcher
iArchery, by Julian Parker, is an archery app specifically for iOS phones and iPads. With a rating of 4.2 out of 5 from 23 ratings, it has a lot of aspects and attributes that benefit an archer. The app does now cost £4.49, though.
Within the app you can log your round scores, sight marks for specific equipment and personal bests. You are able to select the round, bow type and date shot in the scoresheet, to make sure it is recorded on your set up that you are using.
There is an option to load a previous round to see the previous scores, see what you scored on each arrow, when it was done, the face size etc.
To purchase the app on the iOS App Store, see here.
Archer's ToolBox
The Archer's ToolBox app is for iOS and Android, created by Tox Tool Box Limited. Being free on the iOS and Android markets, it does not disappoint with function. The sleek design makes looking at your scores a pleasure.
It is possible to hide totals when tracking scores, track progress and go into detailed result summaries of all scores put into the app. There is also a function that other apps do not have, send your scores to your club. This means they can be verified, used for club scores or badges if the club will allow.
The app gets a 4.7 star rating out of 5 with 11 ratings. It also offers handicaps and classifications for senior rounds in the app. This archery app even offers clout scoring rounds!
To download Archer's ToolBox on iOS, see here.
To download Archer's ToolBox on Android, see here.