The print and digital spring 2022 issue of Archery UK is now available.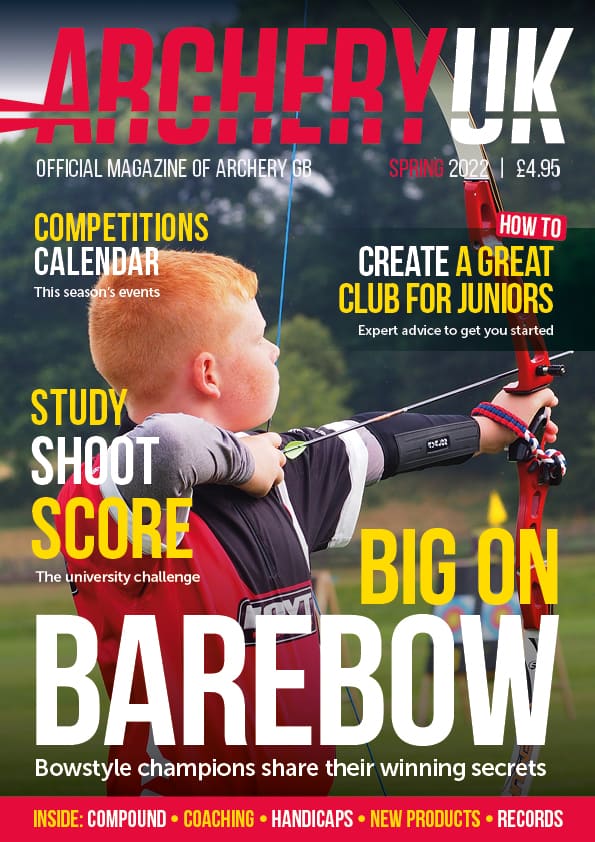 The print and digital spring issue of Archery UK is now published. The accessible version will also soon be available on the magazine page of our website, along with our Archery UK back issues.
In this edition, we catch up on all the latest news on and off the competitions circuit, meet three talented barebow archers, and explore the world of university archery - Olympian Tom Hall started the sport at Warwick University. He could never have known he'd end up on the world stage at Tokyo 2020.
In the Practical section we find out what it takes to create a great club for juniors, meet a spotter for a visually-impaired GB archer, learn all about fletchings, and hear from a longbow archer about the mental health benefits he gains from the sport. As ever, you'll find our Kitbag new product pages stocked with ideas, from stabilisers to 3D bunnies.
We are also pleased to bring you the reinstated Diary pages in this issue, so you can start planning your competition year. The pinnacle of this year's events calendar for many young archers will be the European Youth Archery Championships at Lilleshall in August. We'll be releasing more details in the coming weeks, but for now, see what you can expect from the event and how you can get involved as a volunteer.
We're printing two issues of AUK this year, starting with this spring edition, now on its way to members, as well as the autumn issue. The digital-only summer issue will be published in June. If you have any news, letters or stories you'd like to submit for it, please send to magazine@archerygb.org by 3 May.