More than 160 junior and senior archers gathered in Northern Ireland to take part in the 2016 All British and Open Field Championships.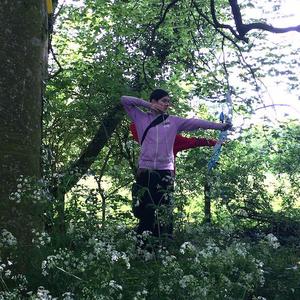 They were greeted by sunshine, heavy showers and a warm welcome from hosts Ballyvally Archers. The shoot, at Greenmount College, County Antrim, was fiercely contested - but there were plenty of laughs and comradeship over the two days.
Our new champions are:
Longbow: Freya Wise and Steve Burke.
American flat bow: Lesley Sleight and Richard Powell.
Traditional: Michaela Lake and Glenn Thompson. Team: Michaela Lake and Kevin Warwick.
Compound barebow: Marion Patterson and Paul Copeland.
Veteran barebow: Patricia McLean and Adam Strachan-Stephens.
Veteran recurve: Gloria Mead and Kevin Bloomfield.
Veteran compound: Francesca Hawker and David Home.
Jack Secombe award: Duncan Busby.
Barebow: Joanne Walker and Robert Mallon.
Recurve: Lisa Cooper and Alan Wills.
Compound: Hope Greenwood and Darrel Wilson.
Married couple: Stuart and Victoria Barby.
Home Nations: England.
You can find all the results, plus the results from the UK Junior Field Championships, here.
Archery GB is sponsored by Foresters Friendly Society www.forestersfriendlysociety.co.uk
Follow us on Twitter: @archerygb