The first World Archery Masters Championships are over in Lausanne. Twenty-eight Britons were among 356 archers from 44 countries competing in different age categories in one or more of four competitions: indoor, outdoor, field and outdoor compound.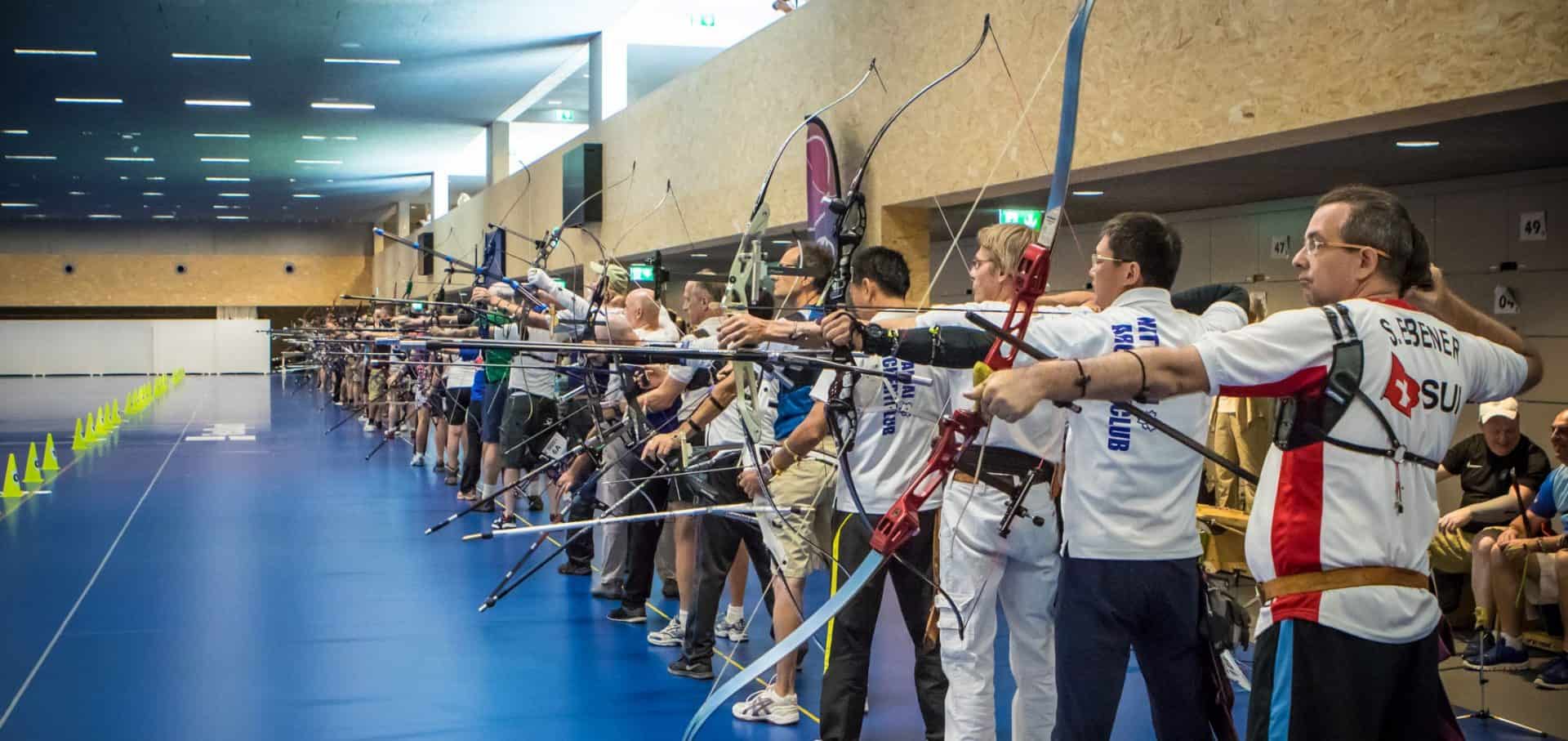 Outdoor compound
There was a silver medal for Britain's Sarah Fern in the barebow 50-plus competition. The top seed beat the USA's Marvy Schuman in the semis but the title was snatched by another American, Susan Palsbo.
In the men's category, Adam Strachan-Stephens beat Estonia's Stephen Morley 7-3 but then fell to top seed and eventual champion Rick Stonebraker of the USA. And Ian Burton went so close to winning bronze in the under 49s category. The third seed beat Svein-Ole Sjoetun of Norway 6-2 before being edged out of title contention by Joakim Hassila of Sweden. The end result of the battle for bronze was 6-4 - but the medal went to Eric Pichonnaz of Switzerland.
Susan Bredin, our sole competitor in the 50-plus women's compound category, made it to the quarter finals. The 12th seed beat New Zealand's Kathy Barclay 137-132 and Japan's Satoko Tenjin 134-133 before falling to eventual silver medallist Sherry Gale of Australia.
All Britain's men in the 50-59 years category were given byes into the last 32. Our top seed was Bernie Dicks, ranked 14th, and he beat Turkey's Alireza Buikpour 143-140 but was edged out by third seed, Luc Verdeyen of Belgium who went on to win gold. Mike Alexander, ranked 23rd, fell 138-142 to the USA's Scott Wilson while 26th seed Anthony Drabble was beaten by Yves Arnold of France. Stanley Edwards, ranked 28th was defeated 146-131 by Marness Swart of Switzerland.
In the men's 60-plus category, third seed Terry Course went head to head with Britain's Gordon Jackson, ranked 14th, for a place in the quarter finals. Terry won 139-117 - but then lost out to eventual bronze medallist David Crabtree of Australia.
You can find all the outdoor compound results here.
Outdoor
Recurver Wendy Aubrey made it to the bronze medal match in the 50-59 years category. The 10th seed saw off Americans Kari Jill Granville 6-0 and Allison Eaton 6-4, and Germany's Eva Weyers 6-2 before being denied a title shot by another German, Petra Nussgens-Patz. She also ended sixth seed Wendie King's hopes. Wendy faced Nathalie Dielen in the medal battle but the Swiss top seed proved too much, winning 6-0.
In the men's category, Kevin Barrett made it to the quarter finals. The 12th seed defeated France's Bertrand Strock 6-2, Charles Thomassin of Belgium 7-3 and Switzerland's Dominik Faber 6-4 before being denied a spot in the semis by eventual bronze medallist Vedat Erbay of Turkey. James Laing, Ken Steer and John Hartfield all made it to the last 48 where their progress was halted by Americans. James lost a shoot-off against Thomas Hardin, Ken defeated New Zealander Sier Vermunt 6-2 before being beaten 6-4 by Thomas JR Stevenson and John saw off Richard Hanley 6-0 before falling to Friedhelm Klymko.
In the under 49's competition, eighth seed Peter Webb beat USA's Barry Watson 6-2 before falling to Japanese silver medallist Atsuhiro Toda in the quarter finals. John Stanley, seeded 12th, lost a shoot-off against Spain's Ignacio Gomez-Sancha while 13th seed Daniel Sims was beaten 7-1 by Frenchman Vincent Belay. Second seed Priit Tanvel of Estonia was given a bye against Ru Barlow and went on to win bronze. Eighth seed Tammy Milsom was edged out of a hard-fought battle against American Carrie Lin.
Alan Wood qualified in 17th spot and won a shoot-off against Australia's Thomas Maple to make it to the last 16 of the 60-69 category. But then he came up against Italian top seed Pasquale Roberto Cipro and lost 3-7. Ninth seed Brian Tustin was beaten 6-4 by Switzerland's Heiner Widmer and Nick Colman, ranked 25th lost out to Veli Pentti Kuivalainen of Finland. Martin Smith, ranked 26th, was defeated by Switzerland's Yvo Buchli, who went on to win gold, and 28th seed Steve Partridge lost out to Cumhur Yavas of Turkey.
Britain's Sylvia Harris finished sixth in the longbow competition.
You can find all the outdoor results here.
Field
Our barebow archers shone in the field championships. Sarah Fern won the women's 50-59 category with a 53-point margin over her closest rival while Adam Strachan-Stephens stormed to victory in the 60-59 years category.
Compounder Bernie Dicks finished fifth in the compound men's 50-59 category, with Edward Stanley 14th and Anthony Drabble 18th. Gordon Jackson was seventh in the 60-69 category.
Wendy Aubrey finished third in the recurve 50-59 categories with Kevin Barrett seventh, John Hartfield ninth and James Laing 10th. Peter Webb came fourth in the under-49s with Daniel Sims ninth and Tammy Milsom seventh. Alan Wood, Steve Partridge and Brian Tuster were sixth, eighth and ninth respectively in 60-69 division.
You can find all the field results here.
Indoor
Brian Tustin came third in the 60-69 recurve categories. Alan Wood was sixth and Steve Partridge 22nd, one ahead of Martin Smith with Nick Coleman in 24th spot.
Peter Webb finished seventh in the recurve under 49's competition with Ru Barlow 12th, one ahead of Daniel Sims. Tammy Milsom was fourth in the women's category.
Wendie King was fifth in the women's recurve 50-59s with Wendy Aubrey 10th and Sylvia Harris 29th. Kevin Barrett finished sixth in the men's competition with James Laing 18th and John Hartfield 35th.
In the compound 50-59 years categories, Bernie Dicks finished 10th, with Edward stanleuy and Anthony Drablle 26th and 27th respectively. Susan Bredin was 13th. Terry Course was in fifth spot in the 60-69 division, five ahead of Gordon Jackson.
You can find the indoor results here.
Picture: World Archery