Congratulations to Gordano Valley Archers - it has just been named West of England Club of the Year 2016!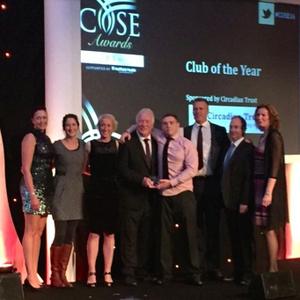 More than 300 people watched as Club Chairman Paul Maines and his son, Christopher, accepted the award from double Olympic silver and bronze medallist Steve Backley at the Bristol Marriott hotel.
Paul said: "This is one of the proudest moments I have experienced in sport. This award is a testament to all the hard work undertaken by everyone in the club and would not have been possible without the support of Wesport and Archery GB."
Wesport is a charity set up to promote active lives in local communities by creating inspirational and innovative sporting opportunities as part of the County Sports Partnership National Network on behalf of Sport England and other partners.
So what clinched it for the club? The award citation said: "Gordano Valley Archers have been working tirelessly over the last 12 months to raise the profile of their sport. They have increased the number of people taking part in archery in both the club, within schools and in various community settings across the West of England."
The club introduced an equipment loan scheme to help new members and the idea has paid dividends with membership up 15 per cent in the last 12 months. It has also been working with more than 40 primary schools, as well as supporting the University of the West of England to establish a new club.
Follow us on:
Instagram: archerygbofficial
Facebook: Archery GB
Twitter: @archerygb