The countdown to the National Tour finals is well and truly under way. And there is just one more piece to slot into place: You. We would love it if you would come and join us to see the cream of British archery in action.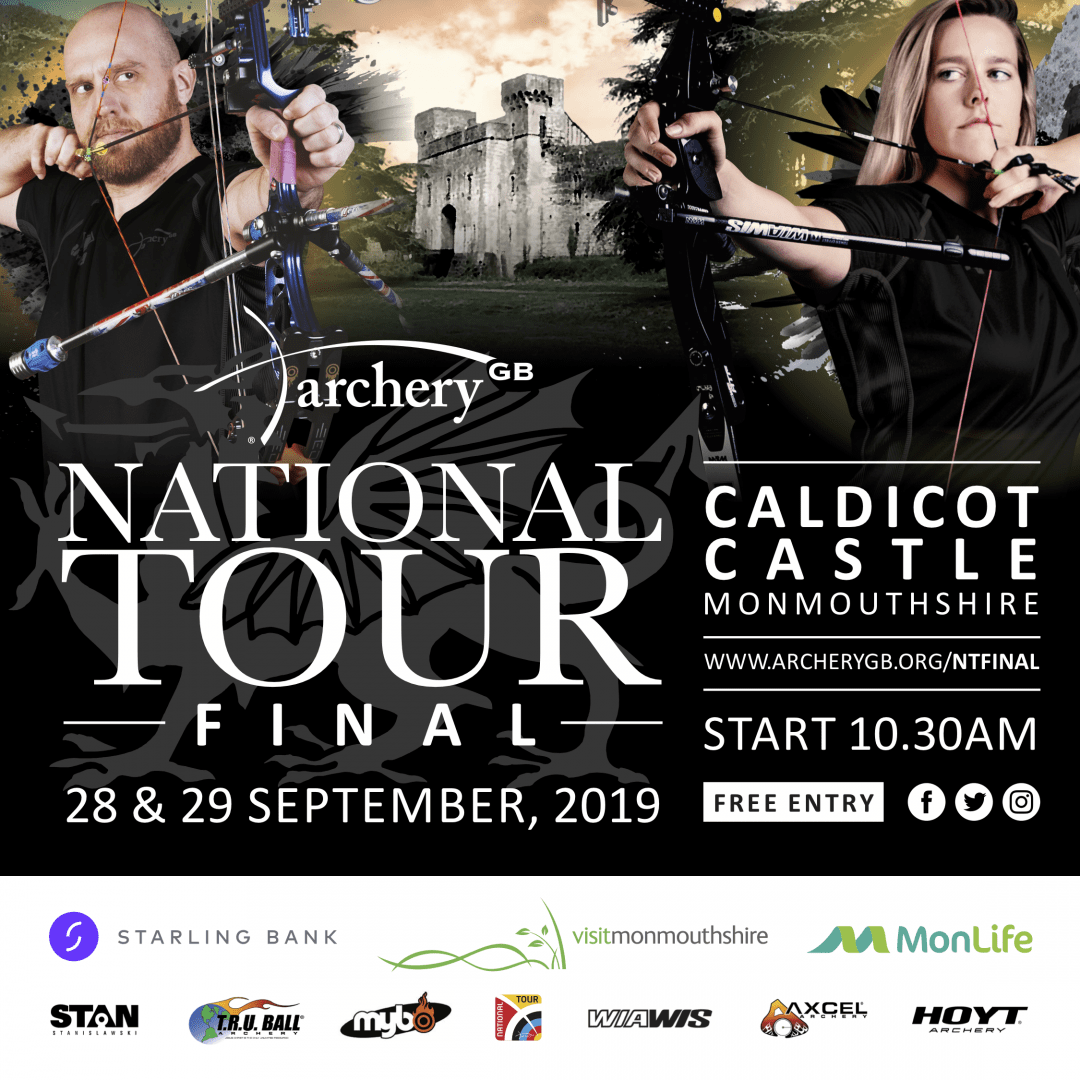 It's all happening at Caldicot Castle, Monmouthshire. The compound finalists will compete on Saturday 28 September and the recurve titles will be decided the following day.
The quarter finalists are:
Compound
Ella Gibson, Sarah Prieels, Susan Corless, Victoria Barby, Layla Annison, Bayley Sargeant, Sarah Moon and Lucy Mason
James Mason, Adam Carpenter, Neil Bridgewater, Duncan Busby, Adam Ravenscroft, Chris White, Matthew Wong and Simon Scott
Recurve
Bryony Pitman, Helen Faulkner, Jaspreet Sagoo, Yulia Larkins, Naomi Folkard, Rebekah Tipping, Sarah Bettles and Kate Dunnighan
Tom Hall, Conor Hall, Michael Judd, Ryan Pinder, Keith Harding, Antony Wood, Alex Wise and Cameron Donaldson
You can find all the timings, plus the location and directions here.
But that's not all. There's fun for all the family. There will be a have a go, inflatable football and other family activities along with the archery. And, best of all, it's FREE!
Our partners for the National Tour final are MonLife, a service group managed by Monmouthshire County, and Starling Bank. For more information, visit www.starlingbank.com
There are two competitions going on over the weekend. You will be able to see our rising young stars battling in the finals of this year's Key Event competition.
The Key Event finalists are:
Compound juniors
Jenny Bryan, Hallie Boulton, Sophie Meyrick, Iulia Petre, Chloe A'Bear, Grace Chappell, Maddison Coddling, Paige Jones
Lewis Haslam, Ajay Scott, Nathan Thomas, Thomas Lane, Louis Perkins, Liam Wright, Dru Ridding, Aiden Elves (replaces Archie Crawford who withdrew from the final)
Recurve 
Juniors: Ruby Paul, Nicole Burdett, Hannah Rowley, Sophie Castle
Cadets: Penny Healey, Thea Rogers, Imogen Newby, Shauna Punjabi, Freya Palmer, Lauren Rawlings
James Woodgate, Monty Orton, Marco Costanza, Jakob Barrett-Rees, Austin Whitmarsh, Riley Spencer-Nice
The Key Event final rankings can be found here.
Our National Tour sponsors are:
Gold Sponsors
Silver Sponsors