The GB compound team had a very successful week in Munich, bringing home individual and team European Champion titles.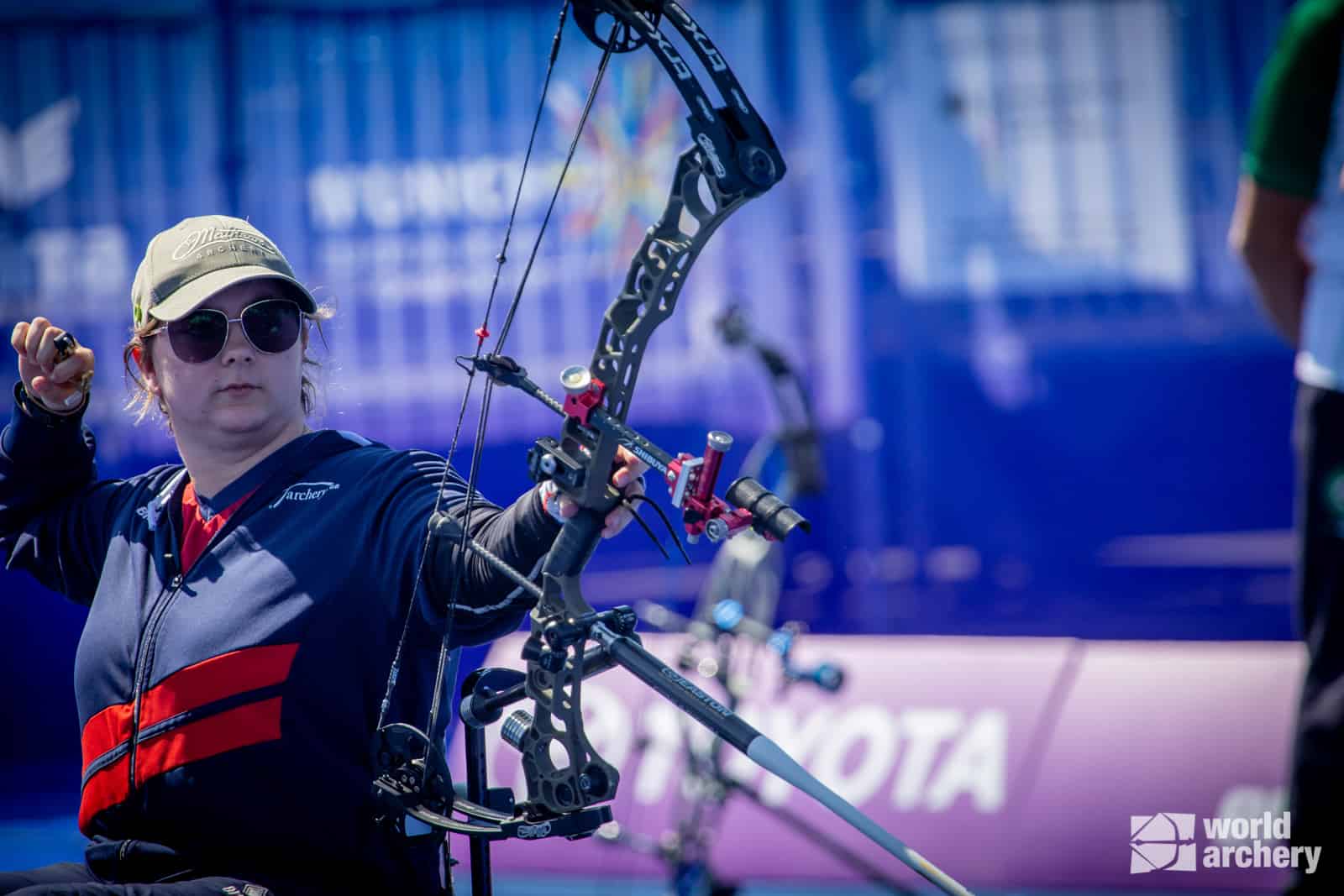 Coming away from the European Championships with individual and women's team European Champion titles in the compound women's division was a massive achievement!
Jessica Stretton, PLY, Ella Gibson and Izzy Carpenter came together to form the team European Champions, with Izzy going on to win the individual title as well.
We managed to speak to all three women, Simon Scott and Jon Nott about the week.
Izzy Carpenter - Individual and Team European Champion
How was your European Championships overall?
"The European Championships was a dream come true. Everyone goes out to these events hoping for the best, that's why we do what we do. We want to be on the finals field, but it does not always mean that we expect to be there. So to have that become a reality was just absolutely insane. It is a week that I am definitely not going to be forgetting in a hurry."
How does it feel to have the individual title and team title of European Champion?
"It feels absolutely surreal. I honestly am still trying to wrap my head around it. It is like it never really happened. It is just a bit of a blur but in the best way possible. I feel really privileged to have been able to be out there and compete and shoot with Ella and Jess. We just had such an incredible time and we gelled so perfectly together. Coming home with a gold just felt absolutely incredible alongside those women.
"And then the cherry on top of the cake, get the individual as well, was something I never thought would happen. Honestly. It really just feels like an absolute dream, it really does."
What is next on the agenda?
"I have a week at home, and then flying back out to Paris for the World Cup,. Very excited for this tournament. It was my very first World Cup stage last year. I can't wait to improve upon my result and try and have the same sort of success and shoot arrows that I am proud of."
Izzy also added, "I just wanted to say a big thank you to everyone that was out there with me in Germany. The team, the coaches, absolutely all of them. They were brilliant and so supportive. I couldn't have asked for a better bunch of people to be beside me all week and to shoot with. What we have going for us as a team, as a squad, is the fact that everyone is completely there for each other and so supportive of everyone's successes. I think it really shows in the medal table."
Ella Gibson - Team European Champion
How was your European Championships overall?
"For the most part, my European Championships went pretty well. I had a great qualification round. We shot really well in the mixed team. We shot great in the team. And most of my matches went really well. I didn't quite finish where I wanted to individually. But I'm happy with walking away with the team gold medal."
What is next on the agenda?
"Next on the agenda is Paris World Cup. Like always, I will take it one day and one arrow at a time and see what we can do. Hoping to have another good finish, but individually and in our teams. I am also really excited to shoot the World Games this year. I'm doing that for the first time in Alabama and I think that will be a really great experience. I have never done a multi-sport event, so that will be really nice to do."
Jessica Stretton, PLY - Team European Champion
How was your experience at the European Championships overall?
"My European Championships experience was really great. It was really fun travelling with new people and getting to shoot with Izzy and Ella was awesome. We all did really well and formed a really strong team!"
How does it feel to have the team outdoor title of European Champion?
"To have the title of team European Champions is really amazing. It was such a surreal experience to be able to shoot with Ella and Izzy and to make it to the finals and be able to come away with the gold is so amazing!"
What's next on the agenda?
"Next on the agenda for me is hopefully the Czech international shoot, followed by the Para Europeans in Rome."
Compound Team Coach
We caught up with Simon Scott, the Compound Team Coach, "I am so proud of our entire team. In a week-long event like this, not every athlete is going to be on form all the time. And of course, there are results that could have been improved upon. We came home with two European titles and topped the compound medal table; we're so happy with that!
"The women's team gold medal match was astonishing. I've never coached such a confident, strong and supportive team in the 9 years I've been doing this. All three girls were shooting incredibly, having all finished in the top 8 individually and having shot a 236 match on the practice field immediately before the match. I knew there was absolutely no way they would not win that title! It was a pleasure to be a part of.
"Izzy's Individual Gold was an absolute delight. After a rough qualifying round, Izzy's draw looked quite ominous but she's a momentum shooter. So, once she got past Lisell Jaatma in the 1/16 round, it was always going to be hard to stop her. The final was nervy on both sides but Izzy stuck to her game plan and came out the Champion.
"The compound seniors have now won four titles in the last three International events we've done and the confidence within the team is growing stronger and stronger. It's great to see all the hard work they're putting in paying off."
Compound Programme Manager
Jon Nott, the Compound Programme Manager, commented about the week, "Another great event for the GB compound programme and to come home with two gold medals from the European Championships is just a fantastic result. The amount of people who have helped this come about is just uncountable and it is many years in the making for this kind of result to happen.
"It was just fantastic to have Jessica Stretton with our women's team. She really cemented a dominating performance with Ella and Izzy. This is now four international gold medals in 2022 for the GB compound programme. With four more events to go, we really hope to see more. We are pushing hard."
Full results from the European Championships can be found here.