Neil Bridgewater, James Mason and Adam Ravenscroft are the new compound champions of Europe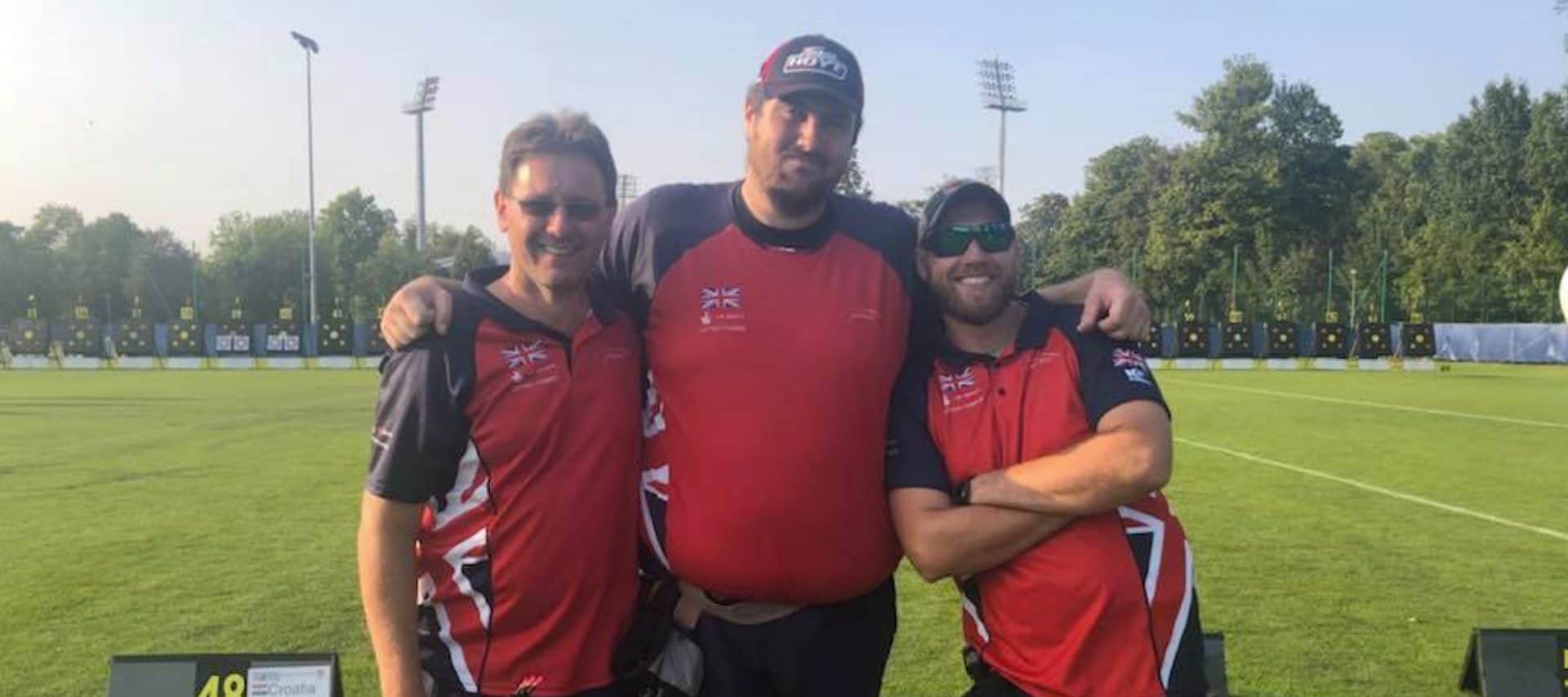 They took the men's team title at the European Archery Championships in in Legnica, Poland today, beating France by a single point - and in dramatic style.
The French took a one point lead in the first end but in the second Britain pulled back to equalise on 117 points. It was then that a French arrow was downgraded, giving Neil, James and Adam a one point lead. By the time the third end was completed both teams were evenly balanced on 172 - until that French arrow was upgraded again.
It all came down to the final end. With rain falling, the French opened with a perfect 30 but then shot 8-9-9. The Britons shot 10-9-10 but finished with three 10s to become champions of Europe.
You can see all the action here. The match starts at 27 minutes in.
Earlier in the tournament, our recurvers secured team quota places at next year's European Games in Minsk!
The teams of Tom Hall, Patrick Huston and Alex Wise and Sarah Bettles, Eleanor Piper and Bryony Pitman made it to the quarter finals of the championships and, crucially, both finished in fifth place. That meant an automatic quota places to the Games, which will be held next June.
In the individual categories, recurver Bryony made it to the last 16. She defeated Aybuke Aktuna of Turkey and Austrian Elisabeth Straka before losing to Turkey's Yasemin Anagoz who went on to win gold. Eleanor beat Aleksandra Ruuskanen of Finland but lost to Germany's Michelle Kroppen. After seeing off Nina Mylchenko of Belarus, Sarah lost a tough battle with eventual bronze medallist Gulnaz Coskun.
Tom beat Georgia's Jaba Moseshvili 6-0 and Alexandros Karageorgiou of Greece 6-2 to face Maximilian Weckmueller for a place in the last 16. It could not have been closer. The match finished in a tie, which meant a one-arrow decider. Tom shot an eight but the German's arrow edged into the nine. Alex lost 4-6 to Joe Klein of Luxembourg and Patrick defeated another Georgian, Zurab Mestvirishvili 7-1 before falling 4-6 to Ukraine's Heorhiy Ivanytskyy.
All our compound men made it through to the last 32. James beat Belgium's Jonathan Kools 146-143 but lost by a single point to Pierre-Julien Deloche of France. Adam defeated Slovakian Vladimir Buzek to face Alexander Dambaev. Their hard-fought match ended in a tie. Adam scored nine in the shoot-off but the Russian hit the 10. Neil Bridgewater saw off Gigi Pusca of Romania and Russia's Dmitrii Voronov in a shoot-off but lost by a single point to second seed Martin Damsbo of Denmark.
Compounder Layla Annison defeated Tatsiana Pachapinskaya of Belarus but was edged out of a place in the last 16 by Germany's Kristina Heigenhauser. Bayley Sargeant fell to Anastasia Tsakiri of Greece and Lucy Mason saw off Ukraine's Anna Savchenko before losing to Germany's Janine Meissner.
They beat beat Poland but could not overcome Germany in the team competition. The recurve mixed team Eleanor and Tom made it to the quarter finals while compounders Layla and James saw off Cyprus 150-146 but missed out on a quarter-finals place by a single point.
You can find all the results here.
Above: Neil Bridgewater, James Mason and Adam Ravenscroft