The first day of official competition has taken place at the 20200 European Youth Championship in Lilleshall.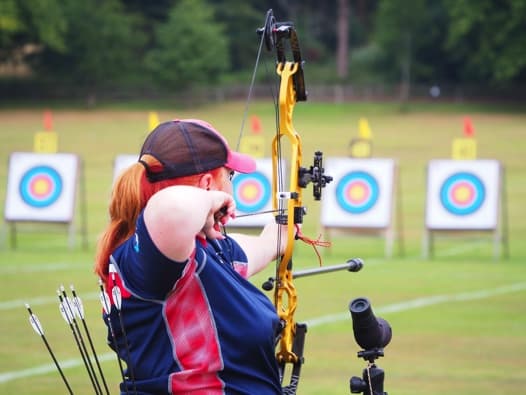 The GB youth archers have completed their first day of competition on Lilleshall's tournament field with the qualification round. The under 18 athletes shot in the morning, while the under 21s shot in the afternoon. Their placement in the overall rankings will determine who they will each face in the individual eliminations this week.
Compound Under 18
For the under 18 compound women, Hallie Boulton has finished up in the top spot. She shot a perfect 60 in the last end to secure a score of 689. Next up was Patience Wood in 8th with 665 points, and Sinead Byrne was in 12th with 651. As a team, the GB women ranked in 2nd place with a combined score of 2005.
"I found that the conditions weren't too bad considering Lilleshall's usual weather. There were times where the wind did pick up, but because of my familiarity with these conditions I knew to keep pushing no matter what, and even when my arrows didn't go perfectly I just had to hold strong and keep giving it my all. Shooting the Championship on home turf is both a blessing and a curse. In some ways I have an advantage over other teams because I've shot at Lilleshall so many times that it feels like a second home. But on the other hand, Lilleshall's changeable conditions are always hard to deal with, and then there's the added pressure that comes with shooting on home turf," Hallie told us.
On the men's side, Finlay Clark came in 11th place overall and first for the GB compound under 18s with 683 points. Jay Saunderson finished just below Finlay in 12th place with 678, and Oscar Orford shot 672 to put him in 16th place. The team came in 5th place with a score of 2035.
The mixed team, which comprises of Hallie Boulton and Finlay Clark, came in 3rd place with 1372 points.
Recurve Under 18
Megan Havers finished in 7th place with 657 points for the under 18 recurve women. Teammate Emelia Hughes came in 26th with 623, and Alia Fallouh shot a score of 581 to come in 42nd. The three of them as a team ranked in 7th place with a total score of 1861.
For the men, Jack Doherty ranked in 23rd place with a score of 640, Will Oakes came in 43rd with 599 points, and Edward Gray shot a 544 and finished in 47th. The team ranked in 11th place with a combined score of 1783.
Megan Havers and Jack Doherty, who make up the recurve under 18 mixed team, ranked in 8th place with 1297 points all together.
Compound Under 21
For the compound under 21 women, Layla Annison finished up the qualification round in 2nd place with 687. Grace Chappell shot a 681 to come in 9th place, and Chloe A'Bear shot a 672 to put her in 12th. As a team, the women finished in 1st place with a combined score of 2040.
For the men, Dillon Crow came in 16th place with a score of 680. Teammate Lewis Haslam was just behind Dillon by one point on 879 which put him in 17th place, and Thomas Lane came in 21st with 676 points. The trio came in 5th place for the team rankings with a score of 2035.
The mixed team, Layla Annison and Dillon Crow scored 1367 between them to place them in 5th overall.
Recurve Under 21
On the recurve side, under 21 woman Penny Healey narrowly missed out on the top ranking spot. She shot three points lower than the archer above her, scoring 658 for 2nd place. Louisa Piper came in 14th with 622, and Megan Costall shot a 602 for 31st place. The three of them got 1882 points to put them in 4th place for the team event.
"It feels great to have ranked second, especially to do it on home soil. I definitely left a few points on the field due to the wind, but despite that it's a pretty good qualifying! It's weird but nice in a way to be shooting at home. I'm so used to preparing for flights this year that it was weird not having a long travel day. It's also nice for me as it's in my home town as well, so my friends and family can come and watch and enjoy the experience with me!" Penny said.
For the men, James Woodgate shot a 662 which equalled the score by Keziah Chabin from Switzerland. Due to two less 10s and Xs, James took the 2nd place spot on the leader board. Monty Orton was just below James in 3rd place with a score of 659, and Charlie Medhurst shot a 628 to finish up in 33rd. As a team, the men came in 3rd with a total score of 1949.
For the mixed team, Penny Healey and James Woodgate shot a combined score of 1320 to earn themselves 1st place in the rankings.
On Wednesday will be the start of the team round eliminations, and the archers in the mixed teams will shoot their elimination rounds, up to and including the bronze finals. The gold finals will take place on Friday. Also on Wednesday will be the 1/24 individual rounds for the recurve under 18 men and women, the recurve under 21 men and women, and the compound under 21 men.
To see the full list of scores click here.