GB earn two silver medals in the compound team finals, and Hallie Boulton will shoot for individual gold on Saturday's live final.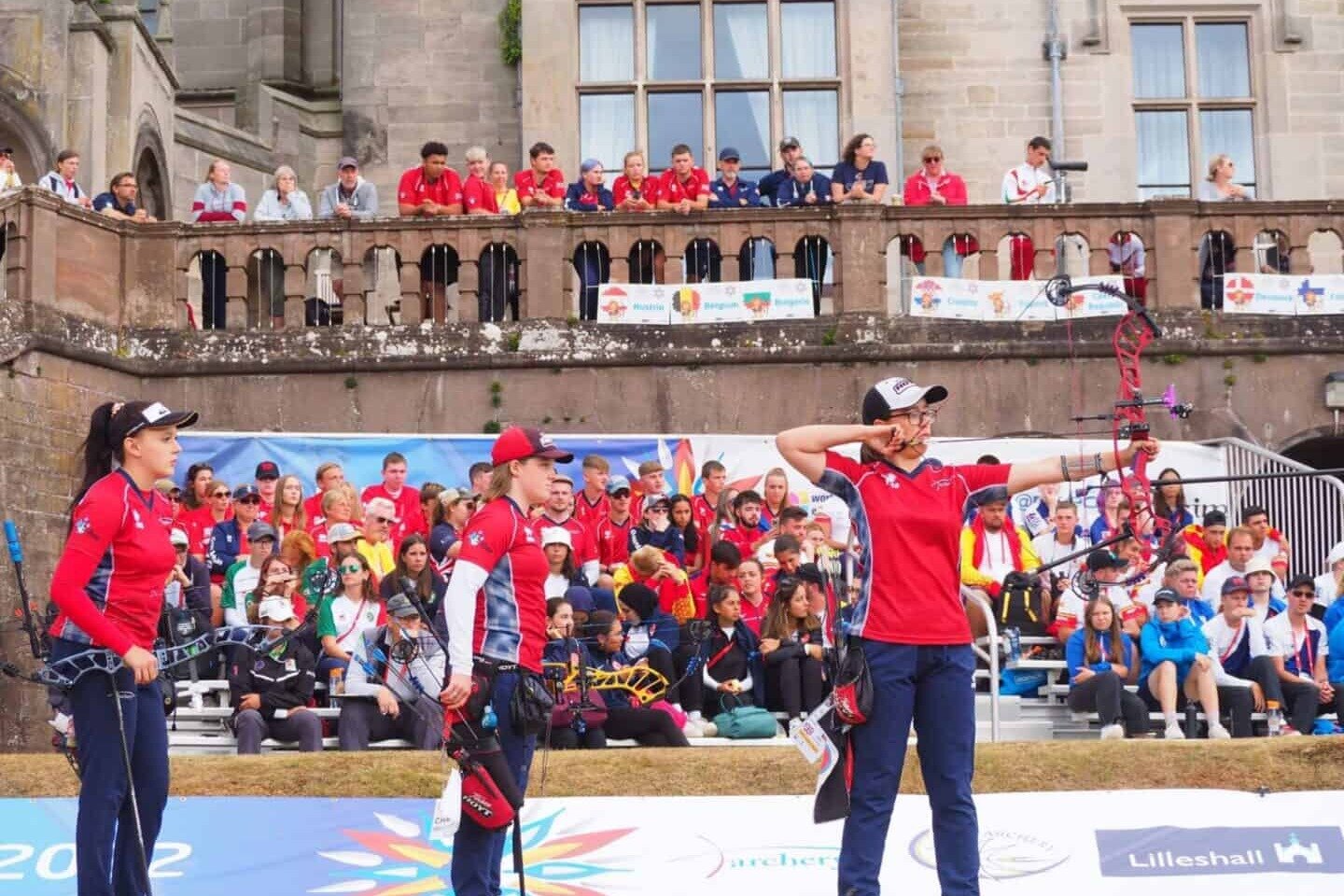 Compound Women Under 18 Team
In the team gold final, Hallie Boulton, Patience Wood and Sinead Byrne faced the team from Türkiye. The match opened up very windy for the GB team, causing Hallie to have to hold onto her shot in order to stay on the target long enough to release. By the time it came for Patience to shoot her arrow, which was last in their rotation, she unfortunately only had around six seconds left to step onto the line and shoot, resulting in a missed arrow. They scored 43 points with that miss to Türkiye's 58. GB came back strong in end two with a 56 to Türkiye's 54, and then the Turkish archers shot an impressive 59 in the third end to GB's 56. A tie on 54s apiece in the last end was enough for Türkiye to take the win 226-209. The GB women earned themselves the silver medal.
"Next season, Hallie and I [Sinead] move up to the under 21s, so we'll still be teammates. This year we shot well as a team. We came out with a new European record and a silver medal, and we'll try to continue our good shooting into the under 21 category," Sinead Byrne said.
Compound Women Under 21 Team
The GB women's team comprising of Layla Annison, Grace Chappell and Chloe A'Bear shot against the team from Italy in their gold final. GB opened with a 56 to Italy's 55, but then the Italian's responded with a 58 in the second end to GB's 56. Italy stayed consistent with enough 58 in the fourth end to a 57 from GB, extending their lead on the Brits to three points with 171-169. One more 58 from Italy was enough to take the win from the British, finishing the match 229-225. The GB women took their spot in second place on the podium.
"A silver medal a the European Youth Championships, you can't really ask for more when you haven't shot together before. I feel like we communicate well and we're all happy with how we shot individually within the team as well as together," Grace Chappell said.
Compound Women Under 18 Individual
After ranking 1st in the qualification, Hallie got a bye in the 1/16 round to go straight through to the 1/8.
Her first match saw her face Sweden's Jaqueline Ringström. They tied the first end on 28 apiece, and then Ringström shot a 29 to Hallie's 28 to take a one point lead. Hallie then shot a 27 to the Swedish archer's 24. With two 29s in a row to finish versus Ringström's 27 and 29, Hallie took the win with 141-137.
In the quarter finals, Hallie came up against her own teammate, Patience Wood. After the first two ends, there was only one point separating the women, 55-54 in Hallie's favour. They then tied the third end on 28 apiece. Patience shot a 23 to Hallie's 22 to bring the points all square on 105. Once again, the women match each other, both shooting a 26 to take the match to a shoot-off 131-131. A ten from Hallie against Patience's 9 secured her a place in the quarter finals.
Hallie then faced Spain's Alexa Misis Olivares for a place in the coveted gold final. The Brit got to a strong start, shooting a 29 to the Spaniard's 25. A 27 and a 29 in the last two ends from Hallie to Misis Olivares's 28 and 27 won her the match 138-133. She will shoot in the gold final for the title on Saturday.
"I'm really pleased with myself. I didn't expect to get this far because I've never been this far in any other international. So it was a really good feeling, and I was so happy to have all my teammates around me. I feel quite confident for the finals, and I feel very supported by everyone. It should be a good match, and whatever the outcome I'll enjoy it," Hallie said.