Flamestrike Archery founder Lydia O'Donoghue and Stratford Town Football Club (STFC) have joined forces to launch a six-week 'Archery for Girls' course.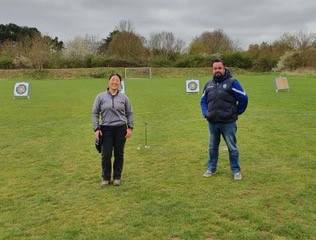 Lydia Lee, coach and founder of Flamestrike Archery, is now enrolling girls aged 8-11 onto a new archery course near Stratford-upon-Avon in a bid to increase inclusivity and boost confidence. It is thanks to the help and support of Stratford Town Football Club that the course has a location to run from. Jed McCrory, Chair of Stratford Town FC, sees the initiative as the start of a wider plan to "... link the club closer to the Stratford community".
About the course
Where: Stratford Town Football Club (STFC), Tiddington, Warwickshire
When:  4pm-5pm for 6 weeks from 22 April
Cost: £90
To enquire about the course and to book, please email: info@flamestrikearchery.com
Flamestrike Archery is also taking bookings for corporate taster events, and these events are great for small teams or solopreneurs looking to connect with others. Each corporate event also funds a place for a young girl nominated by a local community group, who would otherwise not be able to attend the girls' sessions. Stratford Archers proudly supplies equipment for the courses and events.
The photo above shows Lydia and Steven Burge, Commercial Manager of Stratford Town FC. You can read more about Lydia O'Donoghue and Flamestrike Archery here.