Potential future stars had a chance to showcase their talent as the 2018 Archery GB Youth Festival wrapped up with individual finals.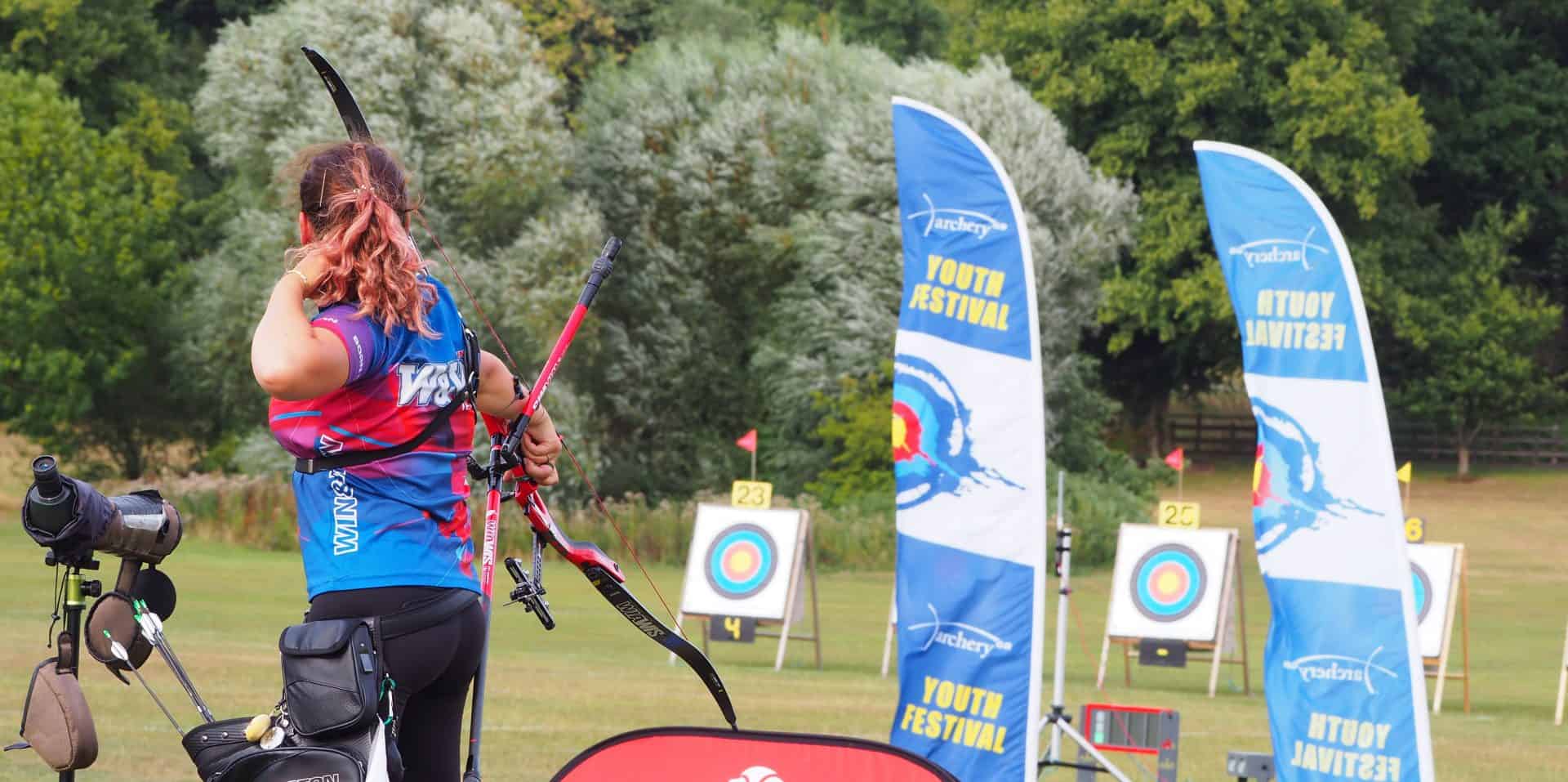 The compound junior men's honours went to Liam Peake. He defeated Dillon Crow, second seed Kai Thomas-Prause and Matthew Wong to earn his shot at gold. There he faced Lewis Haslam. He had seen off Liam Wright, top seed Jake Walsh and Luke Ralls in a shoot-off but could not overcome Liam who won 141-133. Matthew beat Luke to bronze.
Defending champion Lucy Mason led from the start in the compound junior women category. The top seed earned a bye into the semis where she beat Sarah Moon before taking the title with a 142-138 win over second seed Isabelle Carpenter. Ella Gibson won bronze with a 139-137 win over Sarah.
It was a similar story for Nathan Thomas in the compound cadet competition. The top seed saw off Michael Wood and Dru Ridding before facing Ajay Scott in the gold medal match. Ajay had beaten Stuart McCullough and David Taylor but Nathan prove too big a challenge, winning 141-132. David beat Dru to the bronze medal.
In the women's category, fifth seed Paige Jones beat Matilda Craven, Jenny Bryan and top-ranked Layla Annison to set up a showdown with Holly Clifford. Holly had defeated Grace Barrett-Rees, Iulia Petre and Chloe A'Bear but could not get the edge on Paige, who won 135-130. Layla defeated Chloe to take bronze.
The top two seeds went head-to head in the junior men's recurve final. Top-ranked Ryan Pinder saw off Connor Rides and Callum Platt while Cameron Donaldson defeated Jalmar Verbraak and Will Maddison. And it was second seed Cameron who proved victorious, winning 6-0 to take the title. Will beat Callum to bronze.
Exactly the same happened in the women's category - with a slightly different outcome. Top-ranked Emily Bryant beat Catherine Foreman and Rachael Smith to book her place in the gold medal match. There she faced second seed Lauryn Jewkes who had defeated Bethany Evans and Brooklyn Ditchburn but this time the top seed took the title with a 6-0 win. Brooklyn defeated Rachael 6-2 to take bronze.
Daniel Thompson turned in a powerful performance to win the recurve cadet men's crown, sweeping past Niall Costigan, Jacob Boden, Marco Costanza and Thomas Susca. His reward? The chance to take on Harry Tapp in the final. Harry had beaten Stephen O'Connor, James Woodgate, Monty Orton and Spencer Riley-Nice but Daniel proved too much in the end, winning 6-2. Thomas beat Spencer in the battle for bronze.
Alyssia Tromans-Ansell retained her crown after powering past Aspen Salisbury, Anna Perkins, Lucy Smith and Megan Bryer. The title challenger was Heather Hughes who had seen off Lauren Rawlings, Nicole Burdett, Louisa Piper and Thea Rogers but lost out 0-6 to Alyssia. Thea beat Megan to third spot.
There was drama in both recurve cub gold finals. Top seed Darragh Joyce defeated Jack Dohery and William Liversedge to set up a showdown with Ryan Leatham. He had seen off Archie Bromley and Maxwell Oakley and had his eyes fixed on the prize. Both archers battled hard but, in the end, the title went to Darragh with a 6-4 win. William beat Maxwell to bronze.
A shoot-off decided the women's title. Heike Palmer beat Isabelle Haslam for the chance to take on top seed Samantha Roberts and the match ended in a tie, forcing a shoot-off. Heike shot a six but Samantha hit the X to take the gold medal.
You can find out more about the festival here.
And you can find all the results here.
Picture: Derek Sizeland
Follow us on:
Instagram: archerygbofficial
Facebook: Archery GB
Twitter: @archerygb