Phoebe Paterson Pine is the current Paralympic Champion, but let's get to know her!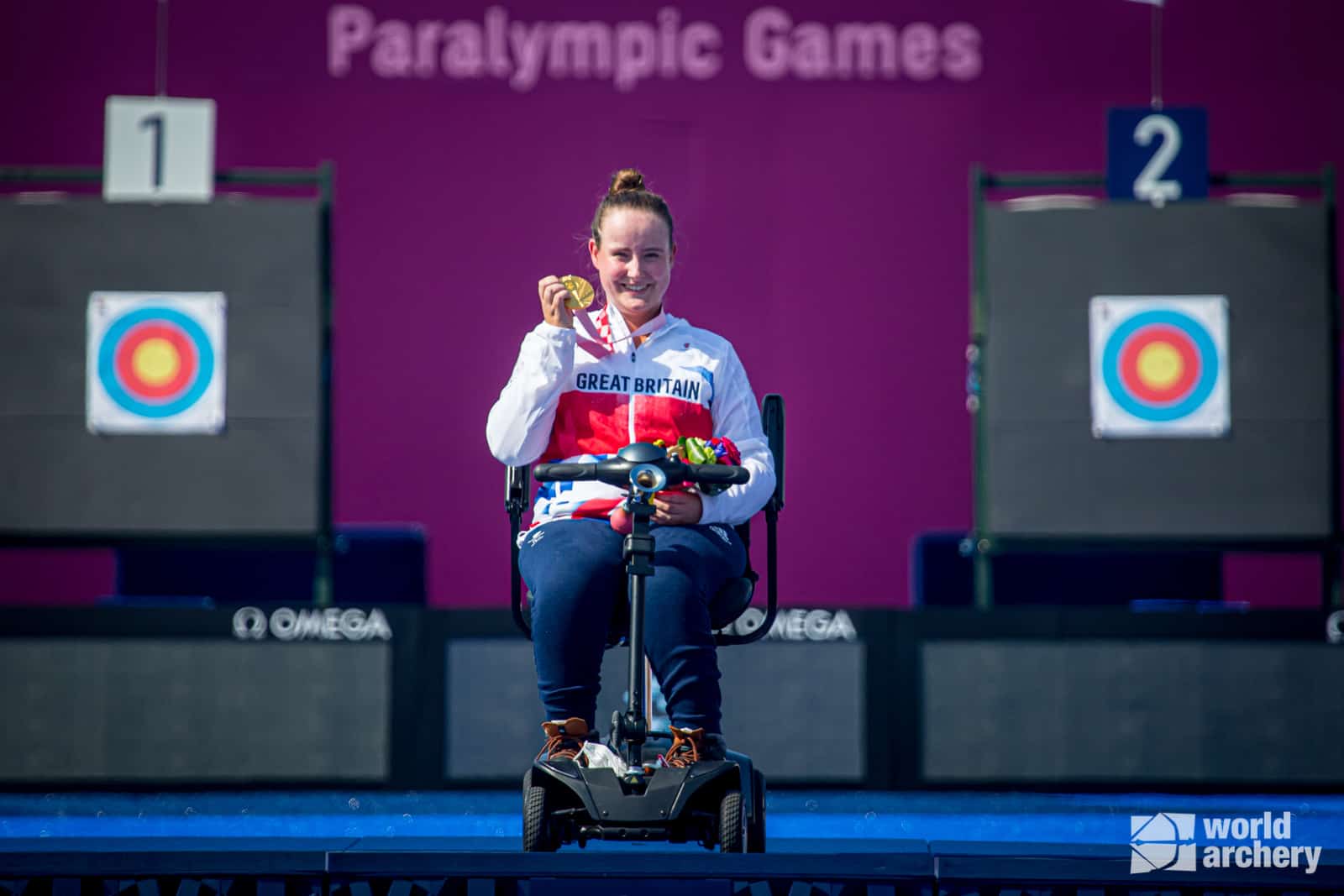 Phoebe Paterson Pine is the current Paralympic Champion and just won bronze at the World Archery Para Championships in Dubai. When she's not at the range, Phoebe is a studying degree in Sports Coaching Science and Pedagogy.
Phoebe Paterson Pine's archery journey
I started archery in late 2012 after trying it on a family holiday. The feeling of shooting an arrow felt right and natural for me. So, as soon as I got home I found my local archery club which was Deer Park Archers in Gloucestershire. From there I went on a beginners course and they supported me. When I started I wanted to just shoot compound and not go down the route of recurve.
How did you feel when you won the Paralympic Games?
I was incredibly happy to have won the games. It's been a dream of mine since I started shooting. I didn't picture myself winning as early in my career as I have done. I pictured myself being World or European champion before being Paralympic champion, but life had other ideas.
Once I won, it quickly hit me that I had completed a dream of mine, very quickly. And that leads to me not being so sure of myself anymore. I struggled mentally with not knowing what to do next. Also dealing with a lot of media attention too, but I've grown from those experiences. I am more mature and knowledgeable now about how to deal with difficult emotions and how to deal with the turbulence of being the Paralympic champion.
How has your life changed since the Games?
Life has changed greatly, for one I have more confidence in myself to compete to a high standard. And to be able to handle me and my emotions under pressure. Life has also changed a lot in that now people kind of know who I am more. I go out and people ask me if I'm ¬"that archery girl from Tokyo¬Ē and I have to say yes I am.
What has been your biggest drive?
If I have a goal that I want to achieve, I will naturally want to go out of my way to do everything I can to achieve that. I have sacrificed a lot over the course of my career to be where I am today. I didn't have the normal teenage years of going out every weekend with friends. Instead, I chose to shoot in order to succeed at what I wanted to, because of that I do think I lost a lot of friends due to archery. But that's been worth it for how well I am doing now with what I love so dearly.
I find as well that I have this weird obsession with pushing myself to drive for better too. I don't just finish the day of training because the day is over. I have to finish the day on a good note and on a high so that I come back the next day having succeeded and been successful.
If I also have a bad day or a bad shoot, I have to work my socks off to make up for it in other ways of archery too. I can't just accept that I've had a bad day I need to know why in order to improve and that keeps me going too. It helps to be stubborn.
Coming away from the Para World Championships with an individual bronze, shooting against Jess again - how does it feel?
People must think I really have a thing against my teammates by this point. Having had to shoot against Jodie for a spot to get to Tokyo. Then shooting against Jess in Tokyo to progress, and now to have shot against Jess again in order to win bronze. It honestly just shows how amazing the Compound Open Women are in the country.
We as a country have some of the best para archers roaming the planet. It just so happens that because of that we sometimes have to shoot against one another to win. I respect and admire both Jodie and Jess, so it's hard to shoot against them, but it's the nature of the beast. Obviously, I was really happy to have won. But I also recognise that for me to win, I had to beat a teammate and friend, but at some point, I'm sure she'll get me back!
What is next on the list for Phoebe Paterson Pine? 
I am currently back at university. I go to the University of Worcester to study Sports Coaching Science and Pedagogy, which is learning how to coach from a practical and literary sense. I should probably get on with that degree more now. I did work in Dubai on what I needed to do, but really that just turned into watching online lectures and then napping¬Ö
What do you enjoy outside of archery? Is there any time for anything else?
This is my second year of living with my other half now. So he keeps me entertained most of the time, even if I'm the funnier one in the relationship. Training takes up a lot of my time. So I don't necessarily have other hobbies per se, but I have university as well to keep me occupied.
I like to knit things that are mostly rectangular too. I want to start going out more on my mobility scooter too so that I can hopefully aid my mental health that way too.
How long until you have finished university? What is your degree?  
I was meant to finish my degree in 2020, but I deferred a year for the Paralympic Games that didn't go ahead in 2020. And then got told that I needed to do another second-year module this year as well. So I won't actually finish my degree until 2023/2024, which again collides with another Paralympic year, sounds fun right?
Advice from Phoebe Paterson Pine
I would probably tell people to not even look up to me. I've never had someone that I've looked up to in this sport because then you become all encapsulated in what they are doing. Rather than doing what you should be doing. It's so easy to see what other archers are doing and then wanting to do that. But you don't know if that will work for you. Whether you're just going to end up being injured by doing things your body can't do. Or physically something that is going to do more bad than good.
If I could give any advice to anyone it would be to just do your thing. Just do your archery. Don't worry about what others in the sport are doing or aren't doing. Just focus on what works for you and your journey.
Check out where Phoebe Paterson-Pine is in the current world ranking and achievements on the international stage here.