British athletes topped off a stunning performance at the European Youth Championships today by winning a silver and two bronzes - taking Britain to second place in the medals table!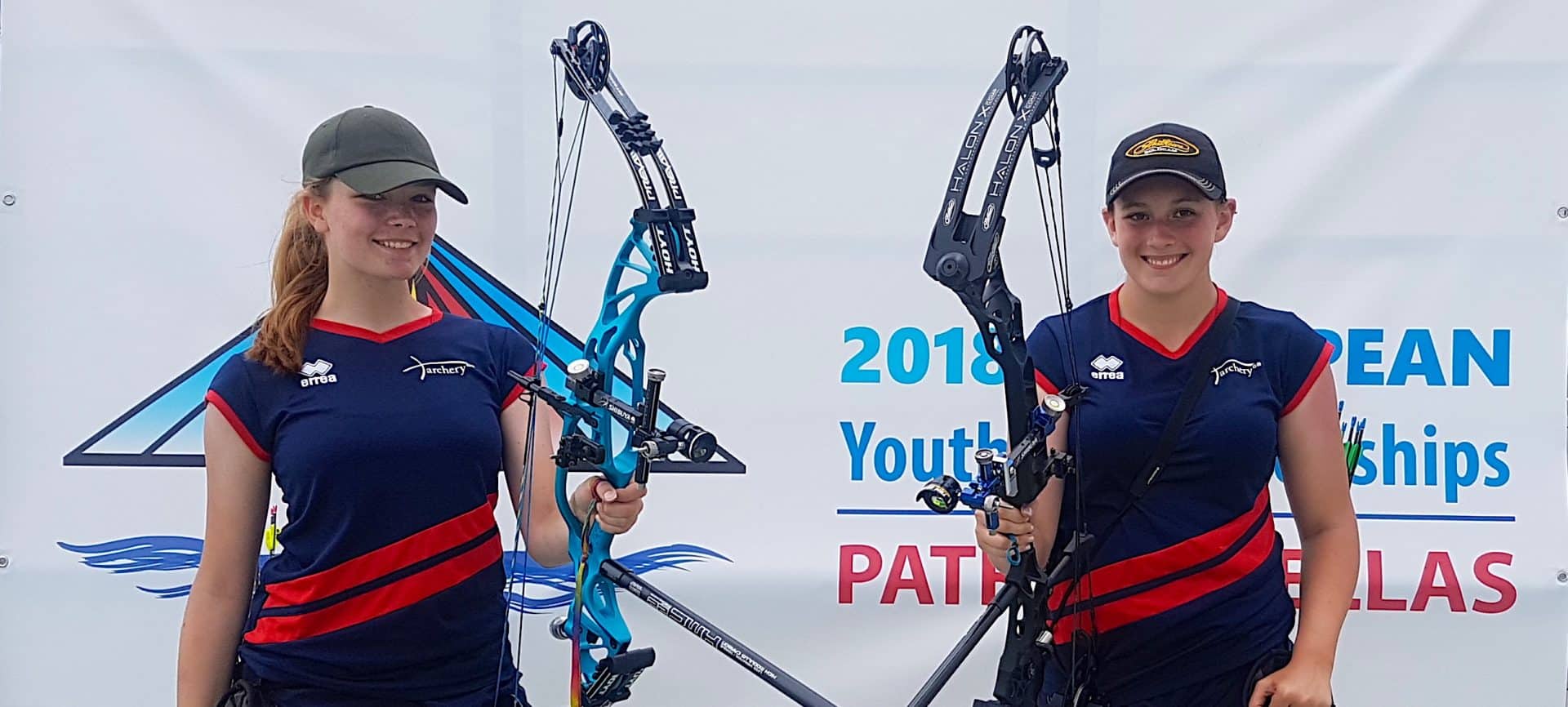 Recurve juniors Eleanor Piper, Louisa Piper and Lizzie Warner swept past Estonia 5-1 and beat Italy in a shoot-off. That left our top seeds facing a title battle with Ukraine. Both teams fought hard but in the end it was Ukraine that took the title.
Recurve cadets Jacob Reid, Thomas Susca and Daniel Thompson were battling for bronze. They had a bye into the last 16 where they beat Romania 6-2 then defeated Italy 6-2. That brought them head to head with top seeds Russia who seized the advantage. That meant that they too faced Ukraine - and they made sure of the medal with a hard-fough 5-3 win.
Ruby Paul was going for individual cadet bronze. She started her campaign by winning a shoot-off against Elizaveta Miron of Moldova. It set a pattern for the rest of the competition as she won a shoot-off against Charline Schwartz of Germany, beat France's Kyla Touraine-helias 7-1 and defeated teammate Alyssia Tromans-Ansell in another one-arrow decider. That left her facing Orysia Didych in the semi-finals. It was close but the Ukrainian third seed won 6-4. Ruby faced France's Aurelia Treves - and she took the medal with a straight sets win.
That took Britain's medals total to 10: four gold medals, three silvers and three bronzes.
Yesterday our compounders were in action and cadets Layla Annison and Jenny Bryan faced each other in an all-British title decider.
Top seed Layla beat Estonia's Karolin Puusepp 144-139, Natacha Stutz of Denmark 142-139 and Emine Azra Yilmaz of Turkey 143-139 to secure her title shot. Eleventh seed Jenny beat home favourite Anneza Athanasiadi 135-128, Sevda Yaka of Turkey 142-141, Italy's Elisa Bazzichetto 142-141 and Turkey's Sevval Ozer 141-136. In the end is was Layla who had the edge, winning 142-135 to become European champion.
The junior women's team of Isabelle Carpenter, Ella Gibson and Lucy Mason have been in similar form. The top seeds beat Italy by a single point to secure their shot and did it again against Turkey to take gold and the title.
There was gold for cadets Adam Carpenter, Lewis Haslam and Matthew Wong too. The third seeds saw off Greece 223-216 and Denmark 233-230 to secure a showdown with favourites Turkey. And they were not going to be denied, taking the title with a 222-216 win.
There was a second gold for Adam as he teamed up with individual champion Layla Annison in the mixed team competition. The top seeds defeated Greece 151-148, Estonia 154-144 and Russia 156-152 to take the title.
Britain's second silver came courtesy of cadets Layla Annison, Jenny Bryan and Holly Clifford. They beat Romania 227-184 and Russia 227-213 to set up a gold medal match with Turkey. But the top seeds edged ahead, taking the title 226-221.
And there was a dramatic cadet mixed team bronze for Isabelle Carpenter and Kai Thomas-Prause. They beat Latvia-152-148 and Turkey 151-147 before being edged out of the title race by Italy. That left them facing Norway in the battle for bronze - and they tied on 144. That meant a shoot-off. Norway scored 18 but Britain went one better to take the medal.
You can find all the results here.
Picture: Layla Annison and Jenny Bryan
Follow us on:
Instagram: archerygbofficial
Facebook: Archery GB
Twitter: @archerygb