Twelve months ago Bryony Pitman won recurve gold at the Indoor Archery World Cup in Marrakesh. This year an on-form National Series champion Patrick Huston got the 2017/18 indoor campaign off to a flying start by winning silver.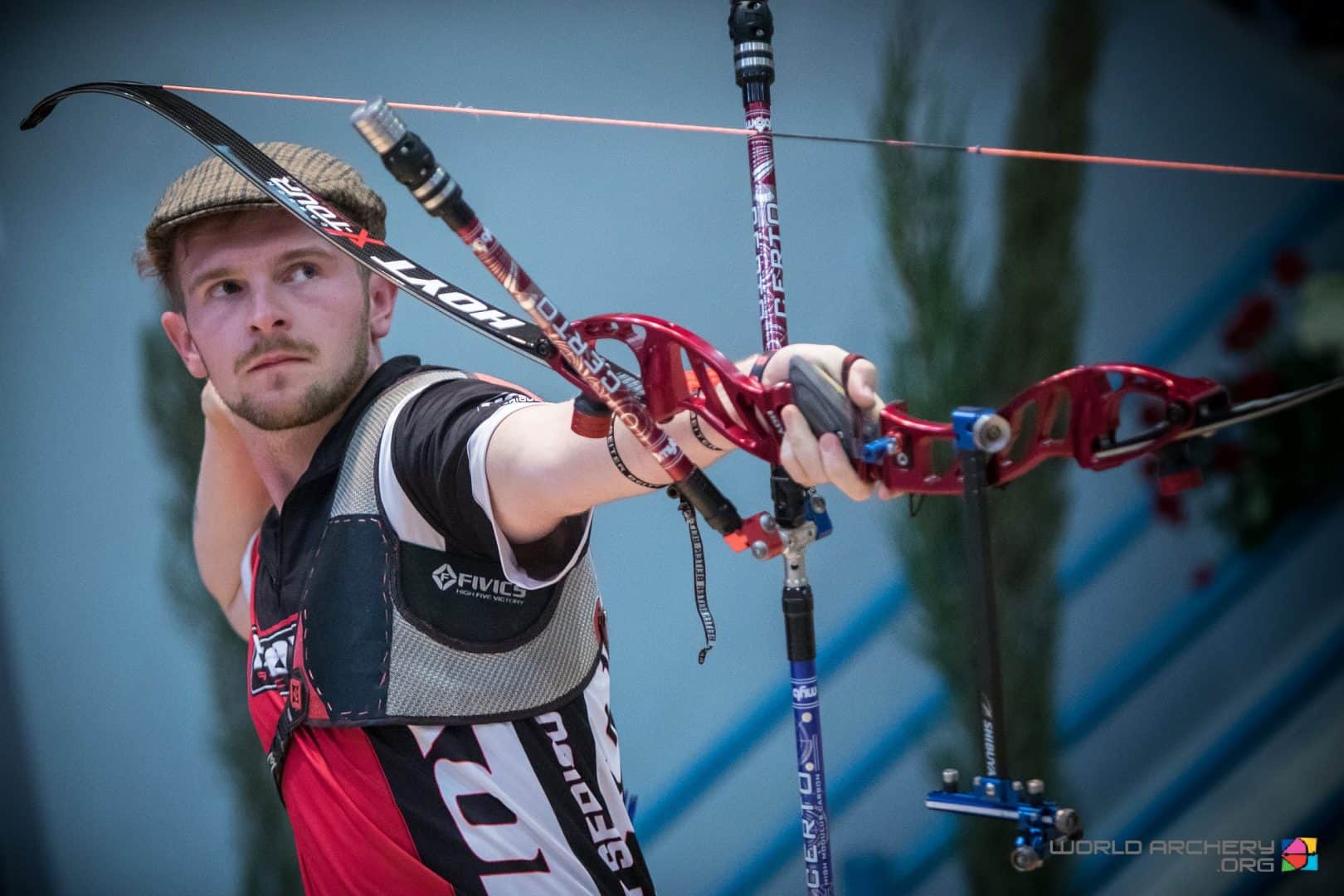 And Edinburgh University member and National Series compound champion Sarah Prieels won gold while Jaspreet Sagoo came within a hair's breadth of winning recurve bronze.
Patrick (pictured) qualified in second place then swept past Moroccan Mouad Erriahi Elidrissi 6-0, Italy's Fabio Molfese 6-2 and Marco Morello 6-4 before beating American Matthew Requa in the semi-final. That brought him face-to-face with another Italian, Matteo Fissore. And it was close but the fourth seed edged it, claiming gold with a 6-2 win.
Three other British men made it to the last 16. Ninth seed Antony Wood beat Spain's Pedro Xavier Caballo Florizoone before falling to Frenchman Florian Bossard. Conor Hall, ranked 12th, overcame another Spaniard, Carlos Pey, before defeat by Eric Libert of France, while 20th seed Alex Smith survived a shoot-off with Morocco's Ismail Elalaoui but fell to Fissore.
Fifth seed Jaspreet - and eighth seed Rebekah Tipping - were given byes into the last 16 of their competition. Jaspreet the defeated Australia's Klara Fay 6-0 and Italian fourth seed Chiara Rebagliati 6-2 before meeting top seed Gabriella Bayardo in the semis. Jaspreet battled hard but the Dutch archer won 6-2 to win a place in the gold medal match against eventual champion Aida Roman. That left the Briton in a battle for bronze against Italy's Claudia Mandia and the second seed edged it.
Rebekah finished the competition in fifth spot after beating France's Isabelle Vayssie 6-2 but being knocked out in a hard-fought match with Bayardo.
Sarah Prieels romped to compound victory by knocking out Britain's 14th seed Kirsty Robb, Denmark's Sarah Sonnichsen 147-146 and another Dane, second seed Tanja Jensen 148-144. That pitted her against top seed Paige Pearce-Gore of the USA - and it was evenly matched all the way. Both finished on 148 points which meant only one thing - a single arrow shoot-off. Pearce-Gore hit the nine but Sarah took the title with a 10.
Britain's other female compounder, Hope Greenwood, was seeded 10th but was kept out of the quarter finals by Sunniva Lislevand of Norway. Britain's only compound man, Alistair Whittingham, survived a shoot-off against American Brad Rega but fell to eventual bronze medallist Mike Schloesser of the Netherlands.
British recurvers Sathish Kumar Kannan and John Kelly finished 36th and 37th respectively.
You can find the results here.
Picture: World Archery
Follow us on:
Instagram: archerygbofficial
Facebook: Archery GB
Twitter: @archerygb