British archery has had a phenomenal year. From Rio to Nottingham and Stoneleigh, our archers produced stunning performances, supported by volunteers who worked tirelessly coaching and making events all around the country a success.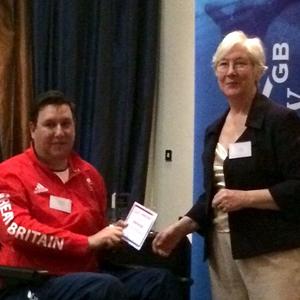 Now Archery GB's 2017 AGM in Birmingham has provided the chance to honour some of them, giving them the recognition they so deserve.
The major national trophies went to members of the Paralympic team who put Britain at the top of the archery table in Rio.
Double gold medallist John Walker was awarded the Hartwell Trophy for Archery GB's archer of the year for his achievements, his commitment and his efforts to raise the sport's profile.
The Gussy Trophy for wheelchair archer of the year went to Jo Frith. She won W1 mixed team gold with John in Rio, plus individual silver.
And this year a new award category was introduced: the young archer of the year. The award went to 16-year-old Jess Stretton who combined school work and sitting her GCSEs with record breaking performances and Paralympic selection shoots. Then, of course, she dominated the women's W1 category in Rio, winning gold and leading Britain's historic clean sweep.
There was another first for the Toxophilus Trophy award. It went to an e-magazine produced by Junction Archers. The club was praised for the way it engages and supports members.
Bristol Bowmen and Golden Phoenix Archers won the Archery GB Club Website Trophy while Shropshire Archery Association took the regional and county award.
Over the past couple of years Archery GB has increased the number of Plaquettes it awards to volunteers. We asked for nominations and you rose to the challenge, meaning that this year a total of 16 members have been recognised.
Bronze Plaquettes were awarded to:
Andrea Malyon, for the innovative way she has involved sports BTEC students in tournament work parties.
The Para Support Team, for helping the Paralympic team achieve such stunning results in Rio and their continuing work and dedication.
Chris Ord: coach, club co-founder, webmaster tech guru and archery scoring maestro.
Marion and Dennis Saville, for their work with Bowmen of Ardleigh, Pilgrim Archers and Essex County Archery Association.
Doreen Cannon: long-serving secretary of Worthing Archery Club and Sussex County and the county's coaching group, a former regional recurve champion, county team member and manager who champions the needs of junior archers.
Paul Agar, Melton Mowbray Archery Club's records officer and tournament organiser who gets more people shooting more arrows more often!
Sheena McCullagh, for championing inclusivity and helping to make Archery UK accessible to all.
Tony Smith, for more than 60 years of devotion to archery and being an outstanding ambassador for our sport.
Malcolm Grant, for his devotion Brixham Archery Club, his development and coaching roles with Devon and Cornwall and helping wounded veterans into the sport through Help for Heroes.
Graham Potts, for his work on Archery GB's juniors, judges and rules committees, as well as officiating at London 2012 and as Chairman of Judges at the Rio Olympics.
Tim Swane, for more than doubling the number of coaches, his support for the Development Team and Membership Services and his common sense solutions to course design and processes.
The following members were also awarded bronze Plaquettes but could not join us for the AGM:
Katy Lipscomb: an international judge who played a major role at the European Championship in Nottingham. Katy is the Southern Counties Regional Judge Liaison Officer, managing the development of a team of 60-plus judges.
Andrew Rees, for his dedication as a member of the Archery GB field team since 2005 and his contribution to running the sport at club, county, regional and national levels.
Tim Pratt, for his work as Chairman of the National Tournaments Committee, leading the team that runs some of the sport's most prestigious events.
Silver Plaquettes were awarded to:
Candy Scofield for her work with the Archery GB event team, particularly at the 2016 European Championship at Nottingham.
Geoff Malyon, for his outstanding contribution as a Director and as part of the Operations Committee.
The number of Honorary Life Members also rose, reflecting the increase in membership. This year to award goes to:
Tim Jackson, for his outstanding contribution to major archery events over the past 15 years.
John Poyner, for his outstanding contribution to the sport.
Also to Hugh Soar, a prolific writer, for his contribution to the history of archery,
Follow us on:
Instagram: archerygbofficial
Facebook: Archery GB
Twitter: @archerygb