Patrick Huston, Tom Hall and Alex Wise swept to recurve team bronze in dramatic style at the second leg of the Hyundai World Cup in Antalya today.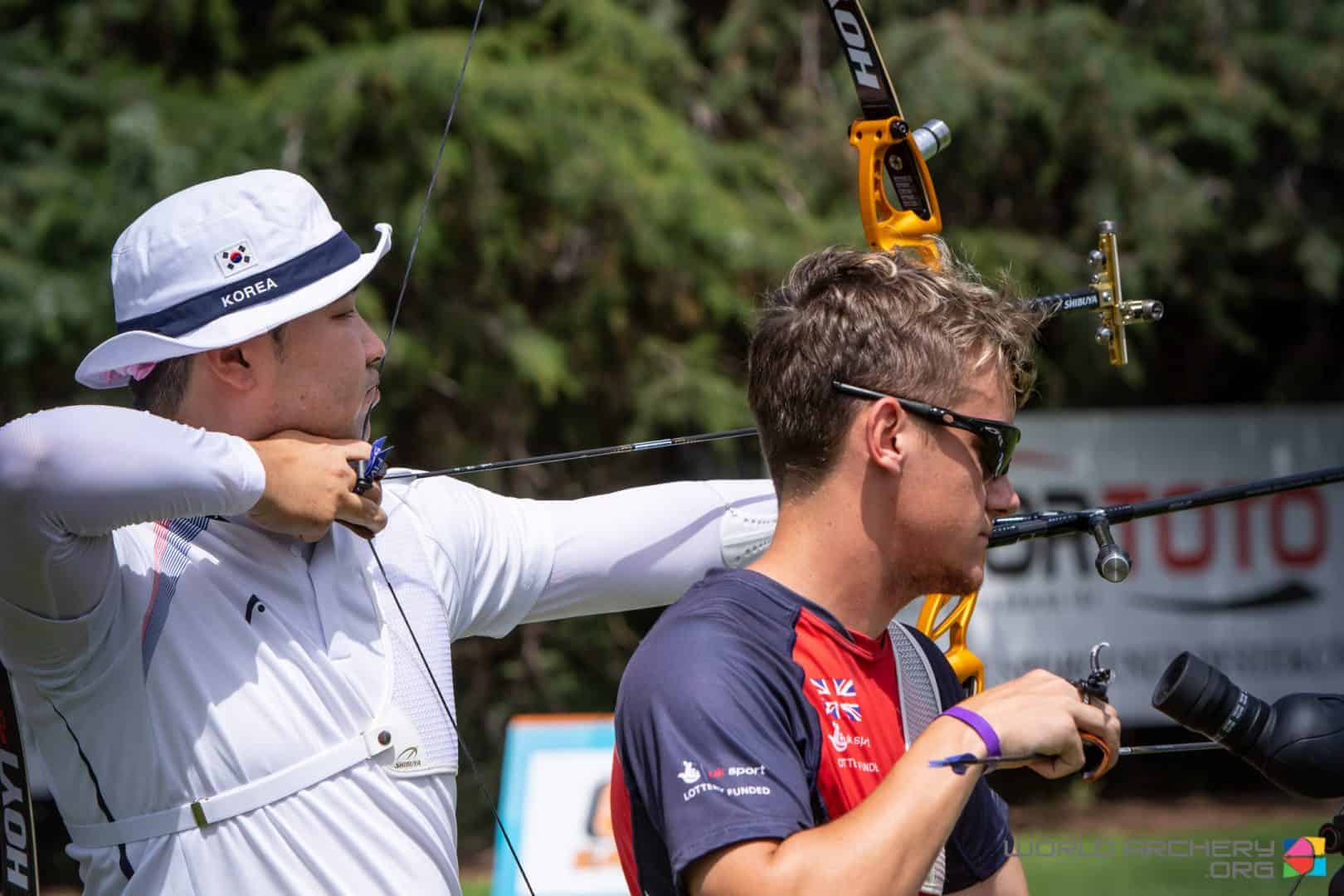 To get to the medal decider, they beat Indonesia 5-3 and won consecutive shoot-offs, first against France and then Spain. That brought the 14th seeds face to face with an on-form Japan in the semi-final. The Britons shot well, winning the first set but Japan pulled back to take the match 6-2.
That left them facing Malaysia - and it was the fourth seeds who took first blood, winning the first set 49-47. But then Patrick, Tom and Alex hit their stride, taking the second 52-50, the third 57-52 and the fourth by a single point as Tom's final arrow ensured a well-deserved victory.
You can watch the bronze final as it happened here. Scroll through to 54:46 to see Patrick, Tom and Alex in action.
Recurvers Sarah Bettles, Eleanor Piper and Bryony Pitman qualified in 13th spot, earning a bye into the last 16 and a showdown with Russia for a place in the quarter finals. And they so nearly made it. It was honours even throughout the match, forcing a shoot-off. The British team amassed 23 points but could not match the Russians' perfect 30.
Compounders Susan Corless, Lucy Mason and Lucy O'Sullivan were defeated 222-228 by Kazakhstan.
In the mixed team competition, recurvers Patrick Huston and Bryony Pitman defeated Poland 5-3 but could not overcome third seeds Chinese Taipei who will shoot for bronze on Saturday.
Alex Wise caused a major upset in the individual recurve categories by dumping reigning World Archery champion Im Dong Hyun out of contention.
The 17-year-old recurver, ranked 57th, fought to a 6-4 win over Austria's Andreas Gstoettner before facing the three-time Olympic medallist who is currently ranked second in the world. Alex took the first set 28-27 and the second set was tied. The Korean fought back to take the third but Alex took the last two sets for a convincing 7-3 victory. That left him facing Chinese Taipei's Jao Ting-Yu. He fought hard but was denied a place in the last 16, losing 0-6.
Olympian Patrick Huston put on quite a performance too. The 16th seed dismissed Lasha Pkhakadze of Georgia 6-0 and Poland's Mateusz Ogrodowczyk 7-3. That set up a showdown with Muhammad Akmal Nor Hasrin and again, it could not have been closer. Patrick took the first and third sets but the Malaysian took the second and really hit form in the latter stages to take the match 6-4.
Tom Hall, ranked 63rd, lost out in a shoot-off against Oleksii Hunbin. Both athletes shot a nine - but the Ukrainian's was closer to the centre. Ashe Morgan, who qualified in 91st place, was beaten 6-2 by Mete Gazoz of Turkey.
In the women's recurve category, 58th seed Louisa Piper beat Kazakhstan's Luiza Saidiyeva 6-2. That gave the 15-year-old the chance to test herself against her archery idol, Aida Roman. But experience told as the Mexican Olympian went through with a 6-0 win.
Bryony Pitman, ranked 51st, defeated Poland's Kamila Naploszek 6-0 but could not get past Italy's Tatiana Andreoli. Eleanor Piper, who qualified in 48th spot, fell 7-3 to Marie Horackova of the Czech Republic while 57th seed Sarah Bettles was narrowly beaten by Melanie Gaubil of France.
Compounder Lucy Mason, seeded 41st, made it to the last 48 of competition on a bye but her progress was blocked when she fell 143-147 to Chen Li Ju of Chinese Taipei. Austria's Silvia Barckholt beat Lucy O'Sullivan, ranked 50th, by a single point and 56th seed Susan Corless was beaten 143-134 by France's Sandra Herve.
Edinburgh University's Sarah Prieels, shooting for Belgium, qualified in fifth place earning a bye into the last 32 where she faced Ayse Bera Suzer. The match ended 143-143, forcing a single arrow decider. Both athletes hit the nine but the Turk just edged it.
You can find all the results here.
Above: Alex Wise, Patrick Huston and Tom Hall. Picture: World Archery
Follow us on:
Instagram: archerygbofficial
Facebook: Archery GB
Twitter: @archerygb