The Hyundai World Cup season has started for the GB team in Lausanne, Switzerland.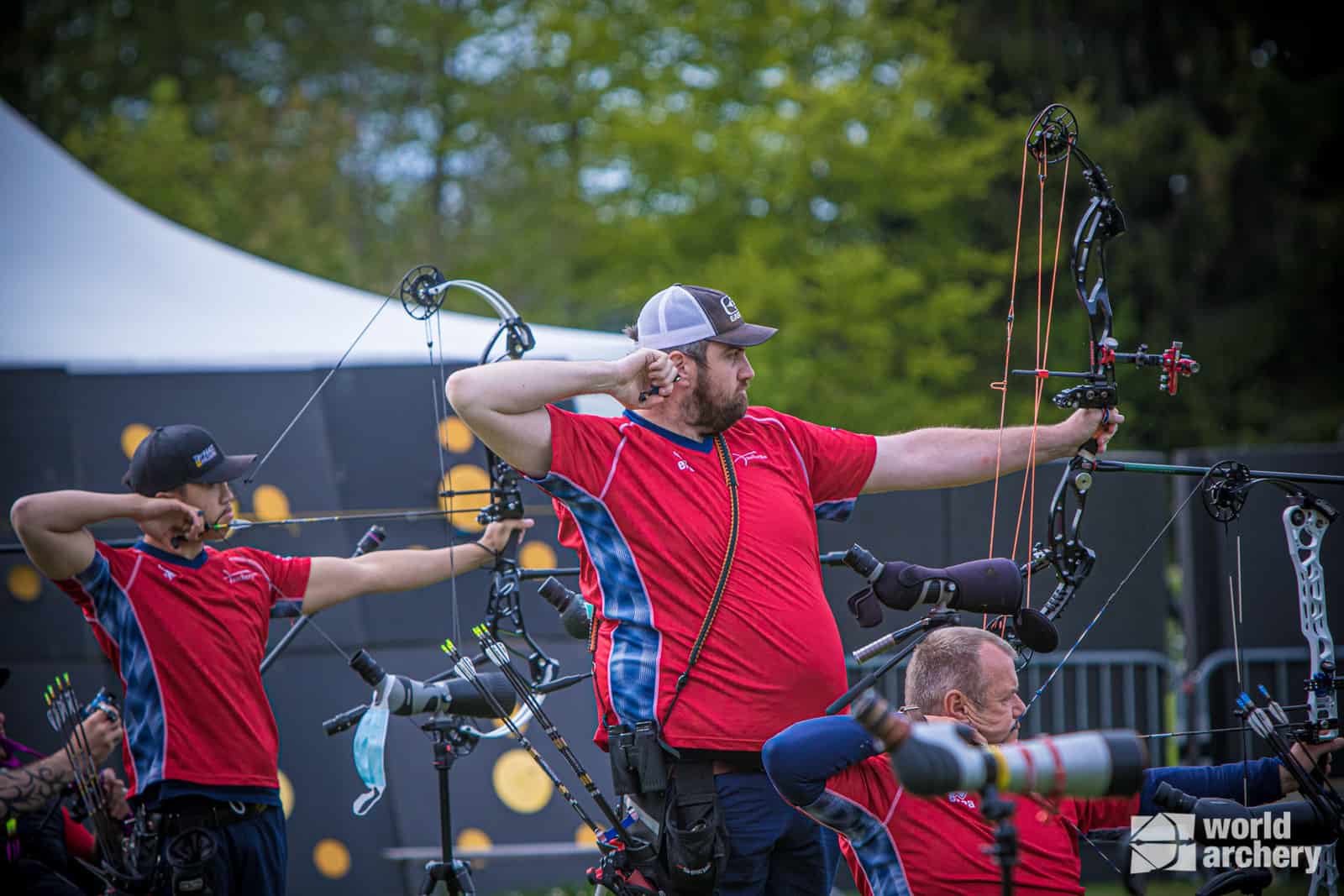 Today was the first day of the World Archery Hyundai World Cup in Lausanne.
Compound Women and Recurve Men
This morning saw the recurve men and compound women qualify at the Hyundai Archery World Cup in Lausanne.
Ella Gibson ranked first in the compound women in Lausanne, matching the British record of 705. The score also matched her international career-best. "It was amazing to finally compete abroad again, it's been so long but I'm glad I could come out here and perform how I wanted. I can't wait to shoot my shot this week and see what it gives me."
Jessica Stretton qualified 19th with 687 in the compound women, with Phoebe Pine in 34th with 669 and Sarah Moon in 36th with 659. The compound women team, Ella, Phoebe and Jessica ranked fourth with 2061 points.
Patrick Huston topped the GB recurve men and qualified 11th. Patrick explained, "There's no better place to test yourself than tournament. The intensity of the situation gives so much simulation, there's nowhere I'd rather be than a tournament field."
James Woodgate qualified 34th with 656 in the recurve men, with Tom Hall in 44th with 653 and Alex Wise in 63rd with 640. The recurve men team, Patrick, James and Tom ranked eighth with 1978 points.
Compound Men and Recurve Women
James Mason qualified highest for the GB compound men at the Lausanne World Cup, in fifth place with 710. "It is good to be out competing again. I wasn't really sure what to expect as it was my first international in a long time but things went much better than expected."
Nathan Macqueen qualified 29th with 696, Matthew Wong in 37th with 693 and John Stubbs in 43rd with 680. The compound men team, Nathan, James and Matthew qualified seventh with 2099 points.
The compound mixed team, Ella Gibson and James Mason qualified first with 1415 points, one point ahead of USA and Denmark. However, as this is one of the last international events prior to the Paralympic Games, Nathan Macqueen and Jessica Stretton will be shooting in the mixed team event.
Rikki Bingham, Lead Paralympic Coach, explained, "It was agreed that the top Para compound man and woman would be shooting the mixed team to allow practice ahead of Tokyo with so many Para events being cancelled or in red zone countries. It's really kind of the compound team to allow this."
Sarah Bettles qualified first in the recurve women for GB in 16th place with 659. "It was really great to be back out at an international competition again after so long and seeing so many international friends that I haven't seen in so long.
"Qualification was field by a nervous excitement, shooting at a World Cup having done so few competitions over the past year. There were moments where my nerves got the better of me throughout qualification and there were moments where my shots felt amazing and I could feel the hard work over the past year paying off.
"Despite the nerves I was still really pleased to walk away with a 659 (my second highest international score) knowing that I have a lot more to offer."
Bryony Pitman qualified 25th with 652, Yulia Larkins in 36th with 642 and Louisa Piper in 53rd with 625.
The recurve women team, Sarah, Yulia and Bryony ranked seventh with 1953. The recurve mixed team, Sarah Bettles and Patrick Huston ranked eighth with 1328 points.
For full results of the Lausanne Hyundai Archery World Cup, see here.