Some of Britain's brightest prospects gathered at Lilleshall at the weekend to test their skills at the UK Junior Masters invitational shoot.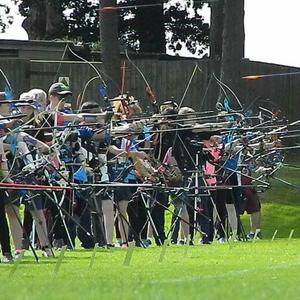 Any archer who gained Junior Master Bowmen status in the last year was invited to attend and get a flavour of top-flight competition.
They started with a 720 ranking round and then went head-to-head - exactly as the Olympians are doing in Rio. It led to tense competition, nail-biting moments and dramatic shoot-offs. Then they did it all over again to find a single winner for each bow type.
On Sunday they shot a Round Robin series of head-to-heads to determine their rankings and the top four archers in each category went forward to compete for medals.
The weather throughout rivalled Rio and the event proved popular with both archers and parents who said that they had learned a lot.
If you were there and have any feedback that might improve the competition, the Junior Committee would love to hear from you. It is your event and it would love to know what you think.
You can contact the committee via the Chairman at chairman.junior@archerygb.org
The results were:
Overall Junior Masters champions
Girl recurve: 1, Alyssia Tromans Ansell; 2, Molly Peters; 3 Sydney Strugnell
Boy recurve: 1, Tom Alexander; 2, Thomas Susca; 3, Roman Quinton
Girl compound: 1, Jenny Bryan; 2, Hallie Bolton
Boy compound: 1, Alex Taylor; 2, David Taylor; 3, Jamie Harris
Girl barebow: 1, Phoebe Rose; 2, Amethyst Chopping
Boy barebow: 1, Sam Birdsall
No longbows submitted qualifying scores
Archery GB is sponsored by Foresters Friendly Society www.forestersfriendlysociety.co.uk
Follow us on:
Instagram: archerygbofficial
Facebook: Archery GB
Twitter: @archerygb