Bryony Pitman claimed a second medal at the European Indoor Championships today - and Layla Annison added a bronze to Britain's haul!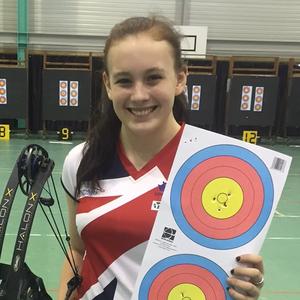 Second seed Bryony stormed through the junior recurve competition to earn a gold medal showdown with Tatiana Andreoli, the Italian who pipped her to the top to the rankings. And it was as tough a battle as you would expect from two athletes at the top of their game.
The Italian took first blood, winning set one by a single point. Then Bryony hit back with a perfect 30 to draw level. But Andreoli turned up the pressure with a faultless performance in the last two sets to take the match and the European title.
It was Bryony's second medal of the championships. She teamed up with Alyssia Tromans-Ansell and Lizzie Warner for the junior recurve team competition and claimed bronze in a blistering performance against sixth seeds Poland.
Junior compounder Layla was on cracking form as she faced fourth seed Lisell Jaatma in the battle for bronze. They tied the first end but Layla edged ahead in the second and third. The last two ends were tied - but it was enough to give Layla the medal.
James Howse was also going for junior compound bronze and found himself face to face with Goksel Altintas. The Turk got off to a perfect start and, although James tied both the second and fourth ends, managed to edge ahead to a 145-142 win.
There was frustration too for senior compounder Daisy Clark. She faced Marcella Tonioli who edged the first three ends by a single point. Daisy tied the fourth but Tonioli took the fifth - and the medal - with a perfect 30. The gold medal was won by Edinburgh University's Sarah Prieels, who was shooting for Belgium. She qualified in top spot and, after surviving an early shoot-off, beat Britain's Hope Greenwood in the quarter-finals, then Daisy and, finally, Russia's Alexandra Savenkova to take the European title.
Britain's compound junior men, Jacob Caine, James Howse and Luke Ralls, had earlier come agonisingly close to adding to the medals haul. They were up against Russia in the battle for bronze and fell one point behind in the first end. Then they battled back to tie the second. Russia pulled ahead in the third but Britain took the fourth end 59-58. But it was not enough and the Russians won 233-231.
And it was the Russians who also ended our senior compound women's bronze medal hopes. Daisy Clark, Elizabeth Foster and Hope Greenwood put up a strong fight against the fourth seeds and it so nearly paid off. Russia took an early advantage but Britain hit back, winning the third end. It came down to three points in the end - and Russia edged it.
You can find a match-by-match breakdown here and see all the results on Ianseo.
Follow us on:
Instagram: archerygbofficial
Facebook: Archery GB
Twitter: @archerygb