Jo Frith is the new W1 champion of Europe - and Steve Prowse held his nerve during shoot-off to take the VI 2/3 title.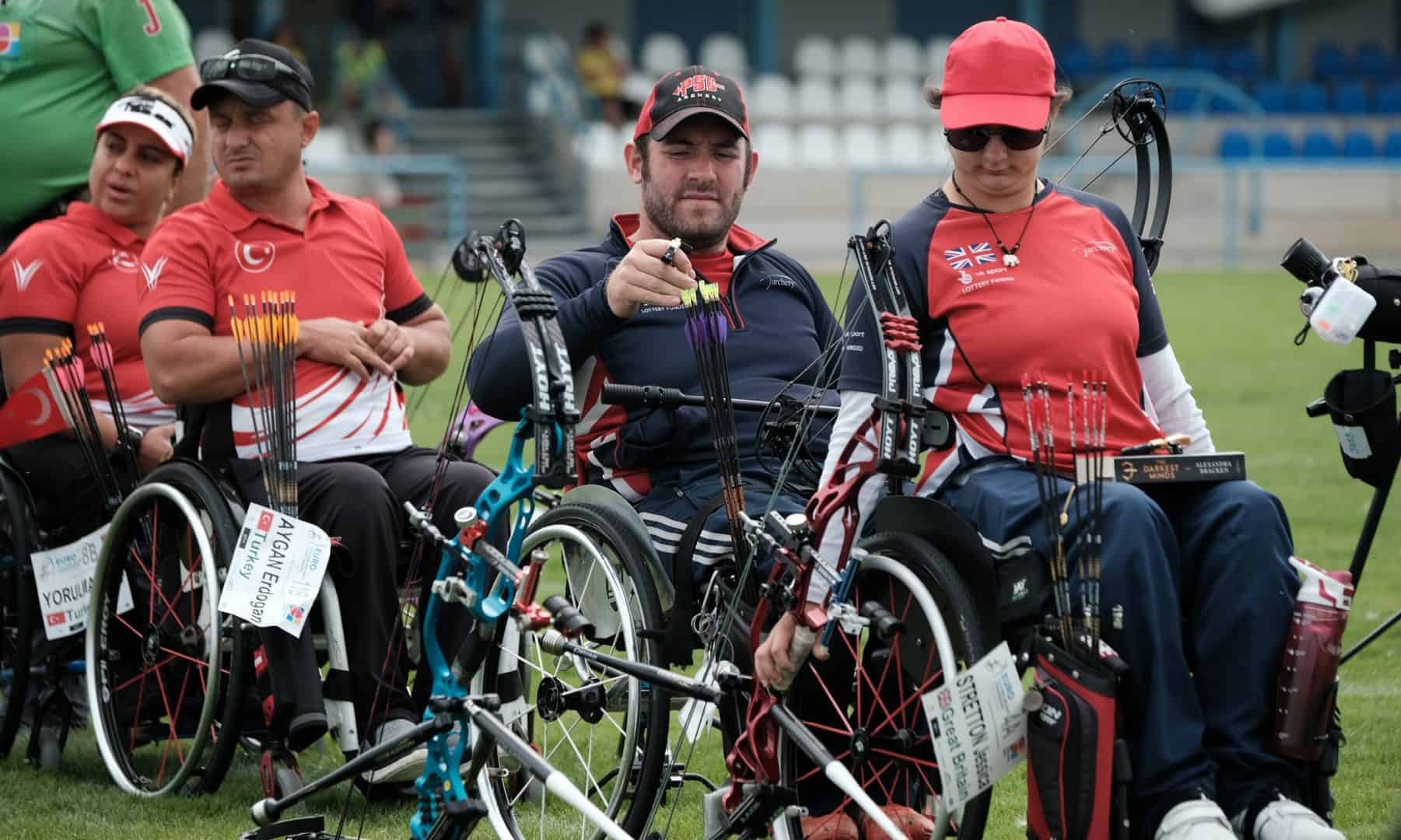 Paralympian Jo beat teammate Victoria Rumary in a stunning match at the European Para Championships in Pilsen.
Both women were right at the top of their game. Top seed Victoria had blazed past Russia's Anna Ilina and Elena Krutova while Jo, ranked second, saw off Tereza Brandtlova of the Czech Republic and Italy's Asia Pellizzari who went on to win bronze.
It was neck and neck as the pair eased into the match, Jo going one shot ahead in the first end, Victoria pulling back in the second. But then Jo hit form, landing Xs and 10s to start building her lead. Victoria finished in style with a 10. It was not enough to deny her teammate her first European individual gold - but silver is still a cracking start to a European Championships career.
You can watch the match as it happened. Simply click here and scroll through to 2:12:30.
World champion Steve Prowse faced Italy's Giovanni Maria Vaccaro in his battle for gold - and the match started as it was to finish, as a tie. The advantage then swung back and forth between the two competitors until the inevitable happened: a shoot-off. Vaccaro shot a seven but then the highly-experienced Briton slotted home a nine to claim the title.
We also had five British athletes shooting for bronze. In the VI 2/3 competition, Nicholas Thomas faced teammate Phillip Tranter and the shoot-off theme continued. Both finished on five points and Phillip shot a six - but Nicholas took the medal with a nine. In the VI 1 category, Richard Nicholl faced Jordi Casellas of Andorra and, once again, the match was tied. Richard shot a six but Casellas went one better to take the medal.
You can see the footage here. Steve's match starts at 1:28:50, Philip and Nicholas go head to head at the one hour mark and Richard's match is at the start.
Our other contenders were compounders John Stubbs and Jessica Stretton. John had swept past Romanian Bogdan Raicu, Tanar Eren of Turkey and France's Daniel Lelou before being edged out of gold medal contention by Russia's Nail Gatin. That left him facing top seed Marcel Pavlik and it was the Slovakian who took the medal. It was a similar story for Jessica. She saw off Julie Chupin of France and Sweden's Sandra Reppe but was kept out of the title match by top seed Maria Andrea Leppe of Italy. The battle for bronze against Russia's Yulia Alekseeva was hard-fought but the Russian claimed the honours. Unfortunately the video footage for this match is unavailable at the moment.
But Jessica is going home with a medal. She won European mixed team compound silver with Nathan Macqueen. They were up against Slovakia - and both teams scored 150. That meant a shoot-off to take the title. Jess and Nathan scored 19 - but Slovakia went one better to snatch the victory.
To see the match, click here and scroll through to 1:54:40.
Victoria Rumary and John Cavanagh made it two silvers. They shot the highest W1 mixed team score - 139 - to get into the gold medal match against the Czech Republic. It was a hard fight but the Czechs pulled away, winning the title 147-135.
To see the match, click here and scroll through to 21.53.
When recurvers David Phillips and Hazel Chaisty were edged out of their mixed team title shot by Poland they were determined not to go home empty-handed. They faced an equally-determined Turkey in the battle for bronze. The result was a classic. Tied at four points each they faced a shoot-off. Turkey shot 19 but David and Hazel scored a perfect 20 to claim the medal.
Click here and scroll through to 1:20:55 to watch the match.
And you can find all the results here.
Above: Champions Jo Frith and Steve Prowse. Picture: World Archery Europe
Follow us on:
Instagram: archerygbofficial
Facebook: Archery GB
Twitter: @archerygb