Over 120 archers lined up for the 2019 National Clout Championships hosted by Bronte Archers in Bradford.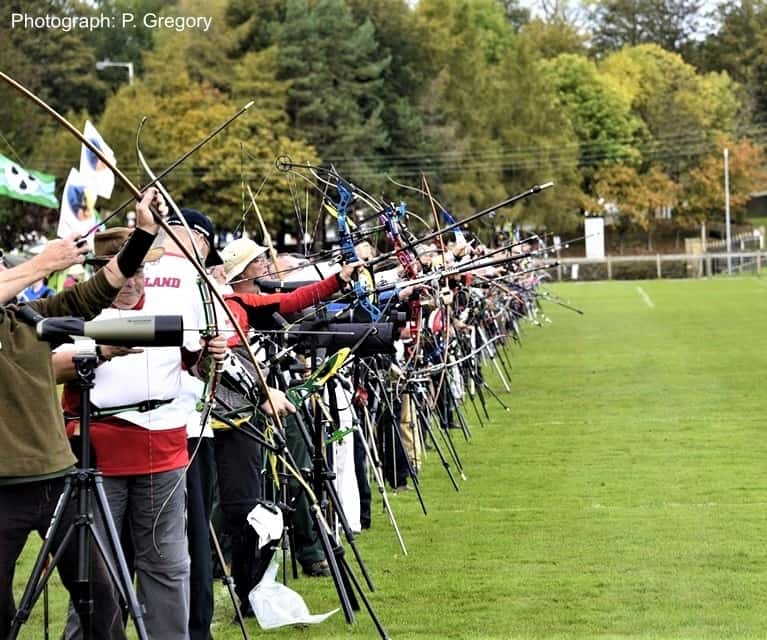 In a season of 60 tassel and record status clouts, shot in all weathers which ranged from a whirlwind in York to a mud bath in Kendal, it was with great relief that the rain stayed away as did the wind which made for some great scores.
This years champions are:
• Lady recurve: Shelley Hurst of Bronte Archers
• Lady compound: Stefanie Probert of Morecambe Bay Archers
• Lady longbow: Tracy Cross of Goldcrest Archers
• Lady barebow: Carol Fairbrother of St Georges Archery club
• Gent recurve: Chris Baigent of Waterside Archers
• Gent compound: Malcolm North of Abbey Bowmen (Herts)
• Gent longbow: Andy Sollars of Waterside Archers
• Gent barebow: Alan Holder of Forest of Bere Bowmen
• Junior girl recurve: Hannah Fox of Archery GB
• Junior boy recurve: Rhys Morrillo of Goldcrest Archers
• Junior girl compound: Patience Wood of Bebington Archers
• Junior girl barebow: Evie Finnegan of Assheton Bowmen
• Junior boy barebow: Edward Milner of York Archers
• Recurve club team champions: Bronte Archers
• Compound club team champions: Hingham Bowmen
• Longbow club team champions: The Longbow Club
• Barebow club team champions: St Georges Archery Club
There were 3 National records broken and 16 tassel awards claimed on the day. Best clout of the meeting went to Michelle Loxley of Osprey Archers.
For full results, please see below.
Thank you Darren Barker for your help with the wording and photograph!