Patrick Huston claimed his third consecutive Archery GB National Series recurve title today in Birmingham - equalling Simon Terry's record - and Naomi Folkard made sure she reclaimed hers, bringing her total to three so far.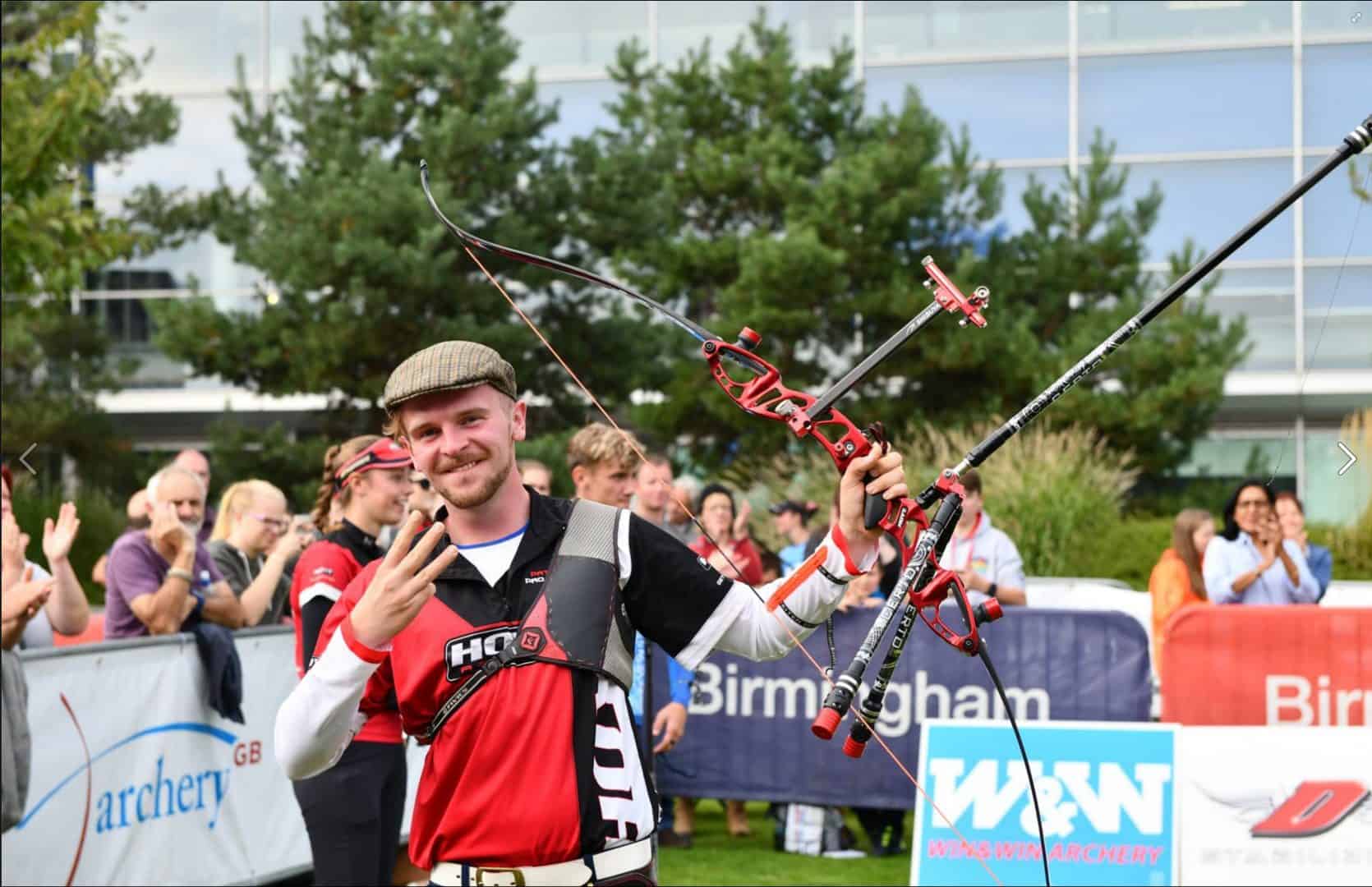 That means that after two days of superb shooting the 2017 National Series champions are Patrick, pictured above, Naomi and compounders Adam Ravenscroft and Sarah Prieels.
Adam and Sarah were in action at Eastside City Park, Birmingham, yesterday but today the focus was firmly fixed on our recurve contenders.
The finals kicked off with the women's quarter finals. First up was top seed Sarah Bettles who defeated Sarah Smith 6-0 to secure a semi-final against Olympian Naomi, who overcame Bryony Pitman's challenge 7-1.
The third match pitched third seed Lizzie Warner against the sixth, Sally Gilder. It was a tough match but Sally took the result, 6-2. Her reward was a showdown with seventh seed Jaspreet Sagoo, who saw off Johanna Meyer 6-0.
That form carried on into the semi-final where she beat Sally 6-0 to book a place in the title decider. Naomi defeated Sarah Bettles by the same score - and was in no mood to lose the title, taking the honours with a 6-0 win.
Sarah was determined not to go home empty-handed and took bronze with a 6-0 win over Sally.
Top seed Tom Hall kicked off the men's competition with a 6-0 win over Keith Harding. That brought him face to face with Alex Wise, who had beaten David Timmins 6-2, and it was Alex who took the gold medal match place with a hard-fought 7-3 win.
He was to face Olympian Patrick - but there was nothing easy about the defending champion's journey. He beat Michael Judd 6-0 but then went head to head with second seed Ashe Morgan, who had earlier ended Jack Masefield's hopes with a narrow 6-4 win.
It was nip and tuck all the way and ended in stalemate, forcing a one arrow decider. Ashe shot a nine - but Patrick hit the 10.
And his form held in the final as he overcome determined opposition from Alex, winning 6-2.
Ashe took the bronze with a 6-0 win over Keith.
You can find all the results here.
You can also watch coverage of all the finals, which were supported by Birmingham City Council and our partners Volvo, by clicking on the links below: