Compounder Adam Ravenscroft is celebrating a cracking weekend after winning both stages four and five of the National Tour at Kingston University.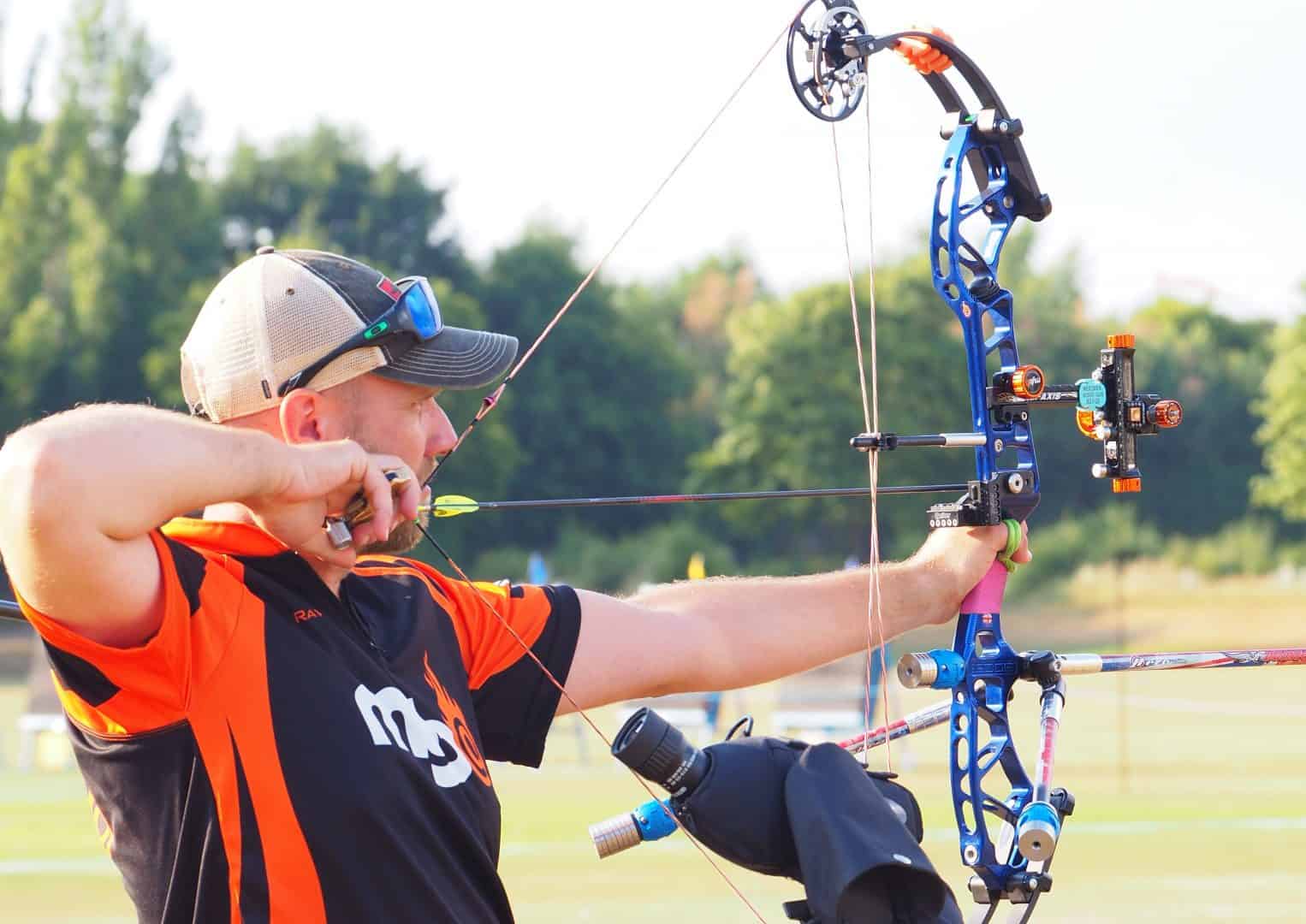 There was plenty of drama as stage three winner James Mason came up against Adam - last year's champion - as the on-form athletes went head to head in the stage four final.
Second seed Adam had a bye into the last 32 where he saw off Jamie Harris 144-136, then Simon Scott 147-143, Michael Kells 145-136 and Stuart Taylor by a single point in the semis. James qualified in eighth spot and beat Martin Walton 149-110, Carlos Bolou 149-138, David Martel 146-144, top seed Kai Thomas-Prause 145-143 and Matthew Dale 147-139.
The decider was on a knife-edge all the way but finally ended in a tie, with each archer scoring 146 points. That meant a shoot-off. James shot a nine - but Adam clinched it with a 10. Stuart beat Matthew to bronze.
Stage four compound women's gold went to Isabelle Carpenter who beat 2017 champion Sarah Prieels by a single point. Fifth seed Isabelle defeated Andrea Gales 139-133, Layla Annison 141-140 and top seed Anna Walls 141-140 to book her place in the final. Sarah, ranked second, breezed past Ellie Outram 140-132, Victoria Barby 144-136, and Lucy Mason 145-142 but, in the end, had to settle for silver. Lucy took bronze, beating Anna 144-139.
Last year's recurve champion Patrick Huston qualified in seventh place. But nothing was going to keep him off the podium. He saw off Oliver Tse 6-0, Sherman Ip 6-4, Ryan Pinder 6-0, Thomas Susca 6-4 and Tom Barber 6-2. That left him facing Cameron Donaldson in the gold medal match. The fifth seed had battled past Chris Reid 6-0, Gilbert Jamieson 6-2, Alex Wise 6-4, Thomas Nairn 6-0 and Jonathan Tate 7-1. But he had no answer to Olympian Patrick, who won 7-1. Tom beat Jonathan to bronze.
Top recurve seed Bryony Pitman led from the start. She beat Klara Fay 6-2, Emma Davis 6-0, stage three winner Kate Dunnighan 6-0 and Olympian Naomi Folkard 7-1 to reach the final. There she faced third seed Sarah Bettles who had seen off Petra Ginman 6-0, Charlotte Birch 6-2, Jennifer Collins 6-2 and Hannah Burnage in a shoot-off. But Bryony was on top form, winning 6-0. Naomi defeated Hannah 6-2 for the bronze medal.
You can find the stage four results here.
It was business as usual for Adam as stage five got under way. Again, he was the second seed and this time he defeated Carlos Bolou 142-139, James Howell 147-145, Mike Aubrey 146-145 and Neil Bridgewater in a shoot-off. But this time he faced fourth seed Stuart Taylor. He had beaten Jacek Pedziwiatr 146-137, Adam Carpenter 145-143, Sam Rees 148-144 and Nathan Thomas 146-142 to earn his place - and there was not much in it. The two athletes were evenly matched and, in the end a single point made all the difference as Adam edged it.
There was drama in the battle for bronze as Nathan and Neil tied on 145, forcing a shoot-off. Neil shot a nine but Nathan hit the X to take the medal.
Our young stars shone as Layla Annison took stage five compound honours. She beat Grace Chappell 142-137, Victoria Barby 141-139, and Pauline Burfitt 142-134 to secure her place in a gold medal showdown against 10th seed Holly Clifford. She had seen off Gwenda Humphreys 138-108, Kirsty Robb 138-135, Anna Walls in a shoot-off and Andrea Gales 135-134 but had no answer to Layla, who won 144-139. Andrea beat Pauline to gold.
Recurver Ryan Pinder was on red-hot form, beating Colin Simpson 6-0, Colin Geenes 6-2, stage four silver medallist Cameron Donaldson 6-2, Michael Judd 7-1 and top seed Keith Harding 6-4. That set up a gold medal clash with 11th seed Conor Hall, who had seen off Luke Evans 6-0, Jonathan Tate 6-2, Morgan Donaldson 6-4, Tom Barber 6-2 and Brett Warburton in a shoot-off. The final was hard fought but Ryan seized the advantage to win 6-2. Brett beat Keith to bronze.
The top two seeds went head to head in the recurve women's final. Alyssia Tromans-Ansell qualified in top spot and defeated Elizabeth Kellingley 7-1, Jaspreet Sagoo 6-2, Lizzie Warner in a shoot-off and Charlotte Birch 6-4. That secured her place in a gold medal showdown with Naomi Folkard who had triumphed over Eleonore Cossade in a shoot-off, Izabela Booth 6-2, Emma Davis 6-0 and Rachel Vines 7-3. But in the end experience told and Olympian Naomi took gold with a 6-2 win. The bronze medal went to Charlotte who beat Rachel 6-0.
You can find the stage five results here.
Above: Adam Ravenscroft. Picture: Malcolm Rees
Follow us on:
Instagram: archerygbofficial
Facebook: Archery GB
Twitter: @archerygb