It's lights, camera, action at the Nimes Archery Tournament (17 - 19 January) which began today with qualification rounds in the afternoon and evening. There were plenty of British entries across all categories. Here's the story so far…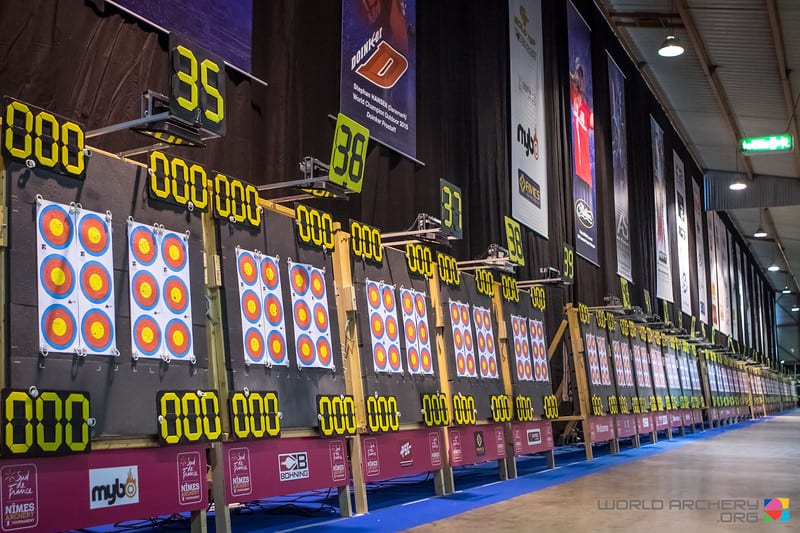 Qualification rounds were held for the following categories: Recurve Women, Recurve Men, Recurve Master Women, Recurve Master Men, Compound Women, Compound Men, Compound Junior Women, Compound Junior Men, Recurve Junior Women, Recurve Junior Men, Recurve Youth Girls, Recurve Youth Boys, Compound Master Women, and Compound Master Men.
The first qualification session ended late afternoon, quickly followed by the second qualification stage, with the following results:
For Recurve Men it was 10th place for GBR Olympic hopeful Keith Harding with a score of 580, sharing the position with one French athlete: Ferdinand DeLille. Fellow Briton Joe Becker finished up in 40th place on 543 points.
In the Recurve Women category the highest positions for home talent went to Kate Dunnighan in  16th place with a score of 544 while Sophie Meering took 21st place with 526 points.
For Recurve Junior Men, GBR's James Woodgate ranked 16th with 571, but for Recurve Junior Women it was a tough afternoon for GBR's Lauren Rawlings who finished 88th.
In the Compound Men line up, GBR's two entrants: Simon Scott - who took gold in the Berlin Open 2019 last December - was in 25th place with 584 points; fellow Brit John Stubbs was placed further down the table in 44th  position with a score of 574, shared with Ireland's Eamon Rogers Macruaidhri, both with 574 points.
For Compound Women, GBR's Ella Gibson has got off to a great start in 7th place with a score of 587, with 2nd place taken by Belgium's Sarah Prieels with her score of 592, and the American winner Paige Pearce on 596. Other British rankings were Bayley Sargeant in 15th place with 576, and Isabelle Carpenter and Sarah Moon in joint 18th position on 573 points.
The Compound Junior Men category had eight British entries, featuring Matthew Wong in 2nd place on a score of 592. With fellow Brit's Jake Walsh and Adam Carpenter in joint 6th on 588. In 15th place Kai Thomas-Prause took 582 points. In 21st position, Archie Crawford scored 581; Louis Perkins was placed 24th with 579; Ajay Scott was placed in a shared position of 26th with 575; and Lewis Haslam took 33rd place with 57o points. Further down the line up in shared 59th place was Alex Parker on 553.
Three GBR entrants featured in the Compound Junior Women category. Layla Annison came 5th, with a score of 582; Iulia Petre came 7th with 569 and Chloe A'Bear is listed in 8th position with a score of 569. Finally, Grace Chappell secured a shared 11th place with 567 and Robyn Geddes finished in 26th with 549.
In the Compound Master Men, Britain's only entrant Mykel Collins took 96th position with 531 points; there were no entries in the equivalent female category.
Check back for shoot-off results tomorrow evening.