Britain has its first gold at the third stage of the Indoor Archery World Cup in Nimes - and both Alex Wise and Lucy Mason will be aiming to add two more to the haul tomorrow!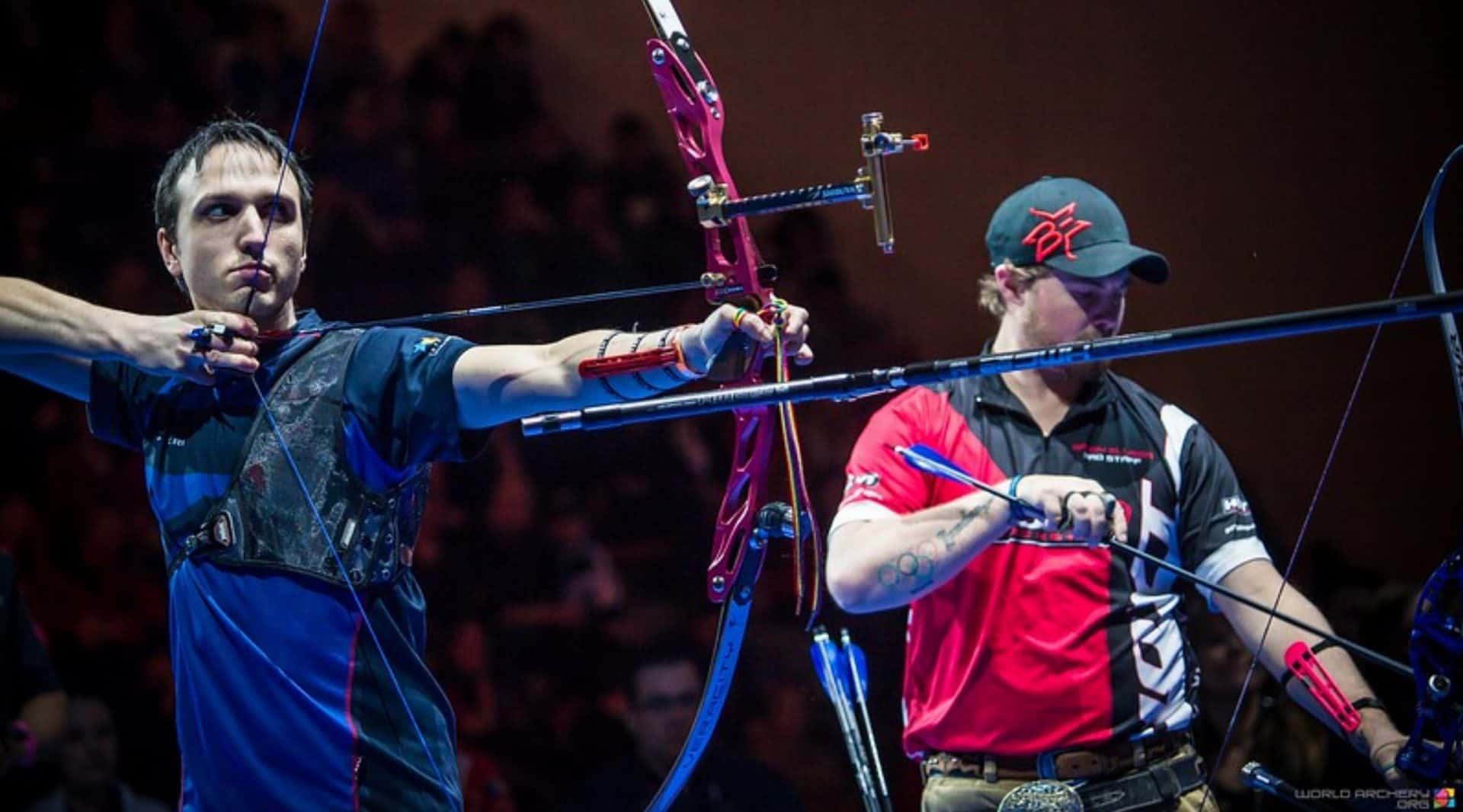 First blood went to Penny Healey in the recurve youth girls' category. She beat all-comers to go 15 points clear of the nearest opposition - Spain's Julia Galera Lopez de Felipe - and take the title. Erika Ghavampouri of Iran finished third.
Alex Wise ranked second in junior recurve men's qualification then saw off Alen Remar of Croatia 7-1, Turkey's Goze Dogukan in a shoot-off, Jonah Wilthagen of the Netherlands 6-4 and Belgium's Senna Roos 6-4 to earn a gold medal showdown with Anthony Barbier of France.
Jacob Reid beat Perkin Tahmaz of Turkey 7-1 to reach the last 16 but his hopes were ended by Norway's Sander Hasthi Thorbjornsen. Daniel Thompson qualified in 68th place. Our only representative in the women's category, Alyssia Tromans-Ansell, reached the last 32 but was denied in a shoot-off.
Junior world compound champion Lucy Mason was the fourth seed but showed her class beating American Daisy Lente 146-141, fellow Briton and fifth seed Ella Gibson 148-142 and top seed Sunniva Lislevand of Norway 142-141. Her reward? A title clash with second-ranked Elisa Roner of Italy, who had earlier seen off Abbie Spinks's challenge.
Layla Annison reached the last 16 but was thwarted by a shoot-off against Italy's Francesca Bellini. Isabelle Carpenter and Sarah Moon finished in 21st and 22nd spots with Grace Chappell 27th.
In the junior men's compound category, Luke Ralls reached the quarter finals after beating Adam Carpenter. Nathan Thomas's hopes ended in a 1/16th round shoot-off while Jacob Caine fell victim to Slovenia's Stas Modic - who reached the gold final - and David Taylor was defeated by Estonian Robin Jaatma. Kai Thomas-Prause qualified 36th.
In the senior categories, recurvers Bryony Pitman and Sarah Bettles both made it to the quarter finals. Ninth seed Bryony saw off France's Pauline Chartrin 7-3 and Laurina Villard 6-2 before coming up against top seed Sim Yeji. It was a hard-fought battle but the Korean won 6-4 and is now in the gold medal match.
Tenth seed Sarah beat Austrian Nina Reiss 7-1 and Mexico's Aida Roman 7-1 but could not overcome the second seed, Lisa Unruh of Germany, who had earlier halted Rebekah Tipping's progress. Japreet Sagoo finished 33rd, with Emma Davis 50th, Sophie Meering 58th and Phillipa Taylor 62nd.
Recurver Tom Hall reached the last 32 but was beaten by top seed Sjef Van Den Berg. Patrick Huston qualified in 47th spot with Ashe Morgan 51st, Guy Matzkin 67th, Sonnie Emeney 86th, Ryan Holden 93rd and Andy Caine 96th, ahead of Tom Fewz, Gareth Thomas-Prause and Leslie Day.
Top compound seed Sarah Prieels, of Edinburgh University, defeated Evelien Groeneveld of the Netherlands 145-140 and Denmark's Tanja Jensen 147-142 but was stopped in the quarter finals by another Dane, Sarah Sonnichsen. Andrea Gales reached the last 32 but was defeated by Paige Pearce-Gore of the USA while Hope Greenwood was halted by Inge van Caspel of the Netherlands and Bayley Sargeant fell to Mexico's Linda Ochoa-Anderson.
Susan Corless qualified in 45th spot, three ahead of Stephanie Clason. Hanna Brown ranked 50th, with Nichola Simpson 60th, Michelle Sword and Phoebe Pine 64th and 65th, Kirsty Robb 73rd and Lucy Holderness 96th.
Our top-ranked senior male compounder was Adam Ravenscroft at 35 with James Mason 43rd, Neil Bridgewater 53rd, John Walker 60th and James Howell and Carl Richards joint 88th. Simon Scott qualified in 96th spot ahead of Duncan Busby, Tim Nash, Christopher Cassells, Neil Laszkowicz, Jon Nott and John Foley.
And, in the first over-45s category at the Nimes tournament, compounder Alistair Whittingham finished joint sixth with Martin Krusche in 65th spot.
You will be able to watch live coverage of tomorrow's finals here. And Archery GB will be posting Facebook and Twitter coverage live from the event.
You can also follow events as they happen on the World Archery site and on Ianseo.
Above: Penny Healey takes gold. Picture: Derek Sizeland
Follow us on:
Instagram: archerygbofficial
Facebook: Archery GB
Twitter: @archerygb