Britain's W1 women have once again proved they are right at the top of their game with a spectacular clean sweep at the Para Archery European Cup world ranking event in Nove Mesto.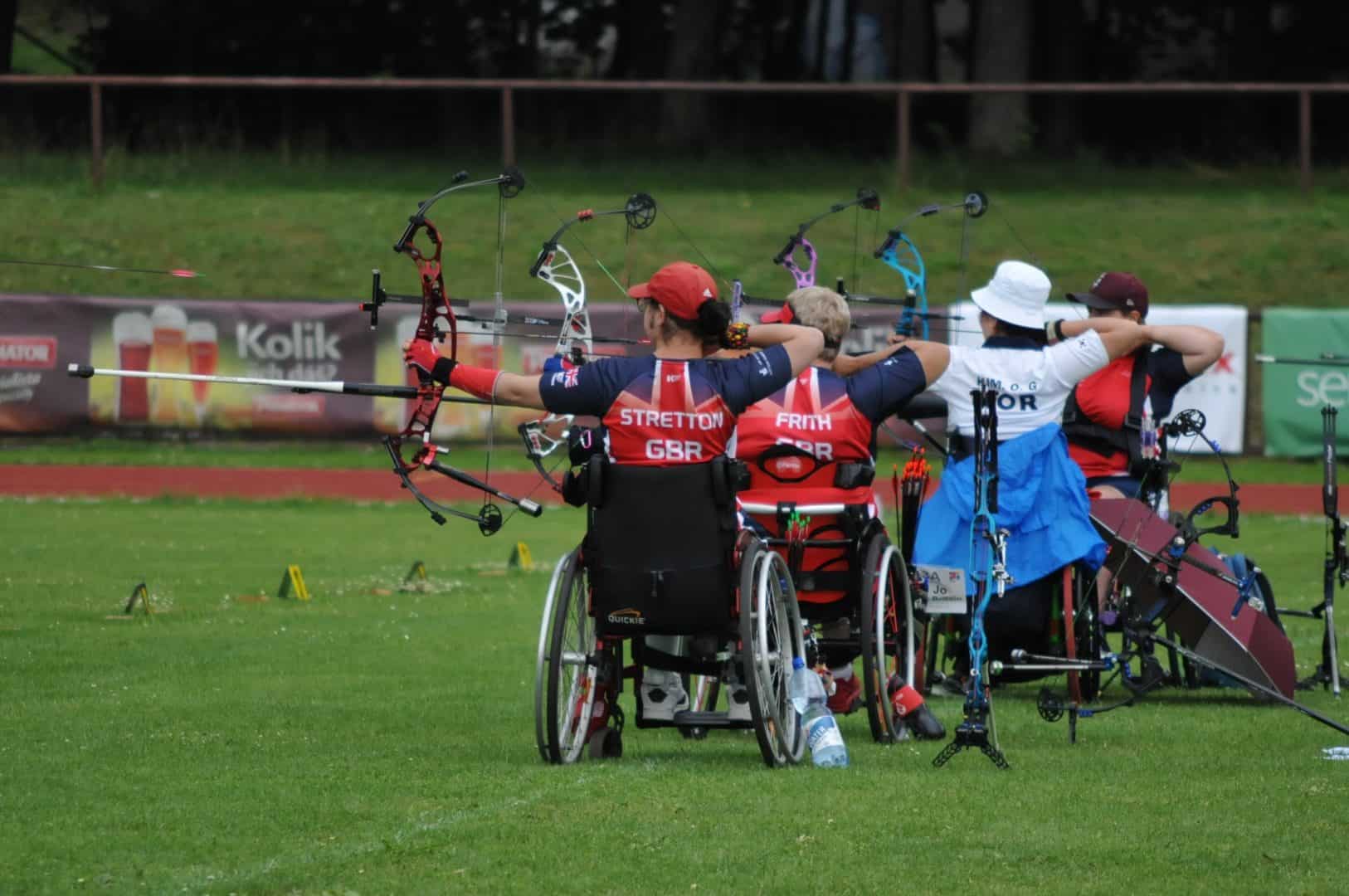 Jo Frith set the tone in the bronze medal match. She faced Korea's Kim Ok Geum. It was nip and tuck in a really tense match but Jo led all the way to claim a 131-130 win - and ensure British gold, silver and bronze.
It was the perfect scene-setter for the showdown between teammates Jess Stretton, who smashed her own world record earlier in the competition, and Victoria Rumary. Both were determined to bag the gold and neither was prepared to give the other any chance. The result was inevitable: a 135-135 tie which forced a shoot-off. And both athletes shot a nine -but top seed Jess's arrow was marginally closer to the centre, giving her the medal.
There was more shoot-off drama in the men's compound gold medal match. John Walker faced Jere Forsberg of Finland and there was little to separate them as the advantage swung first one way and then the other. In the end both archers finished the match on 142 points, forcing the shoot-off. Fosberg hit the X but John's arrow strayed into the eight, earning him silver.
That brings Britain's medals total at the event to eight: two golds, four silvers and two bronzes.
Yesterday, compounders Jodie Grinham, Phoebe Pine and Jess Stretton, who set a new European record earlier in the competition, made short work of Ukraine to face second seeds Germany in the gold medal match. It was close - there were only two points in it - but our archers were in no mood to be denied and clinched the title with a 220-218 win.
Second seeds Nathan MacQueen, Bradley Stewart and John Walker, who had also set a new European record, breezed past Austria and Ukraine to secure their shot at gold. They faced top seeds Iran and it was agonisingly close but in the end they came away with silver.
There was silver too for Jess Stretton and John Cavanagh in the W1 mixed team final. The favourites took on Russia in the final and, although they shot well, Russia managed to pull four points ahead to claim gold.
John Walker and Phoebe Pine won a well-deserved bronze in the compound mixed team competition. The pair, who defeated Poland and France before being narrowly beaten by Iran, faced Slovakia in the final. And there was no stopping them as they stormed to a 147-144 win.
Plus, there were honours from an unofficial open mixed team trophy with teams made up of archers from different nations. Jess Stretton and Romania's Bogdan Raicu took gold in the W1 competition with Victoria Rumary and Peter Kinik in bronze spot. There was compound gold for Jodie Grinham, shooting with Malaysia's Hohd Zafi Mat Saleh and Hazel Chaisty took the recurve silver medal with Iran's Somayeh Rahimi Ghahderijani.
You can catch up on footage of the team finals here and you can watch the individual finals here.
You can find all the results here.
Follow us on:
Instagram: archerygbofficial
Facebook: Archery GB
Twitter: @archerygb