Compound man Kai Thomas-Prause and recurve woman Penny Healey talk to us about their experiences representing Great Britain at their very first Hyundai World Cup Stage in Antalya.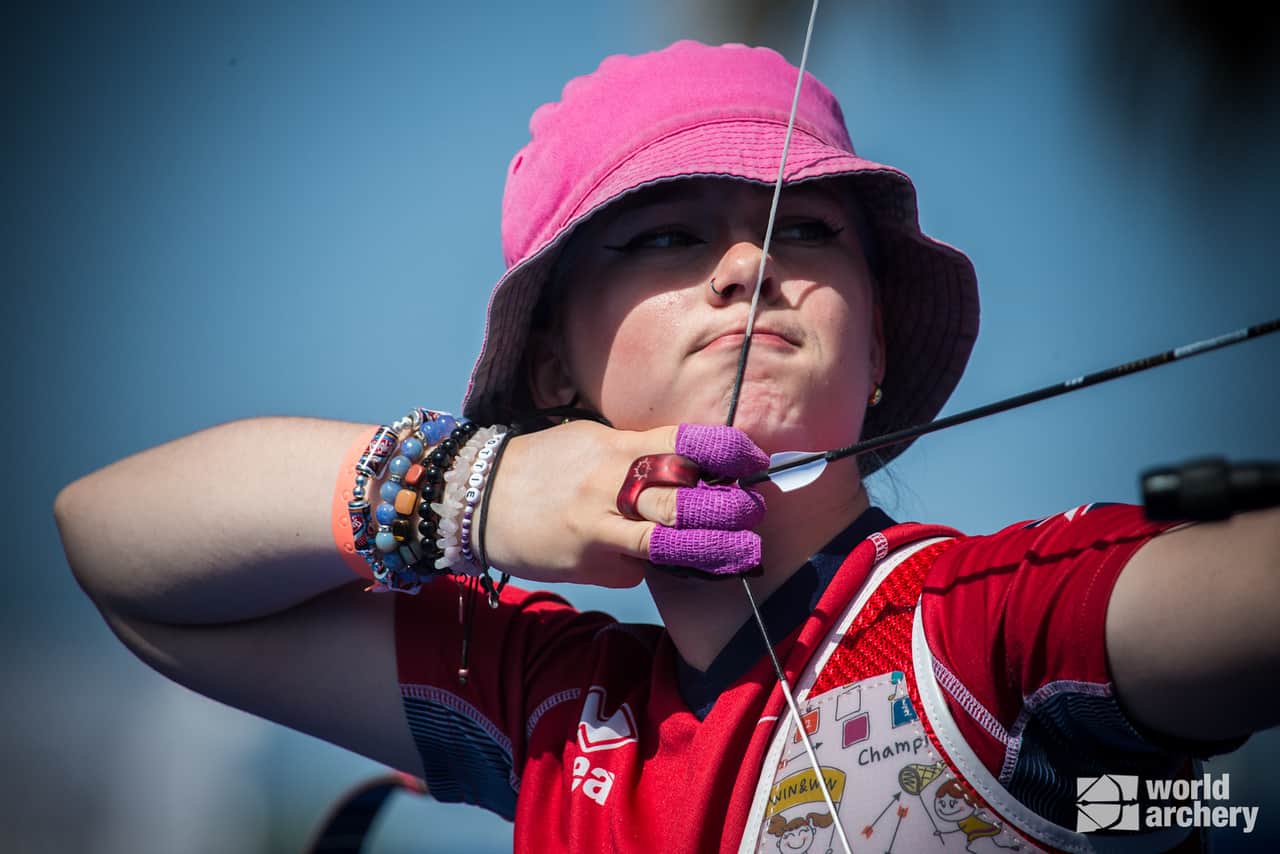 For any archer, the opportunity to be able to compete at an international World Cup event is incredible. The competition gives athletes the chance to shoot on the line alongside some of the best archers from across the globe. Many of our GB shooters are very experienced on the senior international scene, some of them having been on the team for a decade, while for others it is a brand new venture. Two of these athletes are Kai Thomas-Prause and Penny Healey, who went to Antalya in April 2022 for their very first Hyundai World Cup stage. Before attending this event, both Kai and Penny have established themselves as key members of the junior GB team as well as at other independent international trips.
Kai Thomas-Prause
Compounder Kai's first trip with the GB juniors was to Marathon, Greece in 2017, and his last trip as a junior was to Romania in 2019 just before the pandemic started. In 2020, Kai attended the Nimes Archery Tournament where he came away with the bronze for the junior men's division.
"I'm not really sure what I was expecting ahead of Antalya. I had been on junior international trips and had already shot with a large amount of the archers on the field, but my goal for the week was to qualify in the top half and make it through the first round," Kai said.
How did you feel about the new rule changes for world ranking events?
"I quite liked the new rules to be honest. At first I was a bit unsure about them and expected my quality of shooting to go down (especially due to the 30 seconds per arrow rule), but you quickly learn that everyone is in the same boat, and it actually made the qualifications bit more fun in my opinion!"
Is there anything you would've changed or done differently?
"I would've liked to have checked my poundage on a bow scale which was calibrated before I left. Being 63 pounds at an equipment inspection didn't exactly help my nerves."
How did you feel once the week was over?
"I really enjoyed it! I did a lot better than expected and loved shooting and hanging out with both my teammates and people from all across the world. I am looking forward to the next one already."
Kai's next trip representing GB will be in Paris for the third stage of the Hyundai World Cup towards the end of June this year.
Penny Healey
Seventeen-year-old recurve archer Penny Healey began her journey on Team GB in 2019 when she attended the European Youth Cup in Slovenia. Since then, she has established herself as a key member of the recurve women's team.
"My first junior GB trip was the European Youth Cup first leg in Slovenia. It was a great experience and coming back with a gold medal on my first ever GB trip was amazing!" Penny said.
At the Antalya stage of the 2022 Hyundai World Cup, Penny, alongside teammates Bryony Pitman and Jaspreet Sagoo, came away with the team gold medal.
"My main focus was to just shoot my shot and come away with more experience and feeling happy with myself after the week. I knew that we had a chance to gain some medals."
How did you feel about the new rule changes for world ranking events?
"Overall, the week was pretty good. I settled in well with the new rules and I enjoyed it."
Is there anything you would've changed or done differently?
"There isn't really much I would change from Antalya, I'm happy with the outcome."
How did you feel once the week was over?
"Now that the week is over, I feel proud of it. This is a big step in my journey as well as other archers, and it was great having a really positive atmosphere with everyone."
What was your best achievement before attending the Antalya World Cup?
"Before going to Antalya, my best achievement I would say is between my European record and winning the indoor world series. They were both big steps in my career and equally amazing achievements."
Penny is currently out in Korea for the second stage of the Hyundai World Cup. Qualification is complete where she ranked in 16th ahead of the elimination rounds.