British archers wrapped up the XIII Copa Juan Enrique Barrios world ranking and para world ranking event in style, storming to three golds and two silver medals!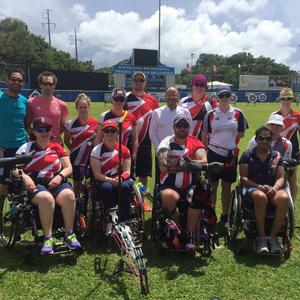 We had nine athletes in Puerto Rico and that, plus our three bronze medals, put us third in the overall table.
Recurver Tania Nadarajah added open gold to the bronze she won while shooting against able-bodied athletes in the combined event. She qualified in sixth spot but earned a showdown with the top seed by beating Korea's Jo Jang Moon 6-0 and second seed Fabiola Dergovics of Brazil 6-2. That left her facing Kim Ran Sook - and the Korean had no chance, losing 6-0.
Jodie Grinham and John Walker were going for gold after beating Brazil 147-136 in the compound mixed open semis. That left them facing Canada in what was to become a hard-fought final. In the end, the Canadians scored 146 but it was not enough as Jodie and John finished on 148.
It also brought John and Jodie's medal haul to two each. Jodie had earlier taken compound team bronze, shooting against able-bodied archers with Jess Stretton and Phoebe Pine, while John won individual compound open bronze.
Jess, and Victoria Rumary, once again demonstrated Britain's dominance of the W1 category by sweeping to gold and silver in the open competition. Top seed Jess saw off American Lisa Coryell 131-112 while Victoria, ranked second, beat Kim Ok Geum 134-98. That left them going head to head and the more experienced Jess took the honours with a 136-126 win.
And Britain almost made it four golds but Paul Browne and Hazel Chaisty were denied in a shoot-off after beating Brazil for the chance to go take on top seeds Korea. It was level pegging all the way, forcing the decider. Hazel and Paul shot 11 but Korea scored 14, leaving the Britons with a hard-earned silver.
You can find all the results here.
Follow us on:
Instagram: archerygbofficial
Facebook: Archery GB
Twitter: @archerygb