Under a blue sky and with the sun shining down on the last day of April, a group of archers came together to try out a new discipline for the UK, Run Archery - a shooting format connecting archery with running.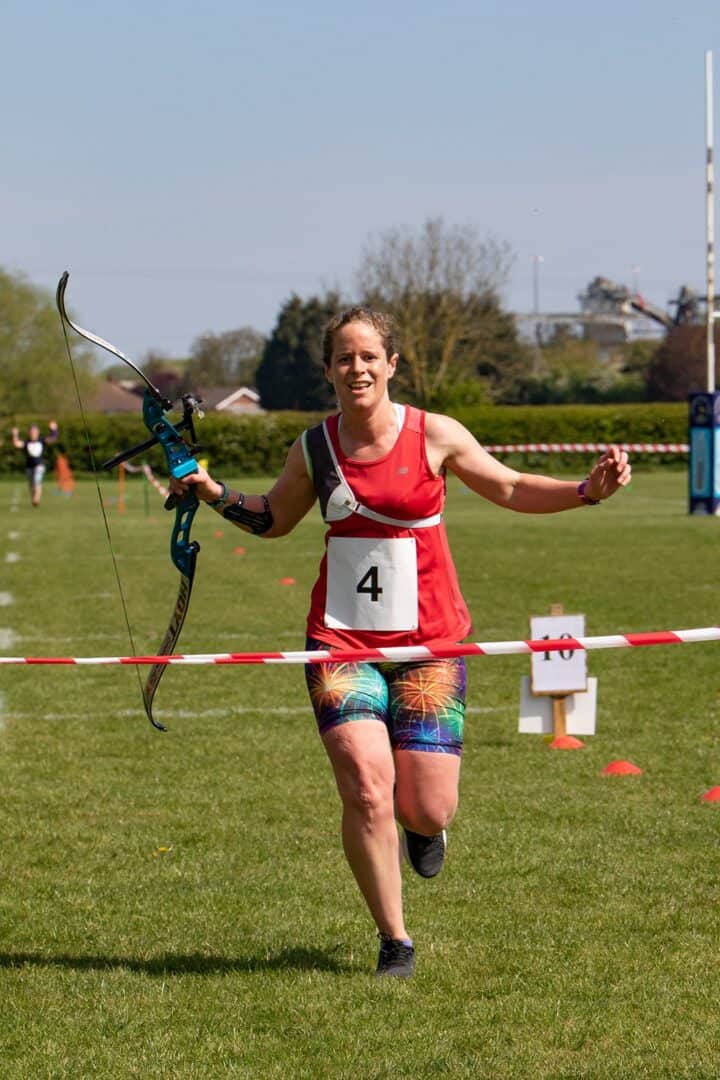 A small group of 8 archers came to try out the sprint version where shooting takes place over 18 metres, with archers carrying the bow around a 400m course, shooting twice, while stood and kneeling.
Samuel Deacon, of Keyworth Archers, had the fastest time overall - 9 min 7 secs - and came first in the junior race. Brett White, of Newark Castle Archers , took the men's title in 9 min 31 secs. In the women's race, Liz Whitworth came first with an overall time of 11 min 21 secs.
Stephen Collison travelled down from Whitby Company of Archers. He said: "I contacted Archery GB to enquire about Run Archery, after seeing videos online of events in other countries. After being told that this pilot was on, I jumped at the chance of being involved.
"I got some strange looks from my club colleagues training how to shoot at such a small target face and how to shoot on one knee.
"I had a great time and I hope that Run Archery will make its way to Whitby at some point."
Liz Whitworth, from Redhill Archers, said: "I would like to thank everyone involved for putting on such a fun event, I had a brilliant time."
The event was a pilot to test out how to organise and deliver a Run Archery competition. Qualified judges oversaw the shooting and overall event which involved archers from 5 clubs. Newark Castle Archers provided the work party, which included spotters - who tell an athlete whether they have hit or missed the target. Thanks to KG Archery who provided the target faces and banner.
Arran Coggan, Director of Participation at Archery GB, was involved in overseeing the event.
"I would like to thank Mandie Elson, and all at Newark Castle Archers, plus the judges for learning the rules, for helping support the delivery of this event," he said.
"For a few years we have sought to host an event. It was a great day and we now have a good idea of how to deliver such events. World Archery Europe are encouraging associations to enter into the Run Archery Cup in November - let's see whether we can get a team there!"
Anyone interested in hosting a Run Archery event can contact Archery GB for further information - email Arran Coggan.
All photos copyright Michael Lowney.