A few short weeks ago, clubs, schools and activity providers around the country celebrated the sport in style for Start Archery Week, encouraging wider participation and raising awareness of the all-round mental and physical benefits that archery provides.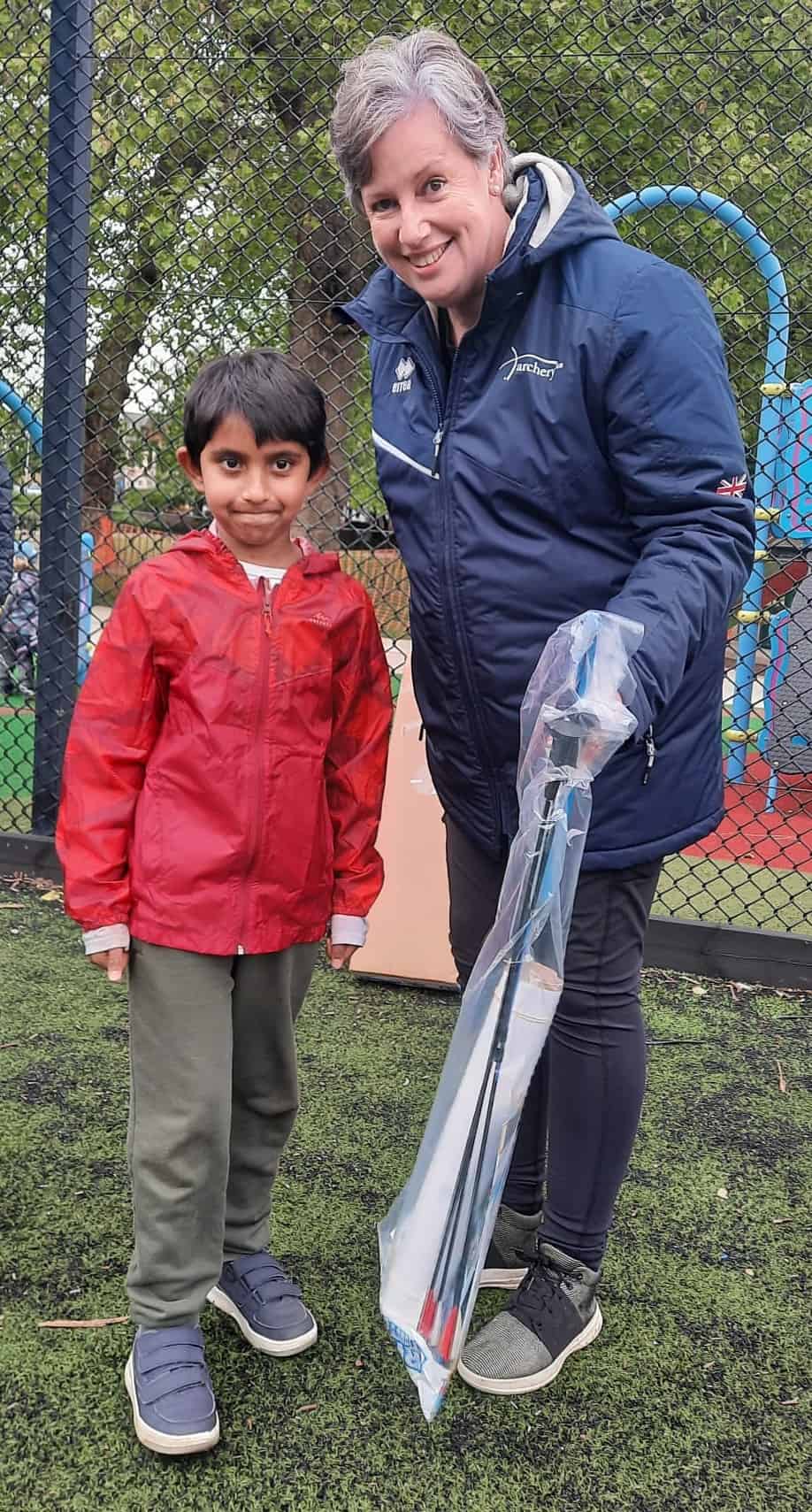 Archery is now on the radar of many more people following a successful Start Archery Week! Thanks to nationwide teams of enthusiastic volunteers, more people know the thrill of bows and arrows. Archery GB representatives now reflect on the event's impact on diversity.
Archery community projects
Words by Vic Williams, AGB's Regional Development Officer (Wales)
Working with Women Connect First Cardiff, we arranged an archery taster day at Grange Pavilion in Grangetown, Cardiff. Grangetown is home to a very diverse community so this was an opportunity to try archery, which for many participants, was the first time they picked up a bow. It was also an opportunity to get some feedback from those who came along about whether archery is a sport that they would like to be able to do more of in the future.
[caption id="attachment_32072" align="alignnone" width="161"] Abdullah Hussain receives his Arrows kit prize from AGB's Vic Williams at Grangetown[/caption]
Between 1pm and 6pm, more than 70 people arrived to try the sport. The afternoon session was aimed at women from the local community and the evening session accommodated families with school-age children. The weather was great, sunny but not too hot, and there were refreshments available so this made for a very sociable event. Whilst waiting for their turn to shoot, many participants watched those shooting and cheered and clapped when they made a good shot, and likewise those who had had their turn stayed to watch others shooting, calling out encouragement. Later in the day, when the children came along after school, they came with groups of friends all wanting to see who would be the best at archery.
The TV crew from ITV Wales, who came along to film a feature for the evening news, also became part of the event; participants were keen to be on the news and were very encouraging when the presenter himself had a go at shooting a few arrows!
Feedback from both groups of participants was overwhelmingly positive, with the majority saying they had enjoyed archery and that they would like the opportunity to continue with regular weekly sessions. We will now work with our partners - Women Connect First Cardiff, Wales Council for Voluntary Action (WCVA) and Grange Pavilion - to secure funding to set up a new archery project in the area, based very much on the principles of Archery GB's Project Rimaya, which is running very successfully in other parts of the UK, to encourage and support diverse communities to try archery.
Archery GB's Project Rimaya: how the initiative is increasing participation in archery
Words by Gayle Pink, AGB's Head of Participation
Through Project Rimaya (the Arabic word for archery), Archery GB has been working with The Hubb in Sheffield to establish a community archery club, and the 2021 Big Weekend was the ideal opportunity to launch the start of the new partnership. Project Rimaya is a SportsAid-funded initiative created to increase participation of archery in ethnically diverse communities.
The Hubb delivered this year's Start Archery Week event on Saturday 14 May, which highlighted just how much the project has grown in under a year. The Hubb organised book in taster sessions, lasting 45 minutes each, with nine spaces available. Sessions were delivered to women and girls in the morning and men and boys in the afternoon. All sessions were fully booked and a discount was provided to those who booked onto a beginners course, starting in June.
Miriam Ahmed Farrow (pictured top) was the lead coach for the women and girls' session. Miriam was a participant in the Start Archery day delivered in 2021 and featured in the promotional video filmed at the event. To progress from attending a have-a-go event in 2021 to becoming a qualified Session Coach (Level 1) to deliver the 2022 event is an amazing accomplishment.
[caption id="attachment_32071" align="alignnone" width="225"] Wheelie Bin Arrows Kit winners[/caption]
Irfan Ahmed and Abrar Ali who also recently qualified as Session Coaches, delivered the men and boys' sessions. The Start Archery Week event involved a total of 54 attendees experiencing archery of which many signed up to a beginners' course.
The Hubb was one of the many Start Archery Week competition winners, and won a Wheelie Bin Arrows Kit. Two young children had sat patiently watching their mother and older brother enjoy the archery taster session, so were delighted to take home the prize - they were so excited, they wouldn't let go of the box!