Robin Hood took his bow to Westminster today - and helped win MPs' hearts by introducing them to Arrows kit during Nottingham in Parliament Day.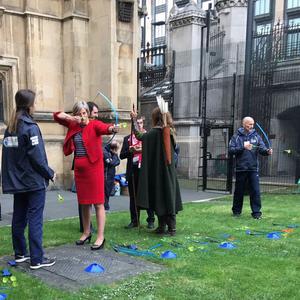 The ground-breaking initiative was developed and led by The University of Nottingham. It brought together more than 90 partners - including Archery GB - from civic, corporate and third sector organisations to celebrate the people, ideas and businesses of the city, the county and the east Midlands.
It held 45 events today to showcase six aspects of what the area had to offer. They were:
Business, talent and enterprise
Science and healthcare innovation
Culture, heritage and society
Global connections
Home of sport
Research futures
Head of Development David Reader and Archery GB staff - as well as Robin - hosted the Arrows archery demonstration on the Speakers Green below Big Ben. It was part of the home of sport presentation.
And one of the first MPs to step up to try it out was Lilian Greenwood, who represents Nottingham South. She later tweeted: "Fab to welcome Nottingham's most famous citizen down to Parliament & shoot a few arrows of my own with @archerygb #NottinghamTogether"
Nottingham City Councillor Jackie Morris, the Sheriff of Nottingham, said: "We've come here to showcase Nottingham. We can feel so detached from Westminster and it's good for people to see we are prepared to go to central government."
You can find out more about Nottingham In Parliament Day here.
Follow us on:
Instagram: archerygbofficial
Facebook: Archery GB
Twitter: @archerygb