With nine venues to choose from, a record entry of 245 barebow archers flocked to shoot the WA 18m round in the 18th British Barebow Indoor Championships, reports Andrew Rees.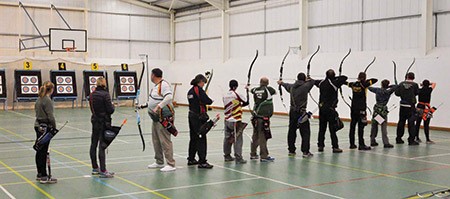 Ladies Champion Sarah Monteith (Archers of East Riding) retained her senior title and, although she could not match her remarkable shooting in the 2018 event, her 503 was still comfortably ahead of her rivals Nia Haines (Llantarnam) and three-time Champion, Victoria Williams (RSM Archers).
In the Gentlemen's event, contested by 136 archers, last year's runner-up, Alex Newnes of Aber Archers, went one better and won the Champion's title with a score of 529, just two points ahead of Mark Excell (Bowmen of Lytchett), with Daniel Tibbles (AGB) third on 523. James Annall (Bath Archers), the defending Champion, put up a stout defence, but was undone by just two weak shots at critical moments and ended fourth.
Outstanding shooting by Ballyvally's Kathryn Morton saw her cruise to her first Junior Ladies Championship win with a score of 508, which would have also secured the senior title. Kathryn improved from tenth last year to defeat 2018 Champion Phoebe Rose (Mere Archers) and 2017 Champion Amelia Thomas (Pentref Bowmen).
Ifan Wheeler (Saethwyr Pontiets) took the Junior Gentlemen's Championship with 477, comfortably distancing himself from Liam Ford (Norton Archers) and Niall McComb (Banbridge A.C.).
In other classes, the Lady's Veteran (over 50) division was won by Victoria Williams, while national tournament organiser Andrew Rees won the Gent's Veteran and the Married Couple's awards with his wife, Jane. England retained the Home Nations award and Ballyvally Archers, Banbridge, retained their Club Championship.
Andrew Rees said: "The tournament goes from strength to strength, and gives opportunities to archers from all our regions to compete in what is a truly national competition. When further venues are added next year, I hope to see even greater numbers enjoying this unique and successful event."
Next year's Championship will be held on 29 November, when it is hoped that, in addition to the existing venues, others will be added on the north side of London and in Plymouth.
The full results can be downloaded below.