The sun came out for the last day of the European Grand Prix, where, amongst the easter-themed decorations and the beautiful grounds of the Orangery at Lilleshall, GB walked away with an amazing haul of three gold and two silver medals.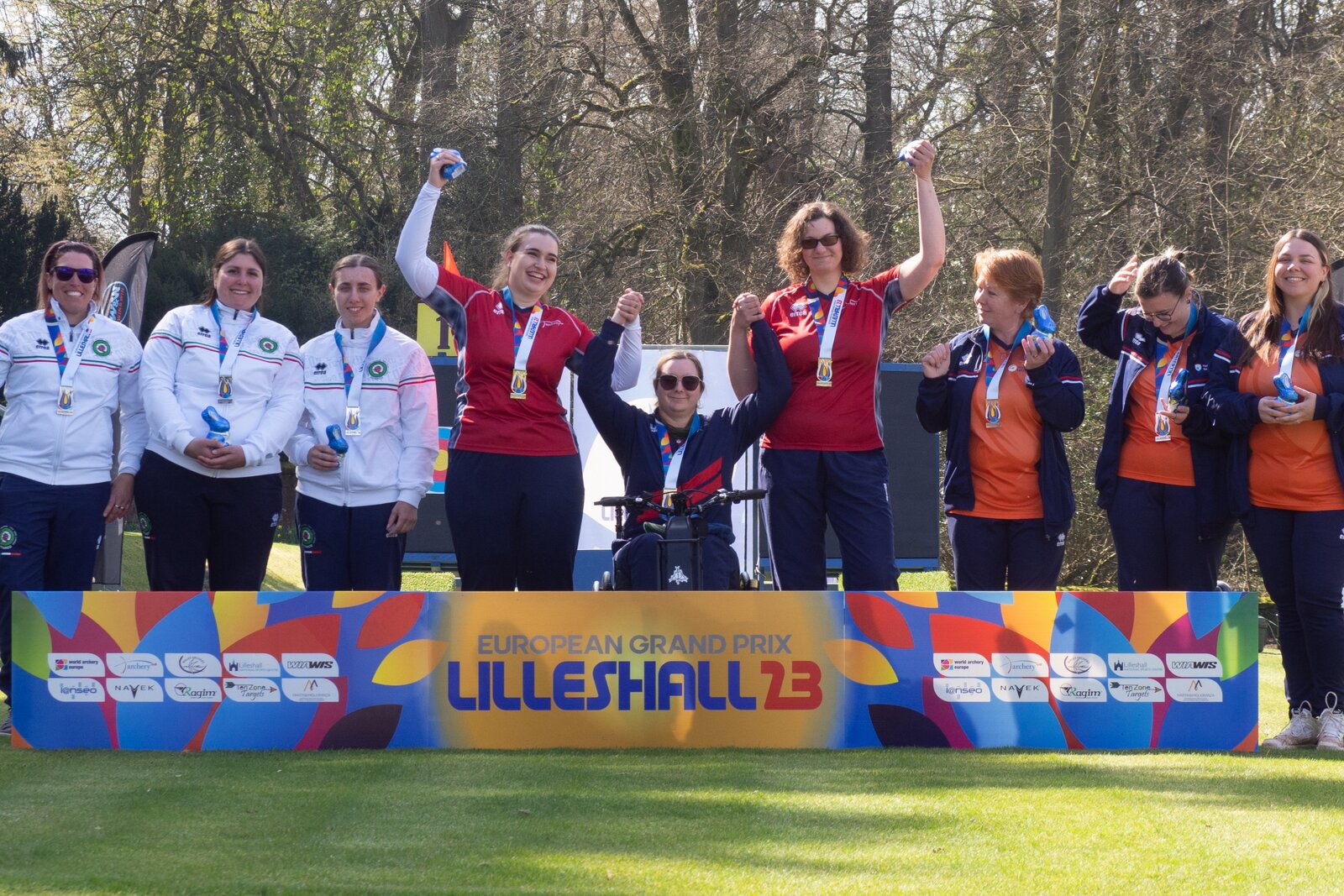 Just after 10am Ella Gibson, Jess Stretton and Lizzy Foster took on the trio from Italy, Paola Natale, Sara Ret and Marcella Tonioli in the Compound Women's Team finals.
The GB team started strongly, moving three points ahead of their opponents after the first set, and this allowed them to keep pushing, always remaining a step ahead of the Italian team. And even a perfect 60 during the last set from the Italian women wouldn't be quite enough to beat GB, who, after that final 10 from Jess, finished just one point ahead on 230-229 to take the gold medal.
On that final 10, Jess Stretton said, "I was very nervous, I was fully aware I needed to shoot a 10 to win and going into that last one I thought, 'okay, I cannot afford to twitch on this arrow' and then it was so close to the edge, I thought 'please be in' and thankfully it was."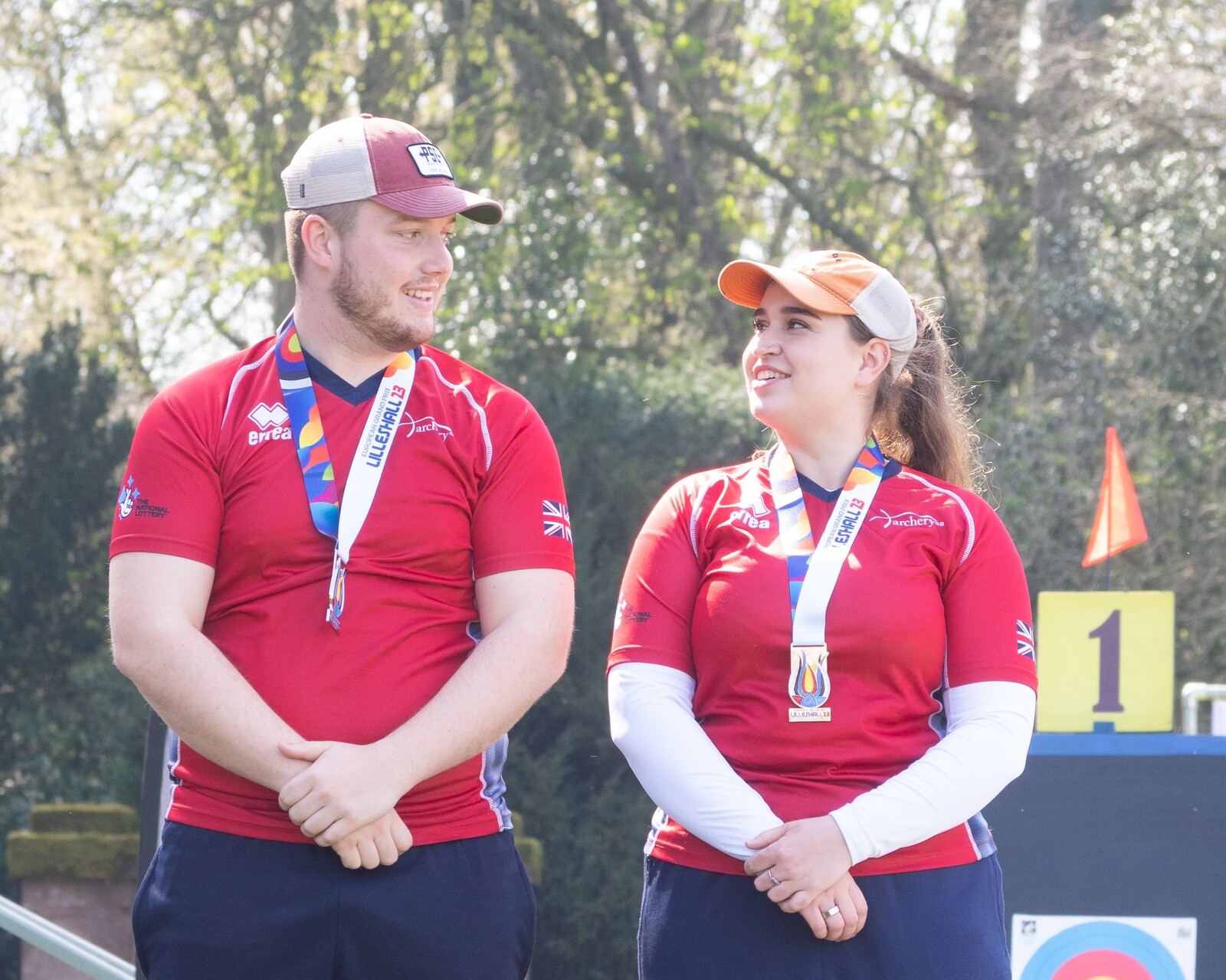 Next up was Kai Thomas-Prause and Ella Gibson in the Compound Mixed Team gold medal match against the team from Luxembourg.
The Luxembourgers, Mariya Shkolna and Gilles Seywert, pulled ahead after a good first set, leaving GB trailing by a single point. Despite putting up a good fight throughout the rest of the match, the GB duo could not quite pull it back and after four sets, they lost to Luxembourg 154-157
Kai Thomas-Prause said, "It's really nice to shoot on the Orangery with the home crowd - everyone shouting our names and cheering us on. Obviously, we're a bit disappointed not to get the gold but I'm happy."
Mariya Shkolna said (after going into the last end leading by two points): "I think we were not really watching the other score; we just did our job and we tried to do our best so no matter what happened on the other side of the field, and it worked out."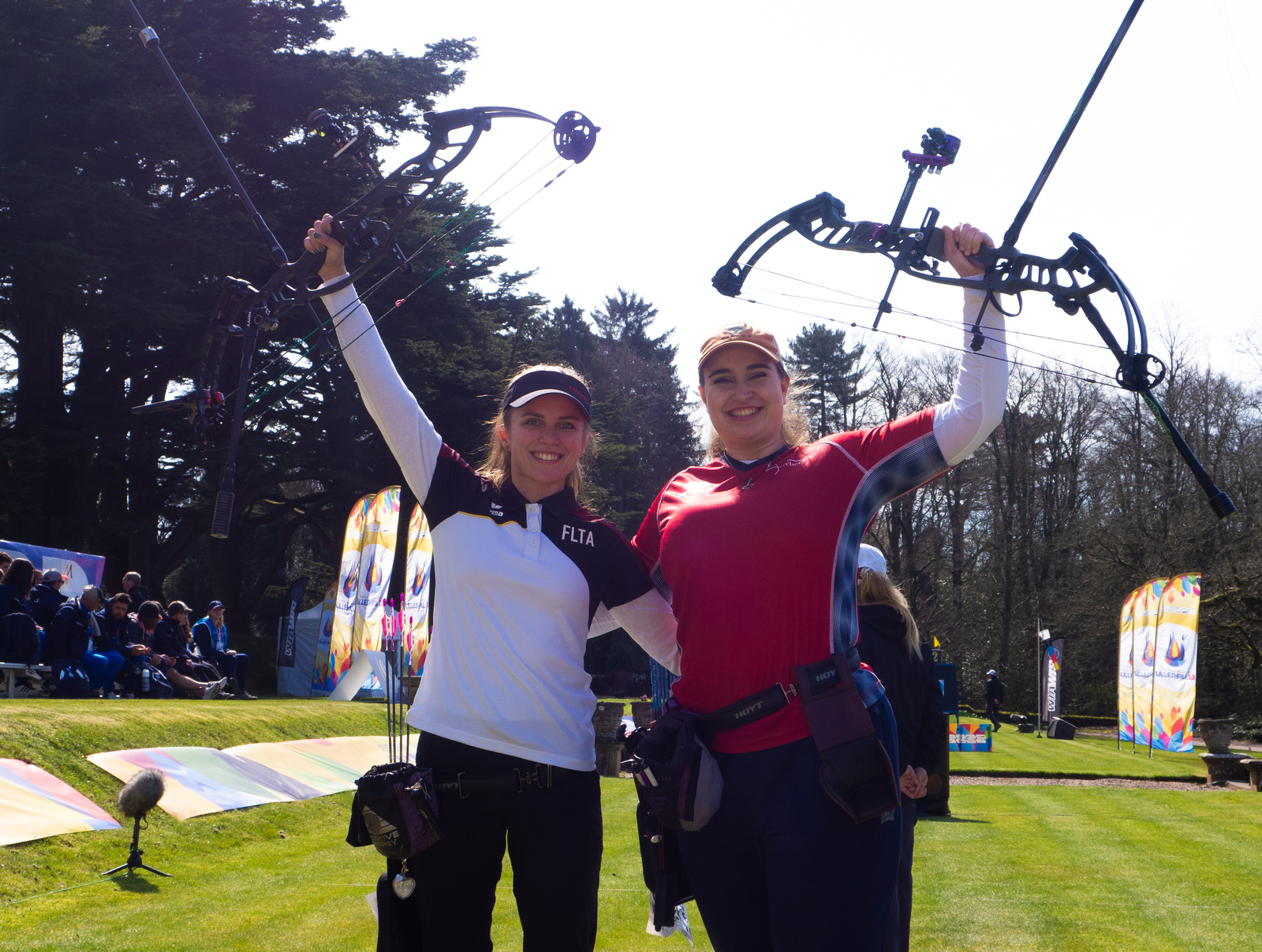 Facing off against each other again, Ella Gibson took on Mariya Shkolna from Luxembourg in the Compound Women's Finals just before lunch.
A draw in the first set left it all to play for, so Ella saw her chance and took it, pulling a couple of points ahead in the second and third sets. Even a perfect 30 from Mariya wasn't enough to undo the damage, and, after coming back for her third match of the morning, it took just 15 arrows for Ella to add another gold medal to her quiver, as she won 145-143.
After winning, Ella said, "It feels amazing to start the season like this. I had some really tricky matches to get here so I'm just really glad I managed to pull it through."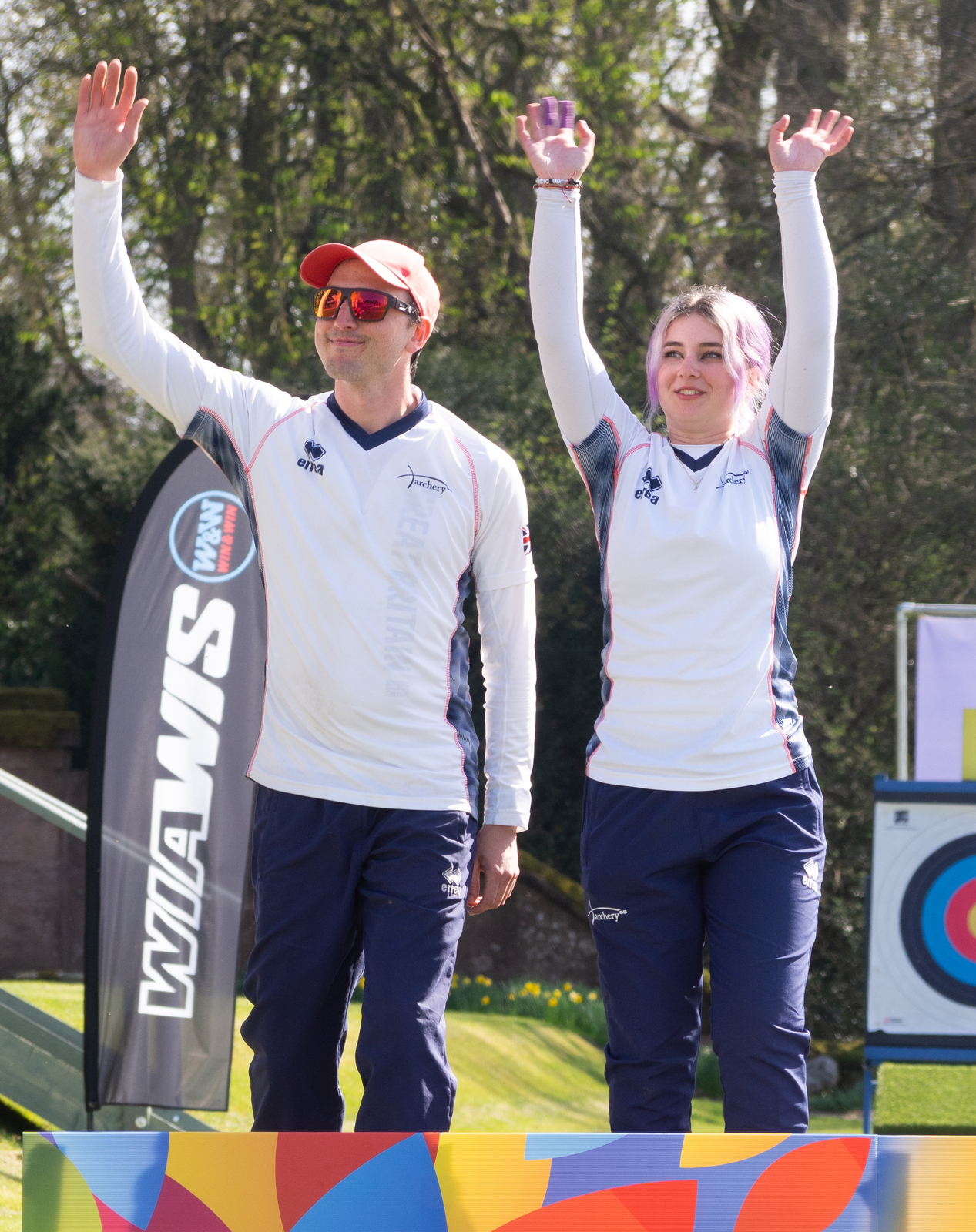 After a bit of a break from all the excitement of the morning, the afternoon bought more sunshine, a little wind and a lot of tension for GB as Tom Hall and Penny Healey faced off against Gaby Schloesser and Steve Wijler from the Netherlands in the Recurve Mixed Team gold medal finals.
A brilliant opening set from Tom and Penny put GB two points ahead, but a slightly disappointing second set meant that the Dutch duo pulled even, 2-2 at halfway through. A draw in the third set did nothing to ease the tension in the grounds as the score moved on to 3-3. A good last end just wasn't quite enough for GB to call the win, and the team from the Netherlands walked away with the gold, GB taking silver.
For Tom it was "awesome to shoot at home in an international competition. I don't know if I've ever had the chance to that before in front of everyone - with the crowd and all the support, it was really a privilege to be there."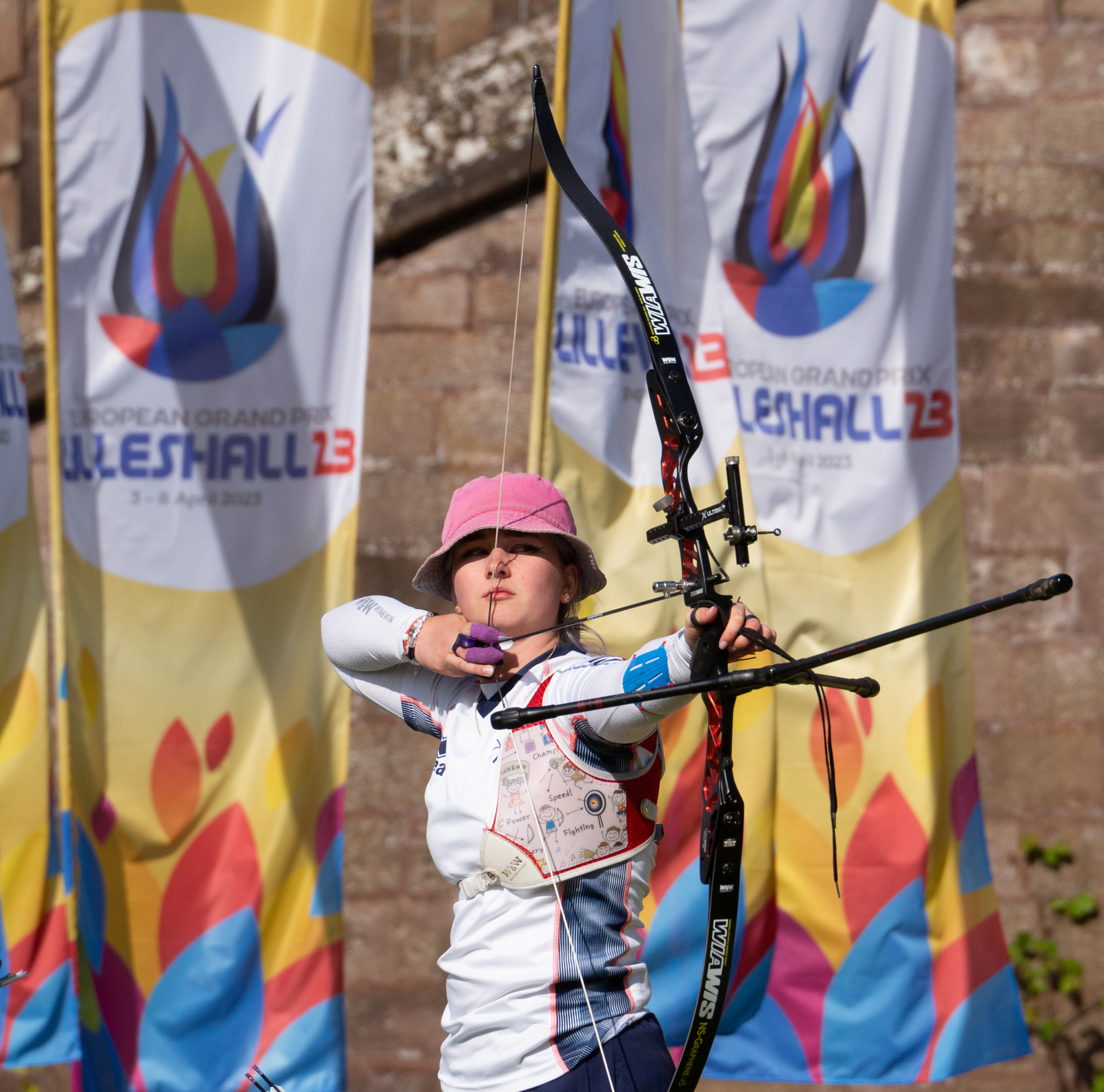 The last match for GB brought Penny Healey back onto the stage, where she took on Germany's Elina Idensen to earn the gold in the Recurve Women's Final.
After a draw in the first set, Penny began to pull ahead, taking the second set by just two points and a perfect 30 in the third secured that one for her too. Going comfortably ahead into the fourth and final set gave GB confidence, and with the final score at 7-1, it was announced that Penny Healey was the new recurve women's champion.
"It feels amazing to do this in front of my family and especially on home turf, it has a special place in my heart now," said Penny. Her win means GB women have taken gold in both recurve and compound in this tournament.
After a wonderful week at Lilleshall where all the GB teams have enjoyed both highs and lows, every archer who took part should be proud of the performances they gave. In sometimes tricky weather, each of them stood on the line and did their best.
Thinking back on the wonderful week, AGB's Events and Competition Manager Jon Nott, wanted to thank all of those who volunteered to make the event such a resounding success. "Without volunteers, none of these events would happen so thank you to all the volunteers for putting on an incredible week of archery."
Full results from today (and previous days) can be found here.