Compound juniors Ella Gibson, Lucy Mason and Jess Stretton today powered to team bronze at the World Archery Youth Championships in Madrid, with a hard-fought fourth place for our junior recurve men.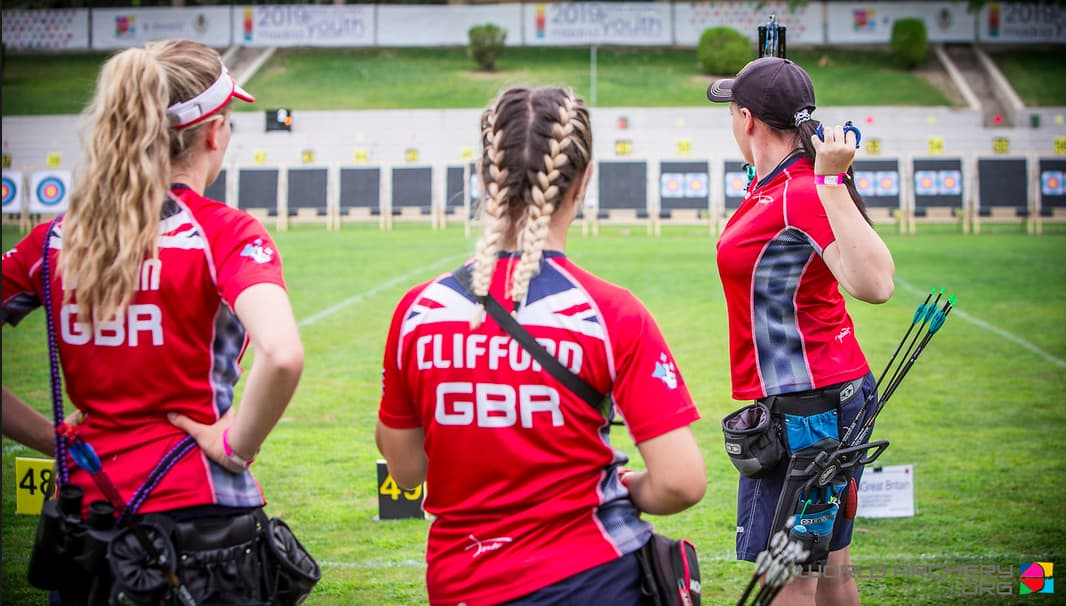 The second seeds saw off Kazakhstan 227-223 but were edged out of their shot at gold by Russia, losing by a single point. That left them facing Italy - and they were in no mood to go home empty-handed, romping to a 232-227 victory.
Recurvers Ryan Pinder, Jacob Reid and Alex Wise swept past Belgium 6-0 and Russia 6-2 but fell to top seeds Korea in the semis. The fight for bronze was against the Netherlands. The British trio shot well but was eventually edged out, losing 2-6.
The results in other categories were:
Compound
Juniors Kai-Thomas-Prause, Jake Walsh and Matthew Wong were edged out of a place in the semis, losing 232-233 to India. The cadet teams of Adam Carpenter, Lewis Haslam and Nathan Thomas and Layla Annison, Jenny Bryan and Holly Clifford were both edged out by Australia. The mixed team of Adam and Layla were beaten 146-139 by Spain.
A single point kept junior Matthew Wong out of the individual semi-finals. He beat Spain's Pablo Norczyk 145-144, Justin Varone of Switzerland 145-142 and Australia's Nathan Rowley 148-142 but was edged out by top seed Anders Faugstad of Norway. Kai Thomas-Prause defeated Pok Him Ming of Hong Kong 143-132 and American Curtis Broadnax 146-144 before going out in a shoot-off against the USA's Cooper French. Jake Walsh saw off Colombia's Manuel Toro Vasquez 143-142 and Andrea Vallaro of Switzerland 145-142. His progress was halted when he lost by a single point to Paulo Kunsch of Germany.
Top junior seed Ella Gibson defeated Switzerland's Janine Hunsperger 141-133 but fell 142-147 to Indian Raginee Markoo. Lucy Mason beat Hong Kong's Ngai King Chang 137-28 but lost a shoot-off against USA's Savannah Vanderwier and Jess Stretton also lost shoot-off against Canada's Alexandra Paquette.
Cadet Adam Carpenter beat Spain's David Solano 143-141 but lost 143-148 to Pablo Gomez Zuluaga of Colombia. Nathan Thomas was beaten 137-135 by Austrian Matthias Daxbock while Lewis Haslam fell 140-145 to Antonio Brunello of Italy.
Layla Annison beat Spain's Ana Pedraza Cambero 145-138 but fell 142-143 to Mexico's Mariana Bernal. Holly Clifford defeated Michelle Maria Bombarda 139-130 but lost 136-146 to Skylah Van der Veen of South Africa. Jenny Bryan beat Karolina Celmanova of the Czech Republic 139-138 but fell 140-145 to Emine Azra Yilmaz of Turkey.
Recurve
Juniors Ruby Paul, Eleanor Piper and Elizabeth Warner were denied a place in the quarter finals, beaten 6-0 by the USA. Cadets Thomas Susca, Austin Whitmarsh and James Woodgate beat Romania 6-2 but lost out to Japan while Penny Healey, Louisa Piper and Thea Rogers beat Lithuania 6-0 but lost a shoot-off against China.
In the individual categories, junior Ryan Pinder saw off Josef Kresala of the Czech Republic 6-4 and Germany's Nils Schwertmann 6-2, Usukhbayar Dulamkhand of Mongolia 6-0 and second seed Yu-Cheng Deng of Chinese Taipei in a shoot-off before losing 2-6 to American Jack Williams. Alex Wise lost 4-6 to Zhao-Sheng Chen of Chinese Taipei and Jacob Reid was beaten 6-4 by Maxence Jamot of France.
Ruby Paul defeated German Charline Schwartz 7-1 and Yun-Ching Sui of Chinese Taipei 6-0 before losing a shoot-off against Iran's Niloofar Alipoor, who beat Britain's Elizabeth Warner 6-0. Eleanor Piper lost 2-6 to Monica Galisteo of Spain.
Cadet James Woodgate saw off challenges from Austria's Maximilian Hasslacher 6-4 and Ukraine's Artem Ustinov 6-2 but lost a showdown with China's Dapeng Sun. Thomas Susca beat Stefan Kostyk 7-1 but was edged out in a shoot-off against Nicolas Bernardi of France. Austin Whitmarsh fell 4-6 to Federico Fabrizzi of Italy.
Louisa Piper beat Elena Bendikova of Slovakia 6-4 but fell in a shoot-off to Mst Ety Khatun of Bangladesh. Penny Healey was defeated 3-7 by Pia Wolbring of Germany. Thea Rogers lost a tight battle with Catalina Gnoriega of the USA.
You can find the results here.
Above: Lucy Mason and Jessica Stretton in action. Picture: World Archery