Narrowing the nominations down to a short-list, let alone a winner was extremely tough. There are countless unsung heroes and individuals who make our sport so special. In this article, it's time to celebrate our highly commended volunteers who have made positive impact in our sport and are at the core of our sporting community.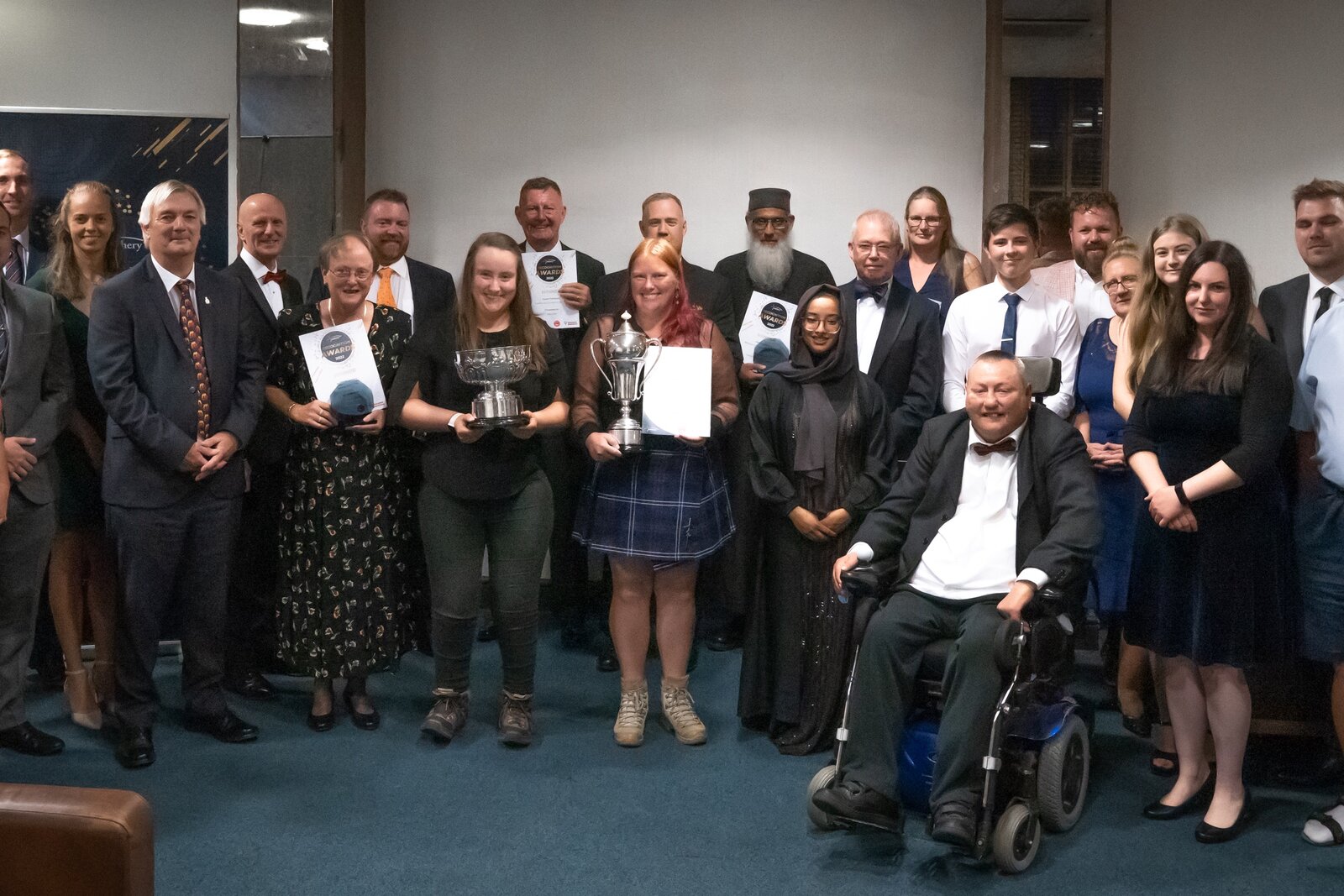 On Saturday 24 September, the annual 2022 Recognition Awards, held at Lilleshall National Sports and Conferencing Centre, celebrated the individuals and organisations who make our sport so special. The evening, filled with cupcakes, giggles and a meeting of like-minded passion for our sport, recognised the unsung heroes of GB archery. While we have already celebrated the evenings award winners, this page is dedicated to all of our highly commended volunteers who like our winners are also unsung heroes who really help shape how special our sport is.
Did you miss the Recognition Awards Evening? Watch the awards ceremony here
VOLUNTEER OF THE YEAR – HARTWELL TROPHY
Craig Cherrie:
Craig is the driving force behind the safe and progressive development of the Army Archery Association, delivering membership growth, skills, coaching courses and a sense of belonging. He has injected life into Army awareness of the sport, raising the level of engagement between tri-service and civilian clubs.
Malcolm Rees:
Malcolm is now widely known as the official photographer for AGB events and competitions. He is routinely seen at all national events and the photographs he produces are of extremely high quality. The tireless work he undertakes photographing events shows the massive contribution he provides towards the promotion of archery.
YOUNG VOLUNTEER OF THE YEAR:
Aaron Craig:
Aaron is the Tournament Officer for his club and helps with beginners' courses. He also works to maintain the club's equipment and spends time coaching new archers in technique and form. Aaron's hard work at the club has enabled them to run competition shoots, allowing more local archers to build qualifying scores for larger events.
Max Oakley:
Max has an enthusiasm for archery that is inspiring. In helping at the club, organising talks for local schools and working on the refugee archery day and schools' archery competition, he has shown his passion for encouraging a new generation of archers. Consistently going over and above, he is always willing to give up his training and free time to promote archery.
DISABILITY ARCHERY AWARD – THE GUSSY TROPHY
Philip Shoebridge:
Phil has championed the Centre of Excellence for Disability Archery in Kent (CEDAK) for over 17 years, spending the last seven years as Chair. In addition to sharing his time and knowledge, he has represented CEDAK at the Kent Para Championship in the W1 men's category for 13 years and is a wonderful role model for all para archers.
Mandie Elson:
Newark Orchard is an area special school catering for students aged 3 to 18 years with a range of additional needs. Mandie has worked tirelessly to set up the club through lockdowns, but in the last year has introduced archery to approximately 40 children, helping them develop a wide range of skills, including confidence, resilience, determination and independence.
COACH OF THE YEAR
Dave Hunt:
Dave is an exceptional person; he goes beyond to help each club member individually. He organises beginners' courses, have-a-go events with local primary schools, army cadets, air cadets and young farmers. He puts a smile on everyone's face and is always striving to help them reach gold in archery and life. His passion and commitment are inspiring.
Sara Rubio:
Sara is a coach who goes above and beyond to support her students. She is approachable, kind and helpful, both in the range and outside. As a coach, she adjusts techniques and routines to suit an archer's needs and this individualised coaching is invaluable especially, for disabled and injured archers and those with different body shapes.
PERFORMANCE COACH OF THE YEAR
Carl Bryer:
As a Performance Coach for the NI Academy, Carl travels hundreds of miles each weekend, literally going the extra mile. Nothing is ever too much trouble. He can be found at competitions fixing arrows and helping wherever he can. He always takes his time to get things right without ever rushing people.
Phyllis Pettet:
Phyllis joined the Pathway Coach Programme squad last year and is part of a three-year development programme to allow her to progress to the next level with her coaching. As part of the programme and alliance with The True Athlete Project was formed to create a wellbeing-centred approach to coaching, and Phyllis has wholeheartedly embraced this concept.
JUDGE OF THE YEAR
Lorraine Morris:
Lorraine is always encouraging archers to compete for the first time and to keep returning to competition by making competitions non-intimidating for new archers and explaining the rules and processes. She has trained several candidate judges over the past 12 months alone and the standard they judge to is a credit to her.
Katy Lipscomb:
Katy is the Southern Counties Archery Society (SACS) Judge Liaison Officer and works tirelessly to make sure everyone at the Society is kept informed of all the latest information and rule changes for AGB and World Archery, as well as looking after the other SCAS judges and making sure they have everything they need to do their jobs seamlessly.
ontarget COMMUNITY CLUB OF THE YEAR
Colwyn Bowmen:
Colwyn Bowmen has run several archery sessions for the community, including working with a mental health charity group and helping to raise money for Derbyshire Rural Chaplaincy, which works to help prevent suicide within the local farming community. Their events team work hard and put a lot of time into providing free have-a-go events for charities.
Perth Archery Club:
Perth Archery Club, as well as being a highly successful club with nearly 80 members, has carried out many have-a-go events, and worked hard to forge links with local schools. They are committed to bringing archery to not only their own members but to members of other archery clubs, various schools, other organisations and disability groups.
ontarget YOUNG PEOPLE CLUB OF THE YEAR
Cleve Archers:
Saturday mornings are a dedicated Junior time at Cleve Archers with two or three coaches running sessions. The club has invested massively in a new indoor shooting facility, which, when open, will have one evening a week dedicated to Juniors only. The club holds frequent Junior competitions, and several of their Juniors travel to County and National competitions.
Redhill Archers:
The Juniors at Redhill Archers are at home in their surroundings and are proud to include other beginners in the sport. They are supportive of each other and the club. This is due to the Juniors having their own dedicated coaching times, social events, and competitions at the club. The facilities and environment are right for Juniors to thrive.
ontarget PERFORMANCE CLUB OF THE YEAR
Thirsk Bowmen:
SThe unmistakable evidence of Thirsk Bowmen's success as a Performance club is visible in both the quantity and quality of its Junior and Senior archers at competitions. They have risen to the challenge of pivoting their focus towards Junior development, which is yielding results through competition participation, all while still maximising development opportunities for their Senior archers.
Pennine Archers:
Pennine Archers have created a programme of activity that aims to engage and sustain the development of archers from grassroots right through to Performance. They work across several sites engaging individuals at various levels whilst also offering one-to-one coaching support. They regularly support BUCS activities through the coaching and support of athletes from local universities.
ontarget CLUB OF THE YEAR
Bowmen of Pendle and Samlesbury:
Bowmen of Pendle and Samlesbury have developed their organisation to provide a service which is supportive and fun but also develops the individual archer. The club have a coaching team that mentor new coaches and support each other's development. They also work to make a number of opportunities available for their club members, from coaching and development sessions to in-house tournaments.
Warwick University Archery Club:
In a year with record membership numbers, Warwick University Archery Club has continued their focus on coach development and hosted a national level tournament, as well multiple charity events. Their close relationship with Coventry University Archery Club enabled them to step in and help when Coventry lost access to their outdoor training facilities by organising shared practice sessions.
TOXOPHILUS TROPHY
RAF Archery Association:
For many years, the RAF have been actively supporting archery, but in the last couple of years this has been noticeably strengthened, resulting in significantly more archers taking part at the 2021 Indoor Championships. The proactivity of the RAF Archery Association means they lead the way in supporting and encouraging the Army and Navy to increase their archery activities.
Southampton Archery Club:
outhampton Archery Club have done incredible things, including passing the 300-member mark. They have several schemes and initiatives to keep their members engaged and interested. Through COVID they ran a hardship fund for members, and they understood the need of their members and elected to allow members to pay just their AGB and regional membership fees, waiving the usual club fees.
PARTICIPATION PROJECT OF THE YEAR
Chorley Bowmen and Bowmen of Pendle and Samlesbury:
Both clubs have come together to support the delivery of archery within a local high school. The aspiration is to create something outside of traditional sports that will engage t he disengaged. Not only are they providing coaching support to the school, but they are also helping to source equipment and mentor the teachers who are about to access an Instructors Award.
Cowbridge Comprehensive School:
Started in October 2021 and led by teams from the school and Ogmore Valley Archers, the project aims to introduce archery as an activity within the school for both pupils and staff. The club has over 80 participants and is planning the purchase of specialist equipment to enable visually impaired pupils to take part.
Volunteers are the heartbeat of our sport
Without each and every one of you, the sport we love would not be possible.
From all at Archery GB we would like to say a huge thank you for your hard work.
Did you miss the Recognition Awards Evening? Watch the awards ceremony here