Inspirational journeys and the selfless dedication and tireless work done by volunteers were recognised at today's Archery GB AGM.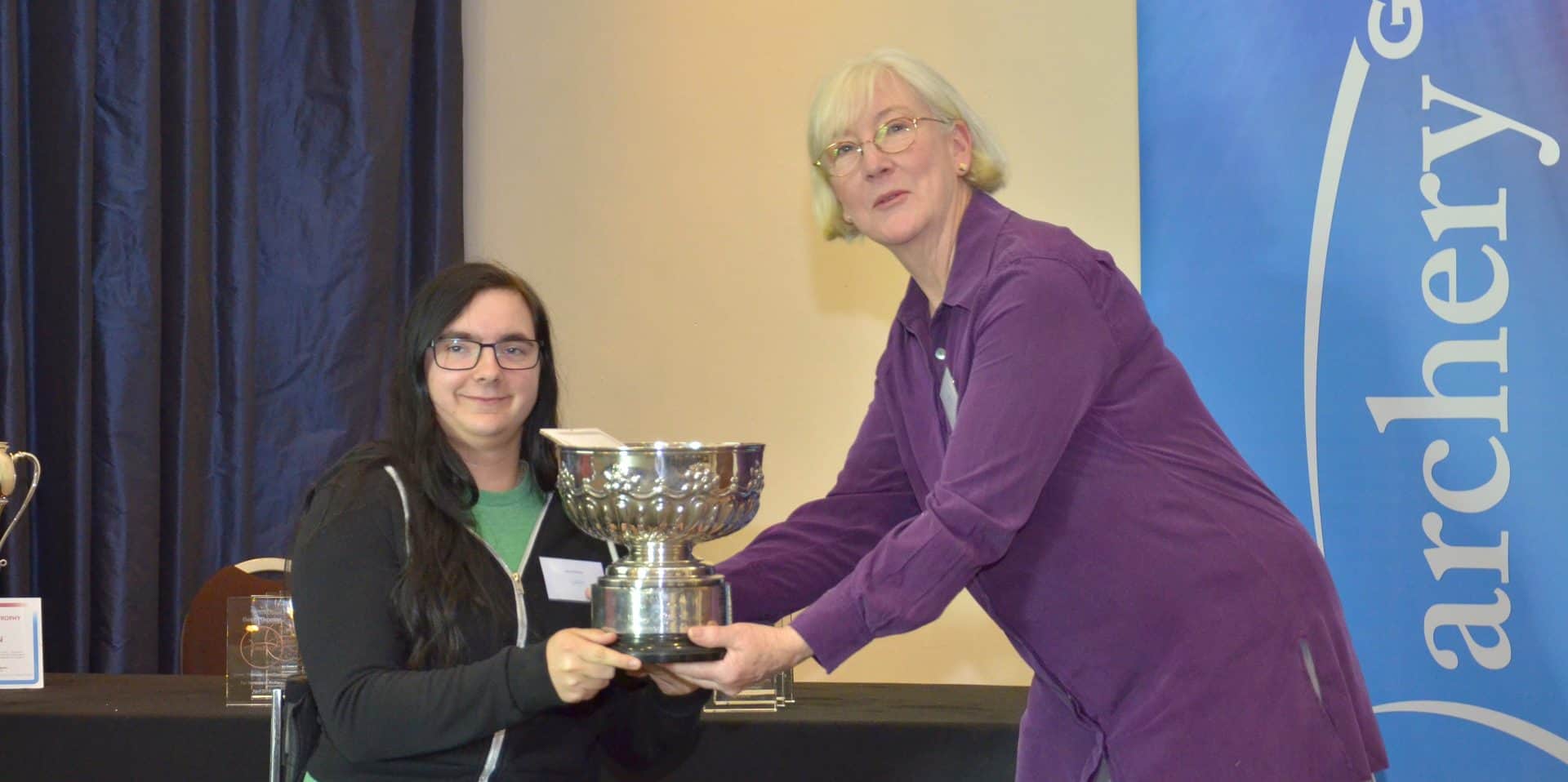 The Gussy Trophy is awarded to the wheelchair archer of the year. This year it marked the extraordinary achievements of 18-year-old Jess Stretton who, after winning Paralympic gold in Rio, went on to become an unstoppable force. Last year she was awarded the MBE, broke 10 para world records, European records, one national junior record, became double world champion and was nominated for BBC young sports personality for the second year running.
Jess, who has cerebral palsy, also continues to support WheelPower, the charity that first got her into archery.
The Hartwell Trophy is awarded for exemplary service to archery - and the 2018 recipient certainly fits the bill. Hilda Gibson leads our international management group, driving international relations strategies for equality, para sport, governance and hosting major events. She has strengthened our standing with UK Sport and has helped secure more support. She is a member of the World Archery finance and audit board, its Commonwealth Games working group, the WA Europe executive board and the international Paralympic Committee's finance and audit committee.
The Archery GB club and regional website awards went to Southend and District Archery Club and the Berkshire Archery Association respectively while the Toxophilus Trophy, which was first awarded 50 years ago, went to Archery GB's new suite of e-zines.
A few years ago, Archery GB took a fresh look at its Plaquettes system, focusing it on the work done by the unsung heroes who work tirelessly to help develop our sport at all levels from national committees to grass roots. This year is no different.
Bronze plaquettes for outstanding commitment and support were awarded to:
Target Committee members: Geoff Thomas, Malcolm Wooton, John Bennett, Steve Johnson and Lee Miller.
Judges Committee members: Liz Garrigan, Susan Richards, Tony Goad, Richard Pilkington and Hannah Brown.
Field Archery, National Tournaments and Rules of Shooting Committee members: Michaela Lake, Robert Nesbitt, Tracey Hill, Carla Piper, Andrew Neal and Dennis Whiteman.
Jerry Handyside: tournament organiser and club administrator at Brixham Archery Club.
Roger McMullen: judge who has overseen the Island Games and introduced service personnel at Blind Veterans UK to archery.
Brian Dunlop: Bedfordshire County Chairman and national judge who helped develop Kestrel Archers.
Roger and Tina Horsley: Kestrel Archers' tournament organisers and Southern Counties representatives.
Colin Bowen: keen coach and tournament organiser at Allington Castle Archers.
Sharon Tideswell: keen regional judge and tournament organiser who works at county and regional levels.
Charlotte Attwood: former international archer who now works with youngsters at Wilford Bowmen and across Nottinghamshire.
Eddie Pemberton: Chairman of Bowmen of Glen and the Leicester and Rutland County Archery Association.
Silver Plaquettes went to:
Pauline Betteridge: former GB team manager who chaired World Archery's Classification Committee and helped set up the classification system and training. She is also Chairwoman of the British Wheelchair Archery Association.
David Poyner: champion of visually impaired archery, Chairman of British Blind Sports Archery and a font of knowledge on all disability matters.
Jon Shales: GB international field archer for 25 years, Deputy Chairman of World Archery's Field Archery Committee and a key member of Archery GB's field committee, dealing with rankings, selection and providing website content.
Neil Dimmock: Vice-President of Southern Counties Archery Association, its representative at the English Archery Federation, tournament organiser and International Judge for decades.
Helen and Tony George: dedicated to developing the sport from grass roots to national and World Archery's Para Committee level, supporting disabled archery at Stoke Mandeville, promoting VI archery and the Pass It On scheme.
Robert Potts: World Archery International Youth Judge who helped steer Archery GB's youth judge project. A skilled technician who helped set up Archery GB's national events scoring system, helps to spread the technology and spends most weekends judging at shoots.
Paul Callaway: has worked at club, county and regional level and with the Senior Leadership Team to come up with ways to encourage grassroots members to see the benefits of joining the National Governing Body.
Eric Jackson: national Judge and former Marketing and Development Director who, in 2007, was involved in the evolution from GNAS to Archery GB. He was re-elected as Finance and General Purposes Director in 2011.
Charlie Hall: a stalwart of the sport who has spent the last 25 years involved in regional governance. He is Northern Counties Chairman and helped shape the sport in Durham and Northumberland.
Gold Plaquettes went to:
Muriel Kirkwood: Scottish international, club secretary, coach who looks after the Scottish Archery Association website. She joined Archery GB's Board as Director Scotland and has served three terms, helping its transition to a modern strategic body. She recently joined the Archery NI Board.
Dave Harrison: in the 1970s he helped set up the Bowmen of Walker. He went on to become a National Judge, an active coach and County Coaching Organiser. He was (and is again) Durham and Northumberland Chairman, Northern Counties Secretary and President. He joined the Archery GB Board in 2009 and quickly became Chairman, overseeing the London Olympics in 2012 and serving with grace and pragmatism.
And there was an honorary life membership for Bob Tonkin - who recently celebrated 50 years of marriage to his wife, Pam.
Above: Jess Stretton receives the Gussy Trophy from Archery GB President Trish Lovell. Picture: John Percival
Follow us on:
Instagram: archerygbofficial
Facebook: Archery GB
Twitter: @archerygb