The digital-only summer 2022 issue of Archery UK is now available.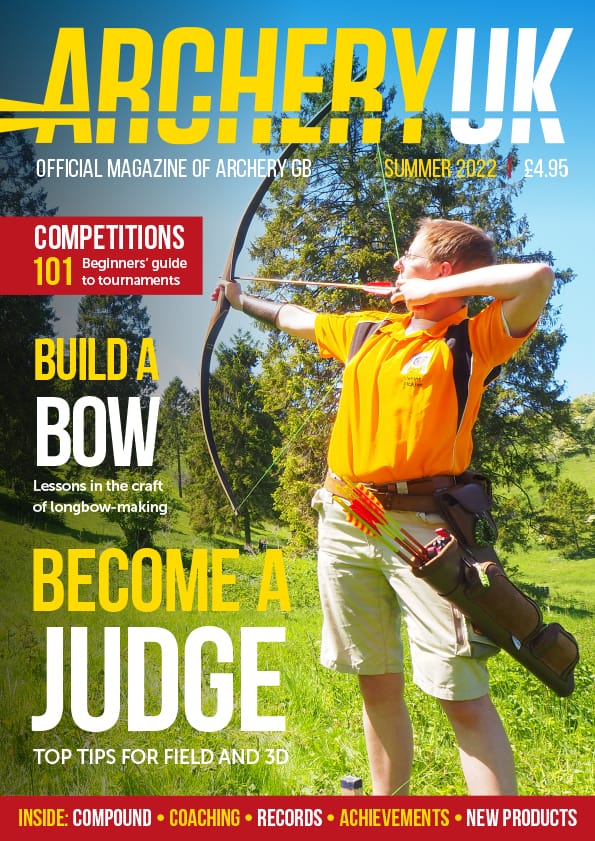 The digital-only summer issue of Archery UK is now published. The accessible version will also soon be available on the magazine page of our website, along with our Archery UK back issues.
Archery UK Summer 2022 edition
In this edition, we find out what it's like to take part in a competition for the first time (page 52), catch up on the progress of Project Rimaya - Archery GB's participation initiative (page 56), hear from an archery beginner about her first year in the sport (page 80), and discover the wonders of an archery simulator (page 60). And if you've ever admired the craftsmanship of a longbow, why not have a go at making your own? Read Hannah Porter's story, on page 62, about building a bow at a weekend workshop.
Elsewhere in the Practical section, we meet two disabled coaches and hear how they've overcome physical challenges to help others in the sport. We hear from field and 3D judge, Hannah Brown, about what it's like to judge these exhilarating events, and discover how Olympic archer Patrick Huston got on with the Mantis X8, a device that analyses shot pattern. And if you fancy treating yourself to some equipment, don't miss our Kitbag pages (76-77) to see what else is shiny and new, or buy secondhand from Sell My Bow, details on page 28.
The European Youth Archery Championships at Lilleshall are just around the corner now in August, and although we don't like to think about the end of summer, the European Para Cup Finals and National Tour Finals at Wollaton Hall, Nottingham take place 15-17 September. We'll be releasing more details about these events in the coming weeks, but there's plenty going on before we get there! Catch up on the competitions you may have missed from page 34.
Don't forget
The print and digital autumn issue will be published in October. If you have any news, letters or stories you'd like to submit for it, please send to magazine@archerygb.org by 23 August.