The digital-only winter issue of Archery UK is now available.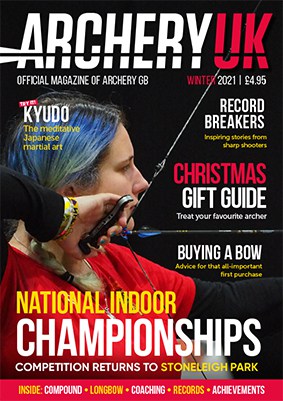 The digital winter issue of Archery UK is now published. The accessible version is also available on the magazine page of our website, along with our Archery UK back issues.
In this edition, we report on the action from the recent National Indoor Championships at Stoneleigh Park, chat to some of this year's incredible record breakers, discover the martial art of kyudo, make a wish-list from our six-page Christmas gift guide and get some expert tips on buying a bow for the first time. The Practical section also includes fitness advice, longbow care, arrows for indoor use, and advice for setting up an indoor range.
We are pleased to confirm that we will be printing two issues of AUK next year, starting with the spring edition (also available as a digital version), published late March. If you have any news, letters or stories you'd like to submit for it, please send to magazine@archerygb.org by 1 February.