Britain's young stars added four more gongs to our haul at the second leg of the European Youth Cup in Bucharest today - ensuring that we topped the medals table!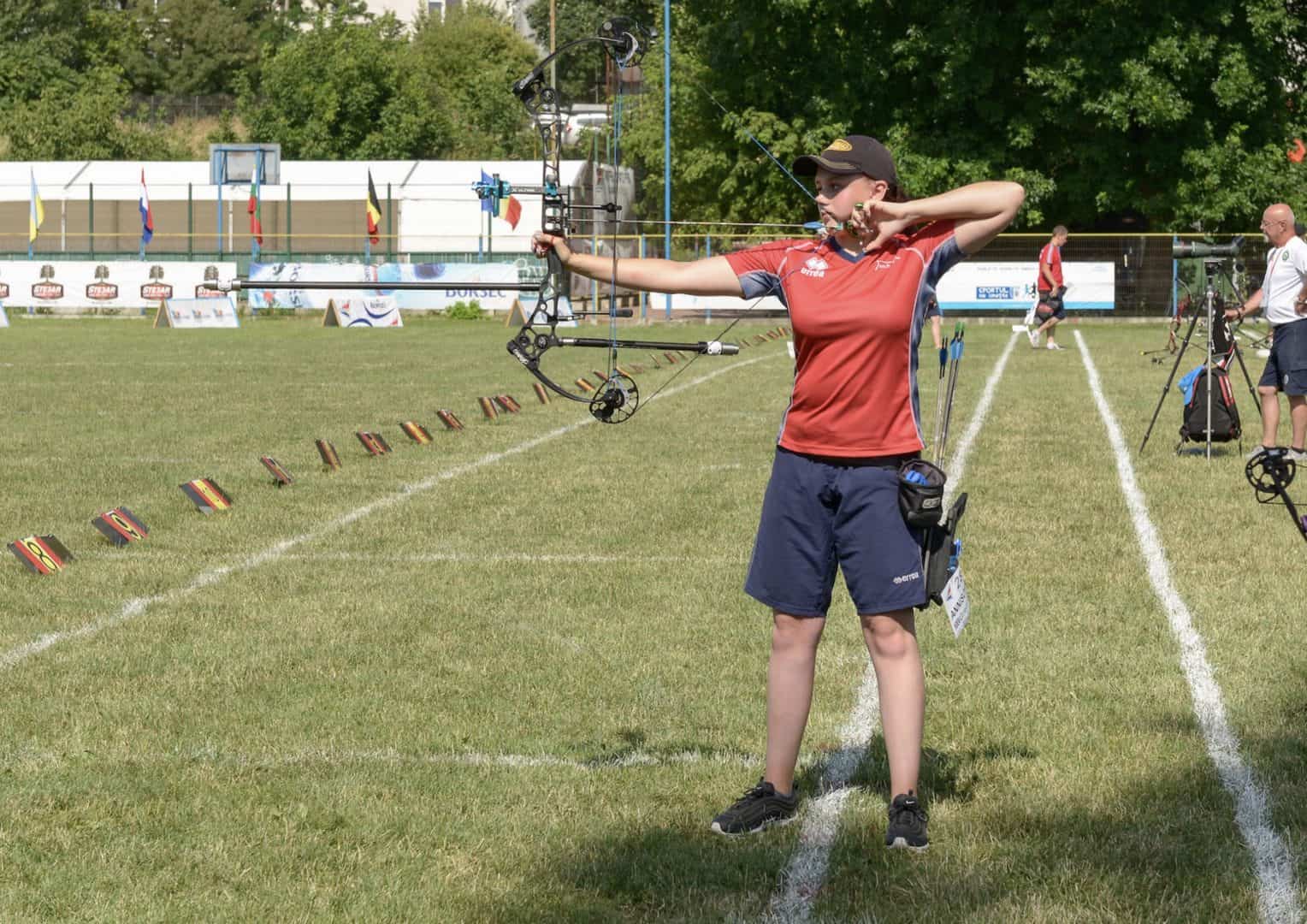 Compound cadet Layla Annison romped to a convincing victory, beating Petra Zikmundova of the Czech Republic 144-127, Denmark's Natacha Stutz 144-142, Russian Arina Cherkezova 141-140 and Italy's Elisa Bazzichetto 142-130 to clinch the gold.
Nathan Thomas almost achieved the same feat. The compound cadet saw off Italians Giacomo Cuogo 141-140 and Antonio Brunello 145-142 as well as Slovakia's Simon Sedevy - but he was just edged out of gold by Denmark's Mathias Fullerton, losing 141-143.
There was silver too for Jacob Reid. The recurve junior defeated Romanians Vlad Ciocan 6-2 and Cosmin Frai 6-0, Damian Vaes of the Netherlands 6-2, France's Lou Thirion 6-4 and Poland's Filip Lazowski 7-3 to set up a title showdown - and a shoot-off - against Clement Jacquey. Both scored eight but the Frenchman's arrow edged it.
Ella Gibson was going for compound junior bronze. She saw off Romania's Erica Serban 145-110 and Russian Veronika Sanina in a shoot-off but lost by a single point to Lisell Jaatma of Estonia. She faced Lola Grandjean in the battle for bronze and again, it went to a shoot-off. The Frenchwoman scored nine - but Ella shot a 10 to claim the medal. Kai Thomas-Prause almost made it a compound junior double. He defeated Switzerland's Justin Varone 147-142 and Roman Efimov of Russia 143-142 before losing by a single point to Estonian Robin Jaatma. And a single point gave Italy's Alex Boggiato enough to edge Kai out of the medals.
There was some compensation though - Ella and Kai romped to mixed team gold earlier in the competition, beating Switzerland 158-154, Italy 156-155 and the Jaatmas of Estonia 154-150. And Ella, Izzy Carpenter and Lucy Mason finished top in their compound junior team category. There was victory too for compound cadets Adam Carpenter, Lewis Haslam and Nathan Thomas as well as Layla Annison, Jenny Bryan and Holly Clifford. Layla and Adam were edged out of mixed team bronze by Denmark.
A shoot-off denied junior recurvers Eleanor Piper and Cameron Donaldson mixed team gold. They beat Estonia 5-1, Switzerland 6-0 and Italy in a shoot-off only to lose the title decider by a single point.
Another shoot-off gave the recurve cadet team of Penny Healey, Louisa Piper and Thea Rogers a bronze medal. They beat France 6-0 but lost to Russia and went on to face Italy in the medal decider. With the match tied, Italy shot 22 but our trio scored 27. In the junior category, Ruby Paul, Eleanor Piper and Elizabeth Warner just missed out on bronze.
In other results, compound cadet Iulia Petre was beaten 139-133 by Karolina Calmanova of the Czech Republic and Lewis Haslam was squeezed out in a shoot-off against Filippos Spatalas of Greece. Junior Matthew Wong was knocked out in the quarter finals, Lucy Mason lost to Grandjean and Izzy Carpenter was defeated by Italian Eleonora Grilli.
Junior recurver Cameron Donaldson beat Latvian Nikolajs Sinnikovs 6-0 before falling 2-6 to Gijs Broeksma of the Netherlands. Eleanor Piper beat Romania's Corina Busuioc 6-0 but fell 4-6 in a tough match against Russian Viktoria Kharitonova. Elizabeth Warner was beaten 6-2 by Belgium's Charlotte Destrooper and Ruby Paul lost 2-6 to Iryna Tretiakova of Ukraine.
Recurve cadet James Woodgate reached the quarter final, seeing off Pieter Markey of the Netherlands 7-3 and Frenchman Christophe Vuillin 6-0 before being edged out in a tight match against Matteo Balsamo of Italy. Austin Whitmarsh lost 2-6 to Keziah Chabin of Switzerland, Marco Costanza lost 4-6 to Ukraine's Artem Ustinov and Thomas Susca went down 0-6 to another Ukrainian, Maksym Petryshyn.
Louisa Piper beat Greece's Sofia Theodora Chalkiopoulou Daskalaki 6-0 and Varvara Illiash of Ukraine 6-2 before being edged out of a place in the semis by Russia's Tuiana Budazhapova. Thea Rogers beat teammate Penny Healey 6-4 before losing 1-7 to Romanian top seed Madalina Amaistroaie.
The recurve junior men's team of Cameron Donaldson, Ryan Pinder and Jacob Reid lost to Poland while cadets Thomas Susca, Austin Whitmarsh and James Woodgate beat Israel 5-1 before losing to France. Recurve cadets Louisa Piper and James Woodgate beat Belgium but lost a shoot-off against Romania.
You can find all the results here.
Above: Layla Annison and Nathan Thomas