British archers have stormed to gold and bronze medals at the 2017 Veronica's Cup world ranking event in Slovenia!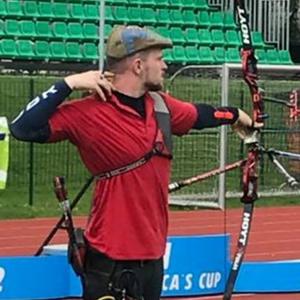 Olympian Patrick Huston topped the individual rankings. He beat Luxembourg's Pit Klein in a shoot-off and Turk Oguzhan Kucuk to land a gold medal showdown with Andreas Gstoettner. The Austrian manage to tie one set but Patrick's pedigree shone through as he took the match 7-1.
Then he added another gold, this time with Bryony Pitman, in the recurve mixed team competition!
The young Britons swept past home favourites Slovenia 6-2 for another confrontation with Austria's Gstoettner, this time shooting with Nina Riess. And it was equally decisive with Patrick and Bryony winning 6-2.
There were great results for our compounders too. Susan Corless, Hope Greenwood and Stephanie Clason topped the compound women's team competition while Susan beat Hope to individual bronze.
Third seed Susan found herself shooting against Stephanie in the quarter finals of the competition and took the match 140-135 before being knocked out of gold medal contention by second seed Mariya Shkolna of Poland.
It was a similar story for Hope. She beat Austrian Nadja Stocker before falling foul of top seed and eventual champion Toja Ellison.
In the end, the bronze was decided by a single point, Susan winning 144-143.
Bryony reached the quarter final of the recurve individual competition but lost 6-2 to eventual silver medallist Yasemin Anagoz of Turkey.
You can find all the results here.
Follow us on:
Instagram: archerygbofficial
Facebook: Archery GB
Twitter: @archerygb