Archery GB's 2019 Youth Festival - a week of fun, friendship and shooting at the highest level - came to a climax today as the individual titles were decided.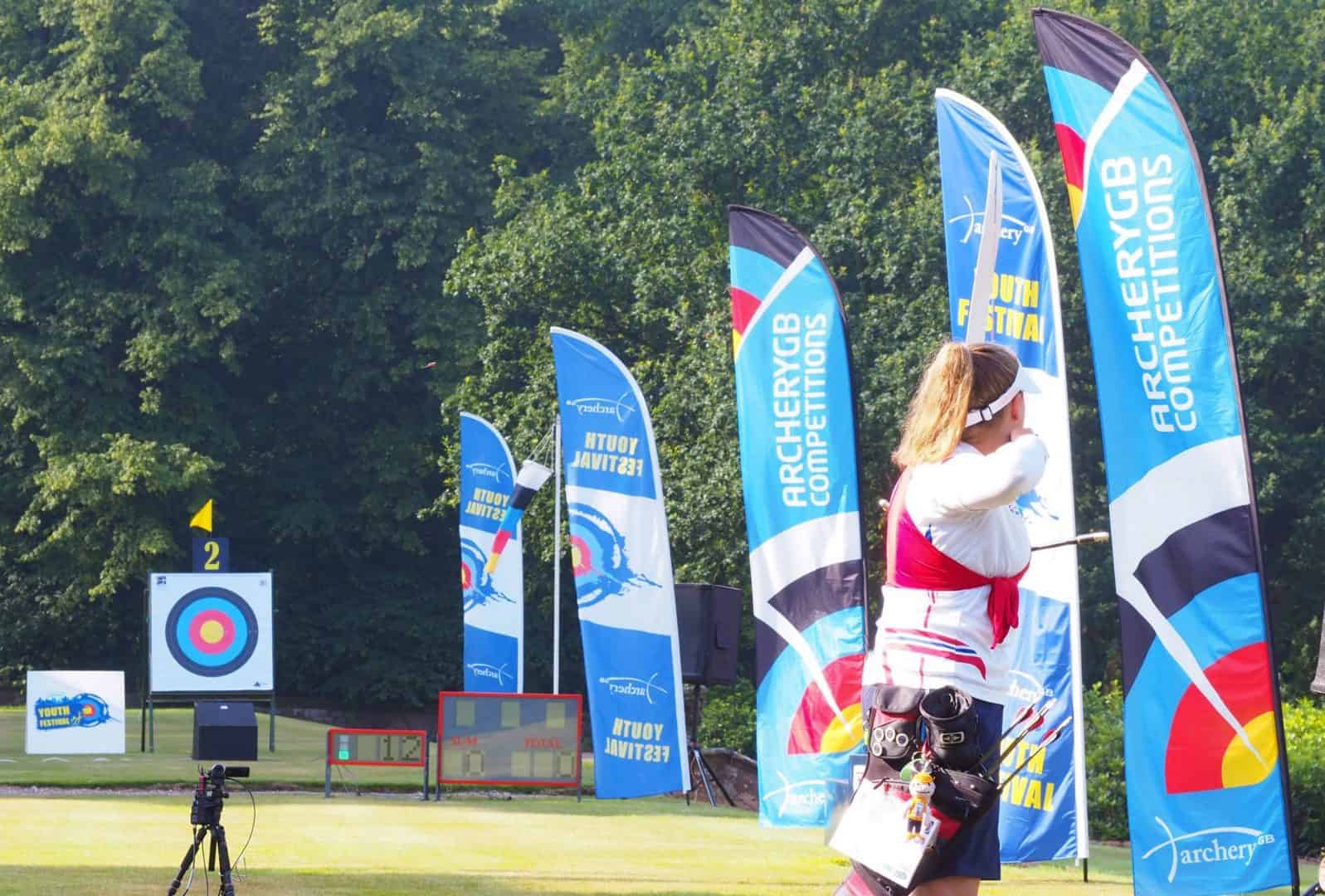 Compound junior Matthew Wong battled through some close matches, beating Kai Thomas-Prause 143-142 and Jake Walsh 140-139 to book a place in the title decider. There he faced Liam Peake who had defeated Lewis Haslam 138-132 and top seed Adam Carpenter 143-140. Matthew and Liam were equally matched throughout the final but Matthew managed to go one point ahead to clinch gold. Adam beat Jake in a shoot-off to take bronze.
Junior Ella Gibson led from the start in the women's category. She saw off Paige Jones 143-133, Robyn Geddes 142-132 and Jess Stretton 148-136 to reach the final. Her opponent was Lucy Mason who swept past Holly Clifford 139-131, Jenny Bryan 143-140 and Layla Annison 145-140. In the end there were only two points in it but Ella claimed victory with a 144-142 win. Layla took bronze with a 145-144 win over Jess.
Compound cadet Ajay Scott justified his top seeding by romping to victory. He beat Dru Ridding 139-128 and Ireland's Rogan Cunningham 135-130 to book a gold medal showdown with Archie Crawford. He had seen off Alfie Ridding 137-112, Aidan Elves 135-118 and Thomas Lane 138-137 but could not get past Ajay, who won 141-139. Thomas beat Rogan to bronze.
In the recurve junior categories, our new champions are Jacob Reid and Ruby Paul.
Top seed Jacob defeated Szymon Mickiewicz 6-0 and Alex Rowe 6-4. All that stood between him and gold was Sri Lanka's Kavin Premaratne. He had beaten Will George 6-2, Danny McLaren 6-4 and Thomas Oakley 6-4 but Jacob was on top form and claimed gold with a 6-2 victory. Alex beat Thomas 6-2 to take third spot.
Ruby qualified in seventh spot but defeated Georgia Green 6-0, Nicole Burdett 6-0 and Hannah Rowley in a shoot-off. Another shoot-off decided the title as she faced Rachel Moon. The top seed had seen off Alice Harding 7-1, Leah Bannister 6-2 and Sophie Castle 6-2 and shot a nine in the single-arrow decider. But Ruby hit the 10 to take the title.
The men's recurve cadet title went to Daniel Thompson. He powered past Will Oakes 6-0, Luke Tassie 6-2, Jakob Barrett-Rees 7-1 and Austin Whitmarsh 6-2 to face Riley Spencer-Nice in the gold medal match. He beat Robbie Gillman 7-1, Charlie Medhurst 6-2, Thomas Susca in a shoot-off and Monty Orton 7-3 but had to settle for silver, losing 0-6 to Daniel. Austin edged past Monty to claim bronze.
Cadet Thea Rogers qualified in second spot then fought off Helen McCormick 6-0, Rhiannon Easton 6-2, Freya Palmer 6-4, and Shauna Punjabi 7-1 for her shot at gold. She faced Imogen Newby who had defeated Sophie Young 6-0, Emelia Belshaw in a shoot-off, Megan Costall 7-1 and top seed Penny Healey 6-4. But Thea was in no mood for defeat and took gold with a 7-1 win. Penny defeated Shauna in a tight match to claim third place.
Sri Lanka's Randhir Senaratne won gold in the recurve cub men's category. He beat Ravin Premaratne 6-2 and Yusuf Ali 6-2 to book a showdown with Jack Doherty. The top seed had defeated Archie Bromley 6-0 and Hayden White 6-0 but fell 1-7 to Randhir. Yusuf edged Hayden out of bronze position.
The top two seeds met in the final of the women's recurve cub competition. Samantha Roberts qualified top and saw off Meghan Robertson 6-0 and Sophie Roberts 6-0 to book her spot in the title decider. She faced Megan Havers who had defeated Lucy Coutts 6-0 and Harriet Crook 7-1 but had to settle for silver, losing 2-6 to Samantha.
The festival incorporated Key Event 3, the Commonwealth Youth Championships and an international mixed team event. It was supported by Wales Archery, ArrowSocks, Reign Bowstrings and Sport England.
You can find yesterday's team final report here.
You can watch action from the finals here.
And you can find all today's results here.
Picture: Malcolm Rees