Olympians Patrick Huston and Naomi Folkard are out of contention at the Hyundai Archery World Cup in Shanghai after coming agonisingly close to quarter final places.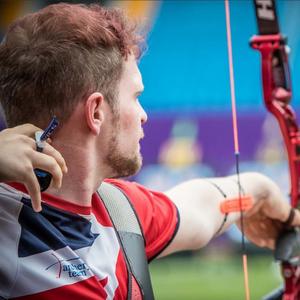 One arrow made all the difference to Naomi. After beating Colombia's Ana Maria Rendon 7-3 and a thrilling 6-4 win over the Korean third seed, Choi Misun, she faced France's Audrey Adiceom. Naomi took the first set 29-28, tied the second and won the third, 28-26. Then the Frenchwoman fought back, taking the fourth and fifth sets to force a shoot-off. Naomi shot a nine but Adiceom hit the centre.
Patrick, who had earlier beaten beat Japan's Naoya Oniyama 6-4, got off to a great start, winning his first two sets against Muhammad Akmal Nor Hasrin. But then the Malaysian battled back, forcing a fifth set. Patrick took it by a single point for a hard-earned 6-4 victory. That brought him up against the sixth seed, Atanu Das. And the Indian edged every set, the last two by a single point - but it was enough for a 6-0 win.
The competition gave our other four representatives the chance to hone their experience.
Bryony Pitman's progress was halted in a shoot-off against Ika Rochmawati of Indonesia, while Tom Hall, making his World Cup debut, got off to a great start against Canada's Hamilton Nguyen. But the Canadian finally edged ahead to take the match 7-3.
He told World Archery: "I put a lot of pressure on myself to come in and shoot a big score. There's a lot to learn, lots to figure out about the nerves and the pressure."
And Paralympians John Stubbs and Nathan MacQueen were at the competition to test themselves in a different environment. They were making good progress until John narrowly lost an epic battle with Iraq's Eshaaq Al Daghman and Nathan was edged out by Danie Oosthuizen of Australia.
You can find all the results here.
European Grand Prix: Bucharest
A shoot-off denied Hope Greenwood a place in the semi-finals at the European Grand Prix in Bucharest.
The compound second seed saw off Romania's Codruta Angelescu convincingly, winning 145-132. That brought her face-to-face with tenth seed Eleonora Sarti in the quarter finals - and they were perfectly matched, each scoring 145. Both scored 10 in their shoot-off but the Italian hit the X.
You can find the results here.
Follow us on:
Instagram: archerygbofficial
Facebook: Archery GB
Twitter: @archerygb