Qualifying day for the Compound Open Para athletes at the World Archery Para Championships 2022.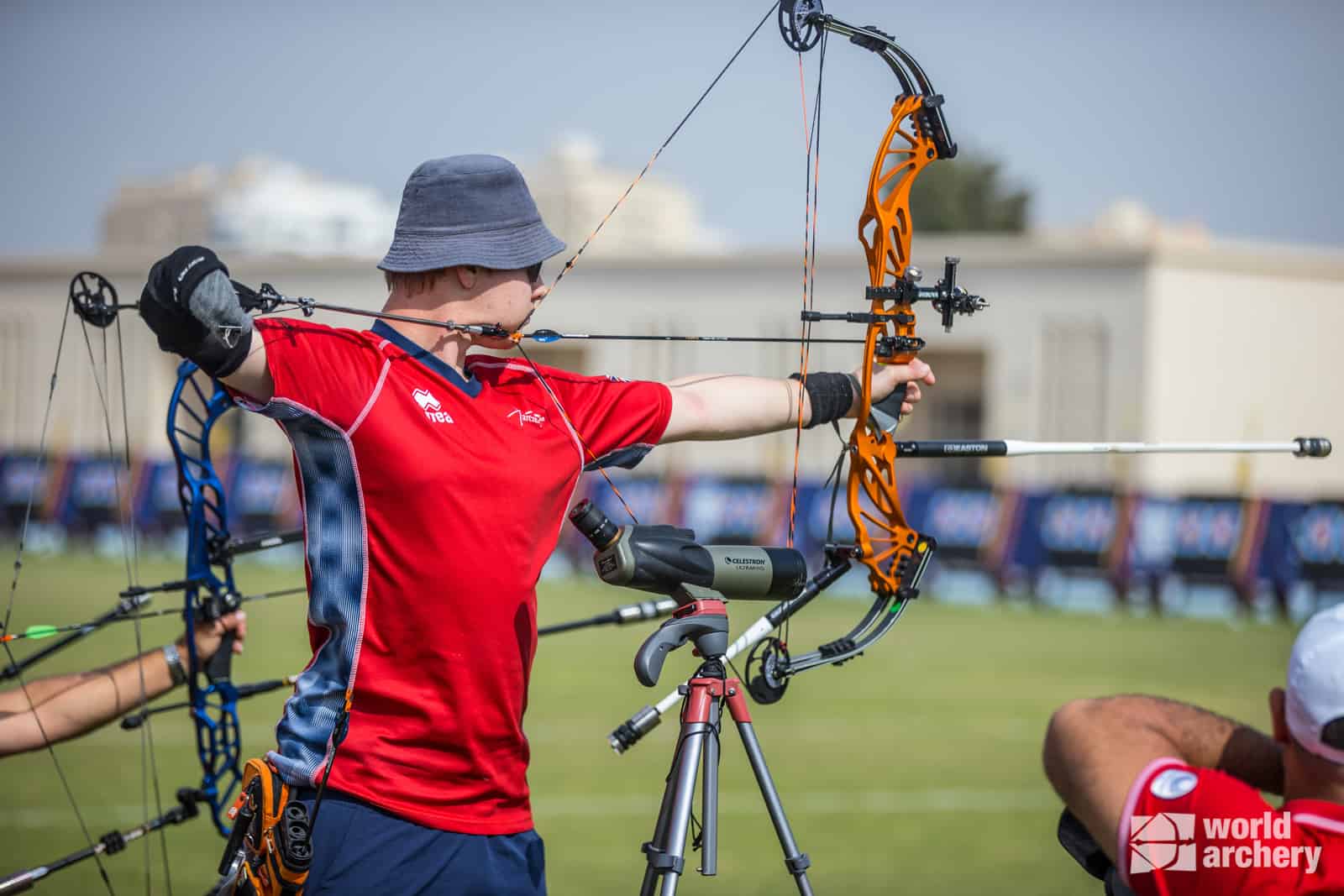 Dubai is the host for the 2022 World Archery Para Championships. Qualification is complete for the Compound Open divisions. Let's see where our archers are ranked heading into elimination and team matches.
The World Archery Para Championships 2022
The 2022 World Archery Para Championships, are happening this week, on 22-27 February. This is the debut event for the double team for the single-gender format. Rather than three team members. Simply meaning, there will be two women or two men shooting for the team titles, rather than three. Individual and mixed team titles are competed for, along with the new doubles at the Championships.
The competition began this morning with the Compound Women Open division shooting qualification. And the Compound Men Open shooting qualification this afternoon.
Compound Women Open at the World Archery Para Championships 2022
Rikki Bingham, Archery GB's Performance Programmes Manager, is in Dubai with the team and commented, "The women's compound did well this morning in really tricky conditions. Having such a major championship in the middle of our winter doesn't allow for optimal preparation. So to qualify in 3rd, 8th, and 17th is a great achievement.
"With the introduction of the new double formant, we are enabling all of our women to have an opportunity for a 2nd medal. Jess will be in the mixed team as our top qualifier. Jodie and Phoebe will compete in the double competition."
Jessica Stretton, Phoebe Paterson-Pine and Jodie Grinham won silver at the World Archery Para Championships in 2019 as a team. All three of them are Paralympic athletes. With two Paralympic Champions and mixed team silver medalists from the past two Paralympic Games between them.
Jessica qualified in third after shooting 339 first half and 335 second half, and 674 overall. Next, Phoebe qualified in eighth with 334 in both halves, finishing with 668. With Jodie qualifying in 17th with 323 and 330, 653.
"I was extremely pleased with the way I shot today, given the conditions in Dubai. The wind has been a tricky one. Moving groups around a lot and blowing arrows off. It was difficult conditions for all competitors. But I feel I did what I could, especially given how early in the year this Championships is for us. We have had little outdoor training due to it being our winter season." explained Jessica.
Phoebe and Jodie will shoot against either India or Thailand in the 1/4 matches tomorrow. Jessica and Jamie will shoot against Spain in the Compound Open Mixed Team.
Compound Men Open at the World Archery Para Championships 2022
Jamie Harris, GB's only athlete in the Compound Men Open division qualified this afternoon. This was Jamie's second World Archery Para Championships, having made his international debut in 2018.
Jamie shot 326 for both halves, 652, keeping a consistent score through the wind. In the 1/24 round, he shot against Leos Bartos from the Czech Republic. Unfortunately losing the match 135-138.
However, Jamie will compete tomorrow with Jessica in the Compound Open Mixed Team.
Charlotte Burgess, Senior Recurve Coach, commented, "Although it's been tough conditions today with winds and high gusts. Jamie did deal with the conditions very well amongst a strong field of competitors. The experience gained today will help for the rest of the week. Along with future international experiences."
Schedule for the World Archery Para Championships 2022
The week ahead is very busy, so make sure you follow along here.
Wednesday 23: Team matches and individual matches.
Thursday 24: Qualification rounds for W1, recurve and VI1 divisions.
Friday 25: Team matches and Compound Open finals
Saturday 26: Individual and finals matches for W1 and VI1
Sunday 27: Individual and finals matches for recurves
Of course, all live streams will be on World Archery's social media and shared on Archery GB for GB athletes in the finals.