The elimination day for the Compound Open divisions at the World Archery Para Championships results in medal matches!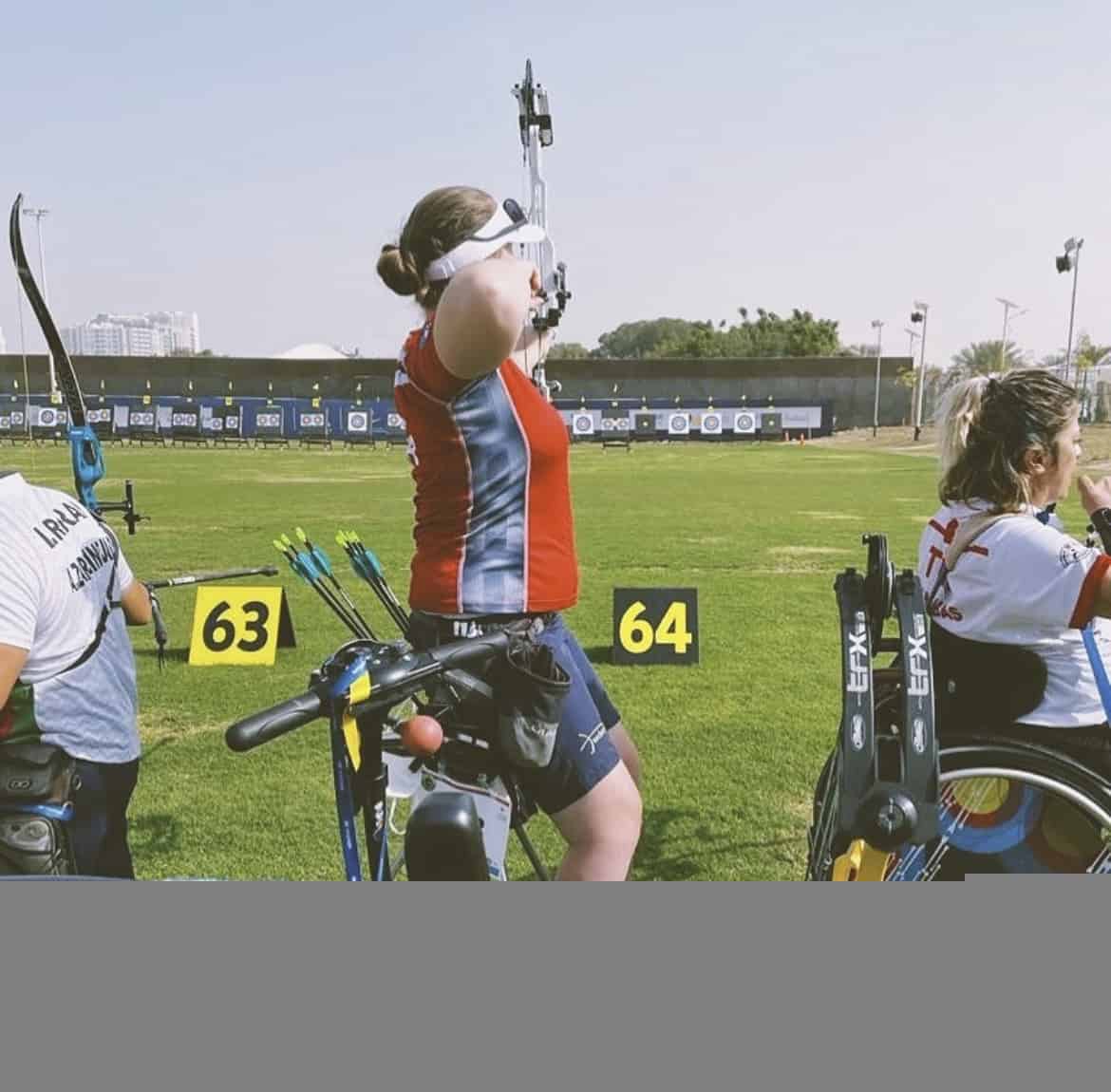 With the elimination matches at the World Archery Para Championships in the Compound Open divisions, medal matches are secured!
Compound Open Mixed Team
Seasoned international, Jessica Stretton and Jamie Harris shot in the mixed team event this morning. Being pre-seeded into the 1/8, shooting against twelfth seed Spain. The team shot the second-highest score on the field of 153, taking the win.
Jamie commented: "For me today, it was a great introduction to mixed team shooting at an international level. I'm really pleased with how we've done considering we've never shot together in a competition before. I'm excited to experience my international finals. Especially with it being a world championship."
Compound Women Team Double
Tom Duggan, Archery GB's Performance Director, commented, "The double is a new format. And we know that whichever pairing was in the Compound Women's team, they would be really competitive. We wanted to use the opportunity of this format to give all three of the Compound Women an opportunity in the team events. We are looking forward to seeing what Phoebe and Jodie can do in the Bronze medal match.
"It's also great that Jess and Jamie have given themselves an opportunity as well. Preparation for this event hasn't been ideal. With Nathan Macqueen and Victoria Rumary testing positive prior to departure. Whilst it's desperately disappointing for both of them, it creates opportunities for others. And Jamie has worked really hard over the winter."
Phoebe and Jodie are shooting for bronze in the Compound Women Team Double division on Friday.
Individual elimination matches for Compound Open divisions
It was a busy day for the Compound Open archers out in Dubai. Jodie, Jessica, and Phoebe shot their elimination matches.
Jessica and Phoebe shot hard to get to the top four. The result of these matches is the Compound Women Open will be competing for bronze against each other on Friday.
Rikki commented, "Jess shot really well this afternoon. In some tricky conditions and against some tough opponents. Her semi-final was so close. But a change in the weather and lighting conditions enabled her opponent to sneak the victory. It's great that we have an all GB bronze match and it will be a really exciting one to watch. The current Paralympic Gold Medalist versus the current World No. 1!"
Phoebe spoke about her match, after shooting a competition match PB of 147. "I'm ecstatic with how I shot. I've never gotten this far at the World Championships. So I'm super happy with how I've performed. The competition I was against were some of the biggest names in para archery. And I managed to keep my cool and shoot my shots.
"This is also my first major event working with my new coach, Andrea Gales. So it's our first time out together at the competition under pressure. And we worked really well together. This is definitely not the last time I'll be in a medal match at the world championships!"
Andrea Gales, Compound Para Coach, spoke about Phoebe's matches. "This is Phoebe's first international competition since her gold medal winning performance in Tokyo. I have been working with Phoebe for the last four months. We have made some minor changes to technique and equipment. We are currently working on her competition mindset. This week has been a great test to see wha tis working well and where we need to improve.
"To make the bronze medal match is a testament to all the hours of hard work Phoebe has put into training. Both on and off the shooting line.
Follow full results here.