Grace Chappell claimed individual gold at the at the first leg of the European Youth Cup in dramatic style today - and Nathan Thomas added bronze to Britain's medals haul!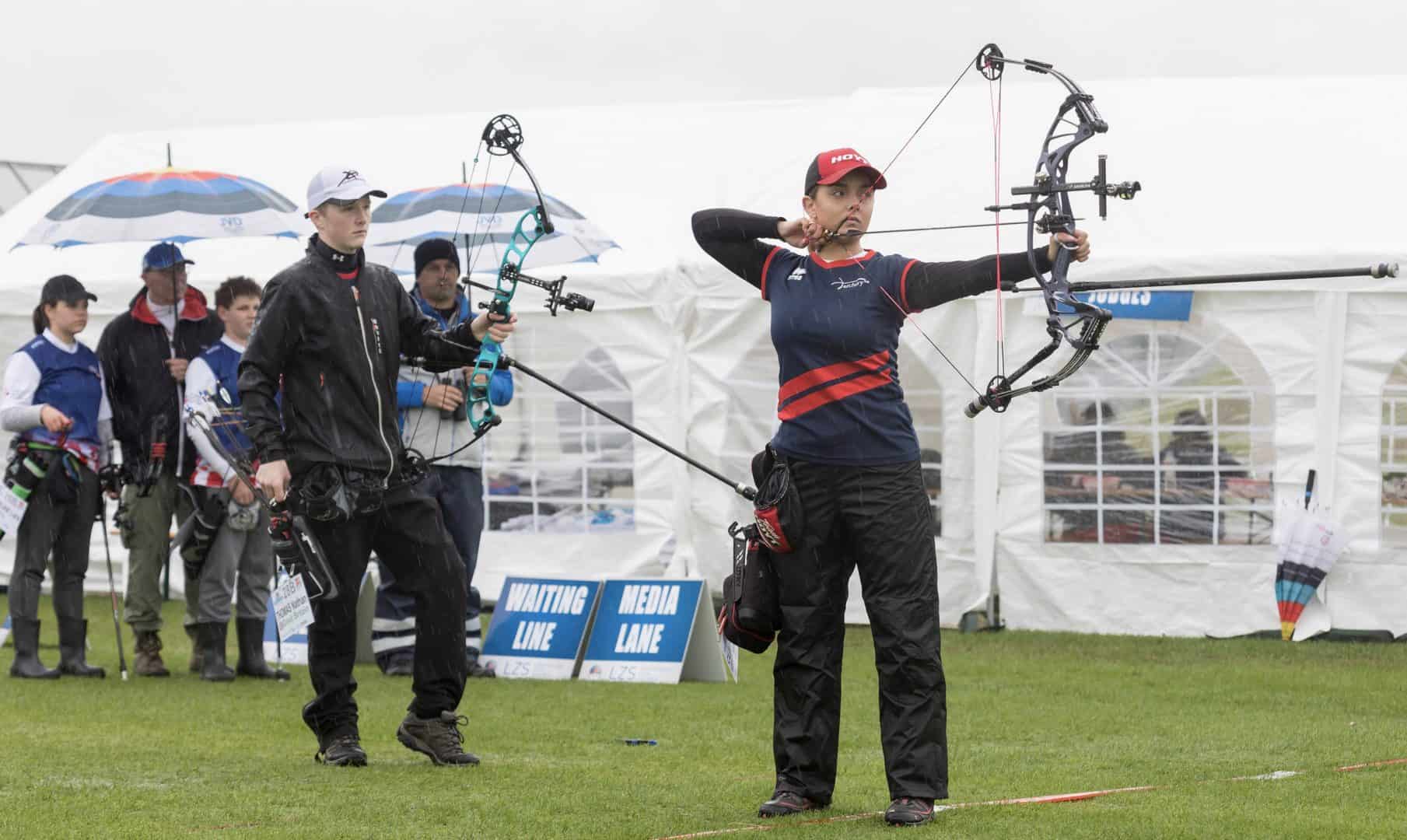 Compound cadet Grace qualified in fourth spot then swept past Czech Petra Zikmundova of 140-130 and Estonian top seed Meeri-Marita Paas 144-142, who had defeated Sinead Byrne. That set up a title showdown with second seed Elisa Bazzichetto, who had earlier ended Holly Clifford's hopes. And there was drama right to the end. Both athletes finished on 137. That meant a shoot-off. The Italian shot an eight - but Grace hit the centre to take gold. Chloe A'Bear beat Lara Drobnjak of Croatia 132-121 but fell to Italy's Martina Serafini.
Fellow compound cadet Nathan beat Denmark's Rasmus Bramsen Andersen 144-140 but fell to Tim Jevsnik of Slovenia by the same margin. That left him facing Italy's Antonio Brunello in the battle for bronze. Again, it was close but Nathan edged ahead to claim the medal 145-144.
Recurve junior Jacob Reid almost added another bronze. He beat Croatia's Lovro Cerni 6-4, Belgium's Theo Carbonetti 7-3 and Hugo Lartigue of France 6-2 before losing his shot at gold by Germany's Jonathan Vetter. The battle for bronze was against France's Lou Thirion. It was a nail biter but, in the end, the top seed edged to a 6-4 victory.
Earlier, Britain claimed mixed team gold thanks to recurve cadets Penny Healey and Thomas Susca. Compound cadets Nathan and Holly Clifford added bronze and the team of Grace, Chloe A'Bear and Holly finished in top spot too.
In the other categories, recurve junior Jacob Boden beat Quentin Croes of Belgium 6-0 and France's Florentin Lecat 6-2 but lost 4-6 to Elia Biscardo of Italy. Matthew Cotillard was beaten 6-0 by Nik Bizjak of Slovenia.
Ruby Paul defeated Finland's Aleksandra Ruuskanen 6-2 and Melania Wyka of Poland 6-0 but fell 2-6 to top seed Elisa Tartler of Germany. Sophie Castle beat Russia's Russian Ariuna Budaeva 6-2 but could not get past a second Russian, Ekaterina Biriukova, losing 3-7. Nicole Burdett was beaten 6-0 by Azerbaijan's Ozay Gasimova and Heather Hughes fell 0-6 to Triinu Lilienthal of Estonia.
Recurve cadet James Woodgate beat Croatia's Leo Sulik 7-3 but was denied a place in the quarter finals by Ostap Slipets of Ukraine, losing 2-6. Riley-Spencer-Nice beat Latvia's Romans Sergejevs 7-3 but was edged out in a nail-biter by Romania's Flavius Tanasescu. Dan Thompson defeated Poland's Marek Trzopek 6-2 but fell 2-6 to Bulgarian Ivan Banchev. Thomas Susca knocked out Cypriot Nikolas Mylonas 6-0 but was beaten 6-2 by Francesco Gregori of Italy. Penny Healey lost 2-6 to Italy's Aiko Rolando and Shaimaa Colaiacovo was edged out in a tough fight against Romania's Denisa Siminiuc.
Recurve juniors Heather Hughes, Sophie Castle and Ruby Paul were squeezed out of the team gold final by Ukraine, who went on to win. That left them facing Russia. They fought hard but missed the chance to add to Britain's medals haul.
Our recurve junior men, Jacob Boden, Matthew Cotillard and Jacob Reid, were beaten 5-1 by Slovenia and cadets Riley Spencer-Nice, Thomas Susca and James Woodgate were denied a place in the semis by Germany.
You can find all the results here.
Above: Grace Chappell. Picture: World Archery Europe