It's time to get your entries in for the 2017 Deer Park Archers Para Archery WA18 Inclusion Tournament.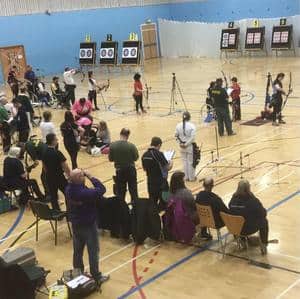 It's the fourth time the shoot, which includes the British Wheelchair Archery Association National Indoor Competition has been held and, this year, it will be a world record status event.
It is being held on Sunday 5 February at Leisure@, Tommy Taylors Lane, Cheltenham, and is open to all abilities, with classifications and categories to ensure total inclusion.
Closer bosses will be available if needed and will be recognised as a category for awards.
This tournament is also open to able-bodied archers but, in the event that it is over-subscribed, priority will be given to those with disabilities.
To book in and find out more please use this link.
A link to a video of last year's event can be found on Deer Park Archers' home page.
The event's main sponsor is the Worshipful Company of Fletchers. A raffle will be held during the event in aid of the Archery Foundation.
Follow us on:
Instagram: archerygbofficial
Facebook: Archery GB
Twitter: @archerygb