What a stunning weekend. The sun shone and the atmosphere was electric as one England team took us to the semi-finals of the world cup - and another romped to victory in the Home Nations competition at the Junior National Outdoor Championships.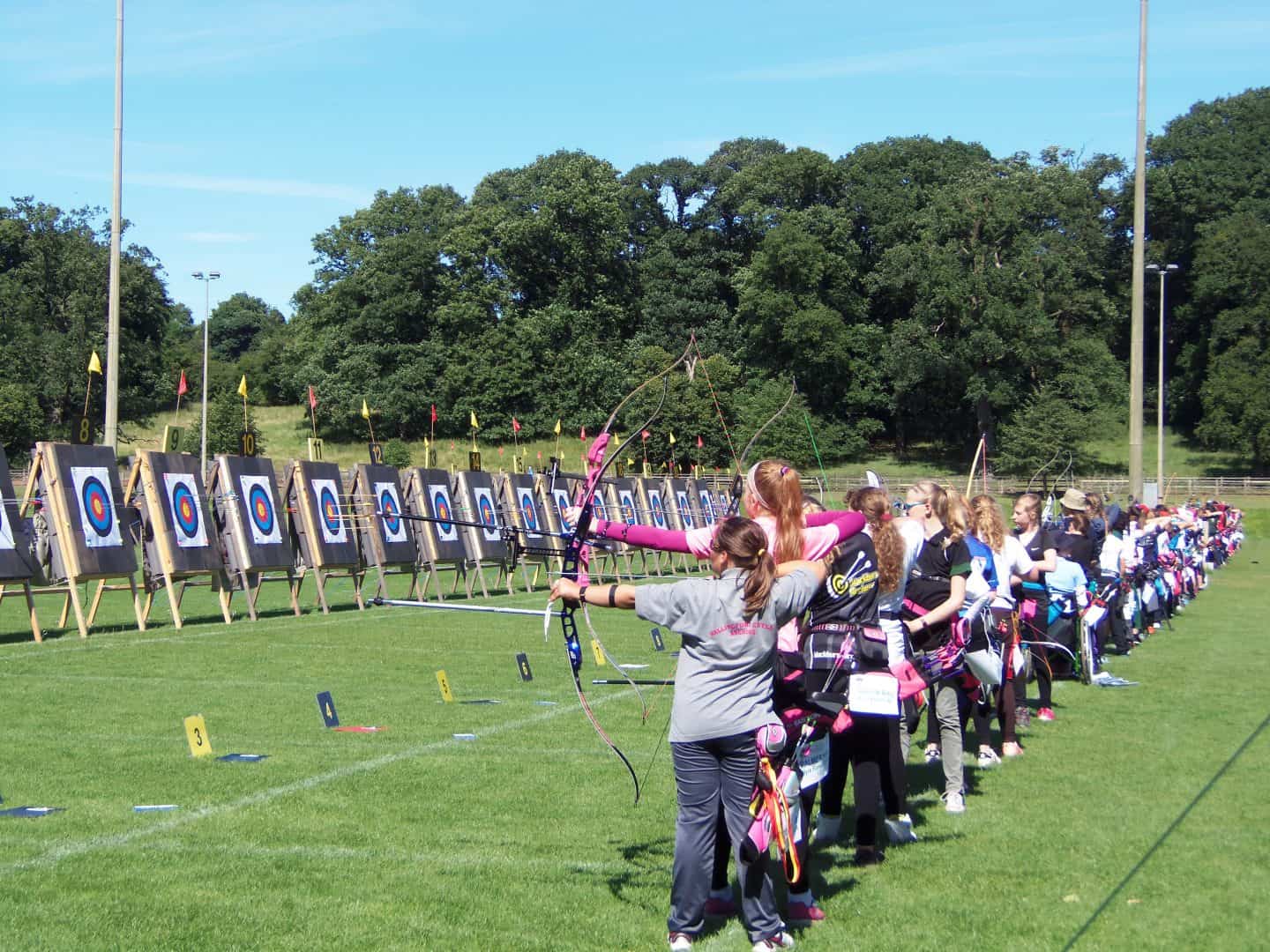 Chloe A'Bear, Jacob Boden, Penny Healey, Imogen Newby, Heike Palmer, Dru Ridding, Kian Watkins and James Woodgate scored a massive total of 10,280 points, including 515 10+Xs, to beat Wales into second place and Scotland into third.
Elsewhere, laughter and excited chatter rang out as more than 260 of our brightest young prospects took to Lilleshall's fields. Records tumbled, birthdays were celebrated and there were even dads jumping around as news of the other England squad's success came through.
Day one of the tournament consisted of world record status World Archery 1440 rounds and UK record status metric rounds. The winners were:
Under 18s
Recurve: Jacob Reid and Heather Hughes
Compound: Liam Peake and Holly Clifford
Longbow: Matthew Foreman and Jennifer Cuthbertson
Barebow: Harry Stew and Becky Chilcott
Under 16s
Recurve: Jakob Barrett-Rees and Imogen Newby
Compound: Lewis Haslam and Jenny Bryan
Longbow: Rosie Elliott
Barebow: Imogen Colenutt
Under 14s
Recurve: Thomas Susca and Penny Healey
Compound: Dru Ridding and Chloe A'Bear
Longbow: Amethyst Chopping
Barebow: Zayd Ajraou and Emily Summers
Under 12s
Recurve: Maxwell Oakley and Harriet Crook
Compound: Oliver Robinson and Isabella Bruguier
Longbow: Molly Joyce
Barebow: Dominic Fenton and Eleanor MacDonald
Recurve 1440: Ryan Pinder and Thea Rogers
Compound 1440: Sarah Moon.
Day two was the JNOC, where the archers competed in UK record status York, Hereford and Bristol rounds. The 2018 champions are:
Under 12s Bristol
Recurve: Ali Yusif and Harriet Crook
Compound: Oliver Robinson and Isabella Bruguier
Longbow: Molly Joyce
Barebow: Tom Wiggin and Mia McGuane
Under 14s Bristol
Recurve: Thomas Susca and Penny Healey
Compound: Dru Ridding and Hallie Boulton
Longbow: Hannah Wells
Barebow: Zayd Ajraou and Emily Summers
Under 16s Bristol
Recurve: Riley Spencer-Nice and Hannah Rowley
Compound: Lewis Haslam and Jenny Bryan
Longbow: William Thomas and Rosie Elliott
Barebow: Dylan Fyfe and Imogen Colenutt
Under 18s Bristol
Recurve: Jacob Reid and Heather Hughes
Compound: Liam Peake and Holly Clifford
Longbow: Matthew Foreman and Jennifer Cuthbertson
Barebow: Eden Grundy
Hereford
Recurve: Thea Rogers
Compound: Liana Perry
Barebow: Emily Axten
York
Recurve: Connor Rides
Compound: Jack Summers
Barebow: Harry Stew
You can find all the results here:
Picture: Sophie Meering
Follow us on:
Instagram: archerygbofficial
Facebook: Archery GB
Twitter: @archerygb