The first edition of the UK para championships was supported by The Worshipful Company of Fletchers in Lilleshall National Sports Centre.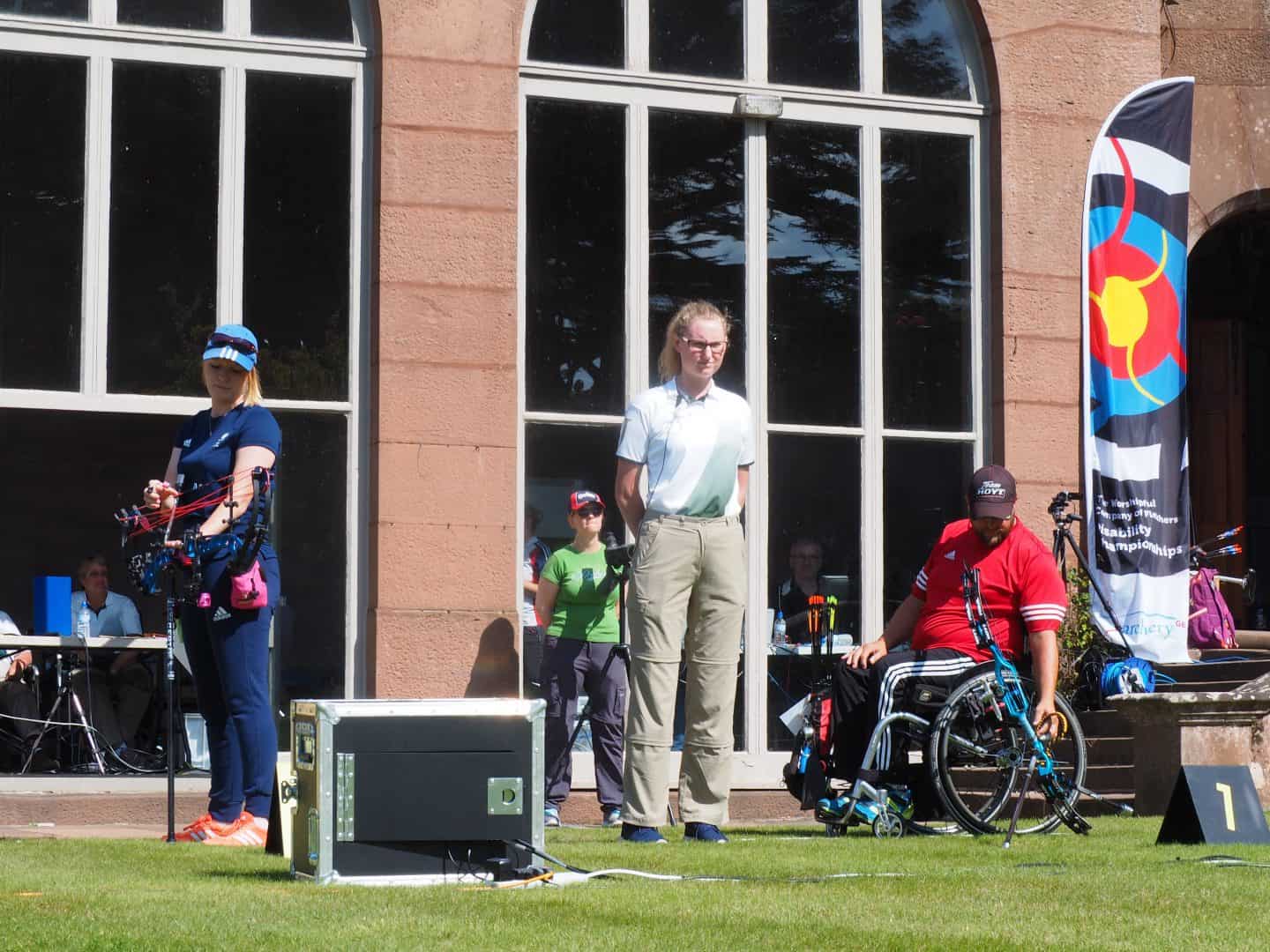 Paralympic mixed team silver medallist Jodie Grinham took gold in the compound open category, featuring mixed men and women, at The Worshipful Company of Fletchers Disability Championships 2017 on the Orangery at Lilleshall National Sports Centre.
It was the first edition of the event, host at the home of archery in the UK on 26/27 August 2017.
Â"I feel really good about winning the gold medal," said Grinham. Â"It feels really good to not just be the women's champion, but men's, too." 
Grinham, who picked up a silver at the Rio 2016 Paralympic Games paired with John Stubbs, seeded third in the event behind David Bramley and Ben Edwards.
Â"Shooting against men, their poundage is higher, they're quite a bit stronger than I am, but I try to not look at it like that. I think to myself: 'I'm a Paralympic silver medalist, I can shoot just as well as they can and push for the win'," said Grinham. 
The first dedicated para archery championships in the UK was supported by The Worshipful Company of Fletchers and delivered by a team of active volunteers, most of whom were also involved in the Games in London in 2012.
Â"I think it's been run fantastically, it's felt like an international, thank you to everyone. This event wouldn't have happened without all of you," said Jodie.
David Bramley, who finished runner-up in the division after shooting misses in the second and fourth ends of the final, said he'd started well but was getting Â"hung up" on aspects he'd been working on in the lead-up to the event.
Â"It explains the first miss, but the second miss was from not getting my finger round the peg enough on my new release aid," explained Bramley. 
Grinham has been selected to compete at the Para-World Championships in Beijing in September this year. She commented: Â"I try not to get excited about being selected for these kinds of events, I stay focused until I'm there, have a 'woo' moment, and then get on with it". 
Having being asked how she is preparing for Beijing, Grinham explained: Â"I find I am training more with a purpose rather than shooting just for shooting. I want every arrow to go in the 10."
Â"The goal is to bring home a medal from Beijing."
Youth para archer Jamie Harris, of Evesham Junior Archery Club, won bronze over Ben Edwards after shooting the Archery GB Youth Festival from August 21-26.
In today's other competitions, David Phillips beat Paul Browne to mixed recurve gold with Hazel Chaisty taking bronze with a 6-2 win over Tamas Gaspar.
And Paralympic champion and world number one Jess Stretton continued her winning ways with a 134-129 victory over Victoria Rumary. Jo Frith beat fellow Paralympian John Cavanagh to bronze.
Yesterday, world number one Steve Prowse added to his titles by winning visually impaired 2/3 gold, beating second seed Peter Price 6-0. Phillip Tranter won bronze with a hard-fought 6-2 win over Carmel Bassett.
The VI open title was won by Debora Wright who defeated John Cunningham 6-2.
And the top two seeds, Wayne Evans and Grace Chappell, went head to head in the disability compound mixed gold medal final. Wayne took the title with a 142-136 win while Stuart Champion beat Gwenda Humphreys to bronze.
For full results of The Worshipful Company of Fletchers Disability Championships 2017: Click here