Lizzie Foster has strengthened her grip on the top of the Archery GB National Series compound women's rankings by doing the double.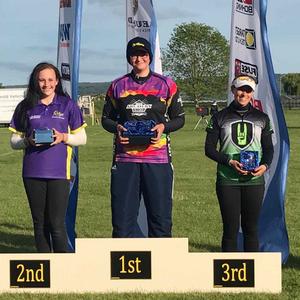 Yesterday she defeated Lucy Mason to take the stage 1 honours. Today it was Layla Annison who had to be satisfied with a silver medal as Lizzie secured stage 2 gold at the event, hosted by Evesham Archers.
The Durham University archer qualified in 18th spot - yesterday she was ranked 16th - but again hit form to storm past Linda Townsend, second seed Lucy Mason, Andrea Gales and Nicola Simpson in the semi-final.
Fourth ranked Layla, of Norfolk Bowmen, defeated Iulia Petre, Erin Prior, Kirsty Robb and top seed Lucy O'Sullivan to reach the final. But there was no stopping Lizzie who took her second title with a 142-138 win. The bronze medal went to Lucy.
Last year's National Series compound bronze medallist James Mason also hit form today and came away with the stage 2 title. The Kettering archer faced tight contests against Michael Kells, Lee Miller and James Howse before beating Daniel Tompkins 146-139 to land his place in the gold final.
There he faced last year's silver medallist, Adam Ravenscroft. The ninth seed had seen off Mark Speight, Duncan Busby by a single point, Tapani Kalmaru and James Howell, again by a single point, to earn his place. It was a tough match but James took the honours with a 145-141 win. James won bronze.
Last year's recurve bronze medallist Ashe Morgan took gold in stage 2. The Cheltenham archer, seeded sixth, swept past Harry Gill, Kenneth Harper, Conor Hall, Alex Smith and Ryan Holden to earn a showdown with Adam Taylor.
The fifth seed had, in turn, beaten Timothy Jackson, Francis Berti, David Phillips, Thomas Cram in a shoot-off and Alex Wise in another shoot-off. But Ashe scored a 7-1 win to claim the title. Alex beat Ryan to bronze.
And Nova Bowmen's Sarah Bettles, who finished fourth last year, took the stage 2 recurve women's title. The fourth seed defeated Paralympian Tania Nadarajah, Eleonora Cossade, Antje Frotscher and Sarah Smith for the chance to face Lizzie Warner in the final.
Sixth seed Lizzie, of Kirby Muxloe, had battled past Melissa Smallman, Eva Henderson-Hirst, stage 1 winner Johanna Meyer and beat second seed Jaspreet Sagoo in a shoot-off to win her place. But Sarah had the edge in the final and took gold with a 7-3 win. Sarah Smith beat Jaspreet 6-2 to take bronze.
You can find the stage results here:
Stage 2 plus provisional National Series standings
Follow us on:
Instagram: archerygbofficial
Facebook: Archery GB
Twitter: @archerygb